Canine Supplements | Equine Supplements | Feline Supplements | Human Supplements | All
4 in 1 Probiotics - GREEN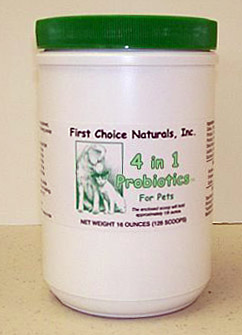 click to zoom
Note: organic barley grasses will vary in color depending on the time of year it has been harvested. This does not effect the nutritional anaylsis of the product .
Dosages: 1 to 10 lb ~ 1/4 scoop ** 1 to 25 lb ~ 1/2 scoop ** 25 to 50 lb ~ 1 scoop ** 50 to 100 lb ~ 1 & 1/2 scoop ** over 100 lb ~ 2 scoops
Use once a day sprinkled on food and/or use AM and PM during times of stress or on antibiotics. Container holds 128 scoops of product.
Ingredients: Vitamin C, organic Barley/Wheat Grass,
Dried Lactobacillus acidophilus Fermentation Product, Dried Streptococcus
Faecium Fermentation Product, Dried Bacillus subtillis Fermentation Product, Dried Saccharomyces cerevisiae Fermentation Product, Lecithin, Natural Flavors, Dried Whey Concentrate, Sucrose, Sodium Silicate Aluminate. Guaranteed Microbiotic Analysis not less than 85 million colony forming Units/Gram.Guaranteed Enzymatic Analysis; Amylase 110 Units/gram, Protease 110 Units/gram,Lipase 8.8 Units/gram.
Note: There is 500 mg of C per scoop so this combined with the Vitamin C in your natural/holistic dog foods gives you ample Vit C without over doing it. Pricing:
| | | |
| --- | --- | --- |
| Description | Quanity | Price |
| Container (128 1/8-oz doses) | 16 ounce container | $27.95 |
| Bonus Offer: | Buy 2 containers - get second at 25% off | |
Nutritional Support -www.GreatDaneLady.com Provided by Blackwatch Nutritional Consulting LLC
Related Research Articles: A Healthy Gut, The Basis of Wellness The Importance of Digestive and Dietary Enzymes in a Diet
4.8 out of 5 stars (180 ratings)
Showing 128 customer reviews...
June 5th, 2014





Rachel says...
I love the products, and feel that they work very well, I just don't like that shipping prices have seemed to go up and it takes longer to receive products since Linda is no longer apart of the company.
December 30th, 2013





Andrew Barbee says...
This product has been an excellent addition to our dogs diets. It has helped in several ways.
November 3rd, 2013





Anonymous says...
An excellent product I have use for many years. Always recieve fast effective service--Totally happy. Thank you, Vickie Soper
October 17th, 2013





Caryn says...
Love the product, love the site
August 23rd, 2013





Anonymous says...
My vet recommended this product 5 or 6 years ago and I have used it with 3 different dogs. My cocker needs it the most and it has helped with his stomach problems. I would recommend this product for anyone that has a dog with horrible gas problems. My family appreciates your product because it works.
July 31st, 2013





Debbie says...
Excellent product,a must have for a healthy stomach. And always fast shipping.
June 22nd, 2013





Anonymous says...
I have been using 4 in 1 Probiotics for many years for my personal danes and all my foster danes. After much checking around I felt this was the best daily supplement and have never regretted that choice.
May 1st, 2013





Anonymous says...
A must have for Great Dane's !
April 19th, 2013





Anonymous says...
This is a product, 4-in-1 Probiotics, that is excellent. It's an absolute preventative to help reduce the incident of BLOAT (gastric dilatation volvulus). We have two Danes who bloated before we started using 4-in-1 Probiotics. One of our girls continued to have gassy spells after the third bloat episode. With 4-in-1 Probiotics, we have been able to curb these gassy spells. I would highly recommend this product as a daily supplement in the dog food bowl.
February 20th, 2013





Anonymous says...
Have used this product for many years
February 2nd, 2013




Anonymous says...
The pellets are harder than some so she can't gulp it down so quickly. It takes her longer to eat so she isn't tempted to eat the Boxer or Great Dane's food.
January 19th, 2013





Angela Voris says...
I purchased this product for my two Great Danes, 9 and 12 months old. They had been having loose stools and were very gassy, despite being fed a super premium food with probiotics included (and approved by the Great Dane Lady). Her website also recommends this company's supplements, so I figured I'd give it a try. I am a nurse and am an avid proponent of probiotics for people, so why not my canine children? After a couple of days, my pups started having noticeably firmer stools and less flatulence. They don't seem to notice the powder on their food, and the scoop makes dosing easy. Yard clean up is now an easier task as well! This seems to be a good value for the ingredients included. Now I might have to check out the human supplements for myself!
December 24th, 2012





D says...
Excellent product. A must have for my dogs. I recommend to all.
December 12th, 2012





Carrie Maresh says...
Excellent product
October 28th, 2012





Wayne King says...
Works good, Better digestion and firm stools.
October 10th, 2012





Katie Cesaro says...
We've had four Great Danes, and all were extremely healthy and active throughout their lives. We have to think this product was of some help in keeping them that way. No digestive issues whatsoever. It's easy to add 4 in 1 to their food, and they don't seem to notice it's even in there.
August 10th, 2012





S Dali says...
This keeps my dog healthy and he it's all his food without prompting.
July 29th, 2012





Kim says...
My dog had ongoing severe diarrhea issues for months. We went through 4 vet vists and 4 rounds of antibiotics. Changed his food, added nutritionals to his food, and basically tried everything we could think of. I stumbled on this product and since I started him on these probiotics, we have not had any problems since. This is a wonderful product and my dog does not mind the taste - actually I think he likes it as he has had a better appetite since using this product as well. Can't recommend this product enough.
June 21st, 2012





Rachel says...
As always 4 in 1 Probiotics never disappoint the were received in a timely manner and continue to help my girl preform at her best.
May 13th, 2012





Andrea says...
I would strongly recommend this product, 4-in-1 Probiotics, to anyone with a Great Dane or giant breed. I have had two un-related Great Danes bloat and bloat/torsion in 12-month period. My first Great Dane kept gulping air AFTER she had bloated. When we started the probiotic/digestive enzyme powder, our girl STOPPED gulping air altogether. Amazing product ... amazing results. First Choice Naturals 4-in-1 Probiotics -- an absolute preventative MUST for BLOAT, the Mother of all Emergencies.
May 7th, 2012





Anonymous says...
I put this on the dogs food every morning and they love it I see a big change. I highly recommend this product. Teresa
April 25th, 2012





Paula says...
We started giving your product to our 3 mo. old Bernie and our 3 yr old Schnauzer. We sincerely hope it prevets damage in their future lives.
March 26th, 2012





Anonymous says...
This is one product I feel is essential to my Danes diet. We are learning so much as the years go by on what products, levels of protein, fat and type of buik/filler we need for Dane longevity. I spend a lot on quality Prescisce Dog food for my dogs at $75.00 a 30 lb. bag that adds up. I then add senior to the year old male and puppy to the 8 mo. old female. I feel sternly this probiotics add is absorption of nutrition and stool regularity. The bichon has a pretty hearty constitution but has many foot allergies. So I give it to him anyway. I do not feed my dogs a lesser quality than I feed to my family. They are family.
March 23rd, 2012





Anonymous says...
Great product, would definitely recommend.
March 16th, 2012





The Oldhams says...
Long time returning customer. Very pleased with product and the shipping is excellent!! Extremely fast!!
February 19th, 2012





Bella Blue says...
4 in 1 probiotics is an essential part of my daily diet. It has kept me a healthy great dane 8 years now. I recommend it to all of my canine friends even the little dogs that I like to chase around the block.
February 5th, 2012





Anonymous says...
I have fed my Dane 4 in 1 Probiotics since we got her as a puppy. She's healthy and doing fine. A friend had an aged cat who suffered from diarrhea for months. After spending over a thousand dollars at the vet's, on tests which revealed nothing, I gave her some of my dog's 4 in 1 to try. The kitty is now doing much better. I can't offer a better recommendation than that...
January 28th, 2012





Shannoa says...
Started all my dogs on the Blackwatch regime to keep them healthy, especially my Dane puppy- to prevent vaccine reactions. They are well tolerated by all my dogs.
January 4th, 2012




Margaret parcell says...
My dog seems to enjoy this product.
December 12th, 2011





Anonymous says...
I love love love this product. My dog has a very sensitive stomach and this really seems to help with the firmness and smell of her waste. It seems like she has issues any day I forget to put it on her food. I also like the fact that it helps with overall health. When I go to the dog park I get repeated comments on how pretty she is and how good her fur/ coat looks. The only down side for me is the cost of shipping of this product. I usually order two at a time for this reason but would be much more likely to order other items if the shipping was less expensive. For this reason, I only order things from this site that i can't find elsewhere.
December 11th, 2011





Elise Beattie says...
Probiotics are an important part of my dogs dietary needs. I have had several of my dogs over the last decade use this product. As far as I am concerned it is an essential part of their daily regime.
October 26th, 2011





Tammy Oldham says...
I have ordered this product for years from First Choice Naturals. I have received excellent service. Never a problem. Top quality- fresh. Fast shipment! My wonderful Vet, Dr. Linda Farris, who works with my Labs in the form of herbs/diet and accupture, got me started on this product for both of my Labs. Works wonderful for stomach problems. That is what I am using it for.
October 13th, 2011





Anonymous says...
The recommended supplements from First Choice Naturals are a quality combination of ingredients that, along with proper diet, help maintain good health in my Newfoundland. Her vet is always amazed at her excellent muscle, coat, and overall physical condition.
September 26th, 2011




Anonymous says...
Great! Easy to mix in with food.
August 31st, 2011





Anonymous says...
My vet liked this product. See a difference in my dog but I use a lot of products so don't know if this one is responsible
August 31st, 2011





Debbie C says...
I've used the 4 in 1 Probiotics for years and recommend it to my puppy buyers. It provides help for good digestion which is important and also after any sort of antibiotic therapy. Great products and excellent customer service!
August 28th, 2011





Anonymous says...
We have been ordering and using the 4-n-1 Probiotics since 2004. We love the product and First Choice Naturals has been supplying our family with this product with wonderful service over the years.
August 25th, 2011





Anonymous says...
I have been using First Choice Pro-biotic for 8 years. Our breeder recommended the product and I have been extremely happy. Ordering is easy and the products are shipped quickly! Thank you!
August 3rd, 2011





Curt Chilcott says...
My 3 year old has been on this product since he was a baby and I wouldn't be without it. It eases digestion and reduces the risk of bloat in giant breeds. Thanks for such a "Great" product for my boy Kona, THE GREAT-est DANE!
July 6th, 2011





Maureen says...
We make it our focus to enure our dog is heathly. The probiotics from First Choice Naturals keeps her acting like a puppy! (She is 3 1/2). Whenever we order product, it comes quickly.
June 30th, 2011





Naomi says...
Great Dane. Love your products
May 21st, 2011





Anonymous says...
Our breeder recommended this and we think it's great! And it was reasonably priced and delivered quickly.
May 21st, 2011





Marion says...
We have a Great Dane/Boxer mix and also getting a a pure bread Great Dane puppy in a week. I heard about you're product from the breeder and she highly recommends it. We have been using it for about a month now and we are very happy with it. I must tell you how pleased I was at how fast I received my order. Thank you and planning on being a return customer.
May 13th, 2011





carolyn z says...
products are excellent and service is always quick and helpful
May 4th, 2011



Anonymous says...
The product is probably good for the dog, but I do not notice any difference from when he was on it until now.
April 13th, 2011





Caryn says...
The great dane lady had recommended and I have been using this for my dane since she was 9 weeks old. Works well for her and my pit mix. Thank you
April 13th, 2011





Anonymous says...
It works for us. Different probiotics didn't work as well. This hoped to end Kirby's cycle of bladder infections and soft stools.
March 20th, 2011





michael schiff says...
My Great Danes are 6 & 7 respectively. They hane been on probioticd all their life and are doing well. To bad you don't carry enzymes. Then I could do one stop shopping. Michael Schiff
February 9th, 2011





Linda says...
When I lived in Kansas, my local dog specialty store carried the product, however, I moved and couldn't readily find the 4 in 1 Probiotics for the dogs (I have 30), so I went to the website and ordered directly from the company. The product has made a difference in my dog's digestion and their coats. The price on the website was great! Order came in a few days. I highly recommend the product and the company.
February 7th, 2011





Anonymous says...
The vet had been unable to get a resolution to our dogs problem digestive system. It took a week on the 4 in 1 to begin producing results, but she has been problem free ever since. A truly amazing digestive aid!
February 5th, 2011





Karen M. says...
I love this product for my Great Dane. Danes have such sensitive stomaches and this probiotic has been very helpful.
January 27th, 2011





Anonymous says...
This stuff is great. I've been using it for years with my Danes, and now I'm giving it to my cats, too.
January 22nd, 2011

Schweigart says...
I am disappointed I emailed your company last week, and I'm still waiting for a response. Express my concerns with the 4 & 1 probiotics. Every Time I give my Dane the probiotics he urinates on the floor and has been trained for months. He did this twice after I gave him the product. I waited 7 days and gave it to me again, and he urinated on the floor a few hours after. I asked for advice in email or if I can return the product.
January 2nd, 2011




Anonymous says...
I have been purchasing this product for over 4yrs and the last order I received the bottles weren't as full as they usually are. They were about 3/4 full instead of all the way. Disappointed
December 9th, 2010





Bonnie Daniels says...
We have been using First Choice Naturals for our Great Dane since we first became proud owners. Tycho Brahe Bross von Owlwatch is blessed to be son of BISS CH WIEDANES A GALA AT OWLWATCH CGC!! First Choice Naturals was recommended by Phil and Jane Gray so why change? Tycho has been receiving 4 in 1 Probiotics all his life. First Choice Naturals products are great quality and the service is excellent. I recommend the products to anyone who cares about the health of their four footed friends.
December 8th, 2010





Ingrid says...
Great Products! I am using all together: 4 in 1 Probiotics, Digestive Enzymes, Salmon Oil, Liquid Level 5000, Oxy Drops, Tinctiure of Blackleaf, All have helped "DJ" look and feel better.Skin and condition of coat have improved 1000% over the last 4.5 months. No more itchy scabs or crusts, he looks great and I am very satisfied with his progress. We Thank You!
December 8th, 2010





Anonymous says...
This product has really helped my Great Dane puppy. He had to go on antibiotics and this product helped keep his gut healthy while on them.
December 2nd, 2010





Vivian says...
I have been giving 4 in 1 Probiotics to both my pup and adults for 6+ plus months and they are doing wonderful on it.
November 26th, 2010





Smiling K9's Rescue says...
We run a dog rescue and swear by the probiotics.
November 5th, 2010





Anonymous says...
Our Dane contiues to be healthy and doing well on Probiotics.
October 27th, 2010





Jo Kurtz says...
I have one dog that has been on this product since weaning. Ordering is as easy as pie. Great service! Thanks!
October 8th, 2010




Chris Bellber says...
Used as part of Blackwatch feed kits, great results for HOD in a 9 week old dane, now using empirically on my new Dane puppy. 2.5 year old lab seems to like the taste, but she usually eats anything. -CB
September 22nd, 2010





Anonymous says...
Love this product!
September 17th, 2010





Deanna Low says...
Love these products and the personalized help from Jane. I always appreciate talkiing to her and the benifit of her knowledge.
September 16th, 2010





Anonymous says...
This is a quality product that I give to my dog everyday. Customer service is great and they ship fast. I would highly recommend this product to anyone looking for a probiotic.
September 13th, 2010





Maureen Zmich says...
Great product. Very quick shipping. Easy to order.
September 13th, 2010





Todd Silvia says...
The Product helped our Puppy to have firmer stools
August 25th, 2010





Alison says...
Very pleased with this product and have used it for years.
August 22nd, 2010





Vicki K. Indiana says...
Our pug/mix had bowel issues for weeks when we first got him as a pup....It was horrible. Puppy kindergarten trainer suggested this 4 in 1 Probiotics and immediately this issue cleared up! It's been over a year now and toilet habits, etc. are great for both dogs as they are both on it now! Same thing with neighbors dog....trouble for months,,,diarreah, then with our suggestion of these probiotics their dog is finally gaining weight normally and feeling so much better with very normal stools. This stuff is so good for them for so many reasons, not just bowel issues...Each time I feed my fur kids, and give them this with their food,,,I feel like I'm doing them a favor! It's part of our good "parenting" around here! Let's face it, dogs cared for properly, with vet trips, shots, monthly preventive meds, are very expensive. I consider giving them this like protecting our investments! They add so much to OUR lives, we want to insure that THEIRS is the best ever for as long as is possible! It's just the smart thing to do! (A jar lasts a really long time for our 2 dogs...maybe 6+ months? It's cheap in the long run once you make the initial investment...Heaven only knows how much $ we are saving in vet bills because they get it.)
August 19th, 2010



susan says...
I am using this product on my 10 month old Great Dane puppy. I started him on this product because he had a lingering infection and needed to be on anti-biotics for an extended period of time. At the same time, I also started giving him vitamin E and fish oil. Since I started this regimen, his digestion and coat have improved a lot. He does not seem to notice/mind the taste.
August 5th, 2010





Anonymous says...
Have used this product for years. It healps break down dog feces rapidly.
July 30th, 2010





Debra Allen says...
Love the products. My dane has lots of stomach problems and she couldn't do with out the "Nzymes" and the "4 in one Probiotics.
July 8th, 2010

Anonymous says...
Improved Stool firmness. Better digestion
July 2nd, 2010





Anonymous says...
Have been using this product for many years. Very happy with it, and it's very easy to feed.
July 1st, 2010





Anonymous says...
We first started the Probiotics when one of our rescue great danes had some adjustment problems. It worked so well that I've added it to all of our dogs diets.
May 30th, 2010





Cindi says...
This product was recommended by my puppy's breeder as a must have for starting out his young life in the best possible way. Product arrived and have had nothing but good from it so far.
May 28th, 2010





Karin Graeff says...
I like this product - seems palatable and they've been doing well on it.
May 5th, 2010




Jim says...
Love the product (probiotics) for my Newfie the only issue is that I have is the size of hte container is too small. As a owner of a giant breed the compumption requirement is greater than others and a 5 pound container would be an appropriate offering.
April 17th, 2010





Jeanne from Illinois says...
Wow, Mr. Bumbles was always a fussy eater, very often under weight because he just did not want to eat. He was 8 1/2 years old and his skin and hair were in bad shape. One month after we started him on the 4 in 1 pro. his skin was showing a lot of improvement and he gained an interest in his food. He is now a very healthy weight and his coat is healthy, very healthy, his skin is still improving after several months on your product. Thank you we love your product. Jeanne n Mr. Bumbles in Illinois
April 14th, 2010





Anonymous says...
I've been using your product for many years now. I am very pleased with the way it causes the dog's stool to break down rapidly. My one complaint is that, since the company stopped packaging the product in a bag within the container, the scoop can never be found the first time the container is opened. I save my old scoop, and then, when the product is partially used up, I put it into a small plastic bag. This enables me to scoop more easily.
April 7th, 2010




Kirby Boyd says...
I expect this is normal. My 2 yr old Collie eats it mixed in with his food if he is hungry enough. Need to find a better way to get him to take it. My 18 yr old old cat will NOT touch any food that has it in it. Suggestions welcome. The power contained did not have a paper seal under the lid.
April 2nd, 2010





Anonymous says...
I keep coming back to this product for my furry ones ... I only wish it was available in larger sizes.
April 1st, 2010





Anonymous says...
I got this on recommendation from the breeder. It's very simple to sprinkle on the food and even though I don't moisten his food, my puppy eats every last bit
March 31st, 2010





Anonymous says...
Just wish it came in a larger more economical size. Feeding 5 large dogs means we are going through the containers rapidly.
March 28th, 2010





Jones says...
Excellent product, use for all my animals, dog and cats. Just add to the food in morning and evening meals. Helps with their digestion and nutrient intake. Has helped my dog with his bouts of diharrea.
March 6th, 2010




Debbie Cole says...
I wish they would put the product back in a plastic bag inside the jar. Without the bag you have to reach inside the jar which is hard to do. I could just pull the bag out before and I liked that so much better.
February 24th, 2010




Cindy M says...
Good probiotic for keeping gas to a minimum, and the dogs really like the greens.
February 21st, 2010





Cortney Dziak says...
We've been using 4-in-1 Probiotics for a few years now and feel that this supplement is a big contributor to the overall health of our dogs. We believe it helps with digestion, skin issues and overall immune support and we will continue to use this great product for our dogs.
February 14th, 2010




Anonymous says...
Great product for my dog. I needed something that was better quality and better size/serving that would last vs the big brand name that the vet was selling me. My dog suffered some health issues and because of it, his tummy was never the same. Adding this probioitc coupled with a well balanced diet is just what he needed!
February 13th, 2010





Noel Carroll says...
Bouviers are notorious for there gut/gas issues. She rarely has any problems and I have been giving her this on her food since she was a pup.
February 12th, 2010





Anonymous says...
I think probiotics are an necessary part of the dogs diet to keep their tummies in the best shape.
February 10th, 2010





Heidi Argona says...
Excellent product. Fast Delivery. Good prices.
January 24th, 2010





Anonymous says...
My 2.5 year old Dane has been raised on 4 in 1 probiotics mixed in with his food. He is a healthy and happy boy! First Choice Naturals always ships my product quickly and efficiently- I would highly recommend them and this product.
January 11th, 2010





Michael says...
4 in 1 Probiotics is an outstanding product that will not only maintain your Dane's immune system, it regulates the digestive system superbly. Last thing you want is your pet with diarrhea inside, especially a Dane. Thanks for the great service.
December 20th, 2009





Angie says...
Our dog Ella has been on probiotics for quite a few years now. Recently we ran out and Ella was off of them for a couple of weeks, it definitely proved to us the probiotics are working!She started chewing her feet like crazy, which led to her getting yeast in her paws. Her ears flared up as did her anal glands.She was a mess! Now back on the probiotics again for the last few weeks she isn't having any of those problems. I'll make sure we always have extra on hand for now on!!
December 18th, 2009




Anonymous says...
We have added 4 in 1 probiotic powder to our dogs meals. She has been in good health since we originally got her. It is a good product and would recommend it to other pet owners.
December 5th, 2009





Anonymous says...
Excellent product. Keeps them on track with no stomach upset.
December 2nd, 2009





Jim Bryson says...
This product has been excellent for my Brittany. She is an agility and field dog that require a tremendous amount of energy. With 4 in 1 Probiotics she is getting what she need to break down her food for all the energy the food has.
November 25th, 2009





Susan Eltoft says...
I have used this product with my last two danes and am currently starting a new pup on it as well. I have used Linda Arndt's program for danes for the last 20 years and am happy to report that my danes have lived 12 and 13 years in great part I believe to the proper nutritional care. Thank you for a great product at a price most can afford!
November 22nd, 2009





Velera says...
MY Dog is a rescue dog that is in liver failure and has to be on antibiotics all the time. She has become a more active and happy dog since giving her the probiotics to build up her immune system. I don't believe she would be alive today without this product.
November 4th, 2009





Linda Fishkind says...
Have used this product for many years with several dog breeds and love it.
November 3rd, 2009





Anonymous says...
Great product - aids in breaking down waste rapidly, and feces is less odiferous. Only negative is that the powder used to be in a bag inside the container, and now that there is no bag, the scoop gets buried and can be impossible to find...
October 29th, 2009





Deanna says...
I have been using the Blackwatch program for our American Mastiff since she was about 6 months old. I highly recommend it!
October 29th, 2009





Anonymous says...
Great product but does it warrant the hefty price? Just wondering. Thanks.
October 26th, 2009





Kif Thomas says...
This product was part of a diet plan which helped to significantly improve the health of our Old English Mastiffs. We also included it in the cat's food and found it helped for digestive and skin issues for them.
October 21st, 2009





jim slade says...
I feed my Newfie a B.A.R. F. (raw diet) &I have utilized the 4 in 1 Probiotics since my Newfie was a puppy. I can always count on a quality product and excellent delivery. My only issue is that with a giant breed I wish the producy was available in a larger size!!! Keep up the great work 1st Choice -
October 15th, 2009





Karin Graeff says...
I use the product together with the Probiotics (I have been using them for years) and the dogs seem fine - not sure I can see a difference from before, but both dogs are almost 12 years old and act very energetic and alert - together with an excellent food, it seems to be working to keep them healthy! Thank you!
September 30th, 2009





Anonymous says...
4 in 1 probiotics for Pets. Kate who is a little terrier mix had distemper when I got her. I changed her diet to a raw food diet an her energy level picked up. Now that she has been taking the 4 in 1 probiotics for pets her energy level has picked up again. Gi-Li energy level has also picked up and is doing extremely well. I would highly recommend this product for any pet owner. I learned about this from my brother who has two dogs as well and they had yeast infection are doing well now as well.
September 30th, 2009





Anonymous says...
Took advantage of the recent 2 for 1 price break you offered and am able to keep one jar in each of my two places so the "kids" can have it no matter where we are. They seem to be healthier, happier and they eliminate much more reliably and of correct bulk etc. Recommended by Great Dane Lady so I tried it and so far, I also like the results like she does.
September 26th, 2009





Tamara says...
I love this product. My vet. recommended it. I have one lab with aniexty problems. His digestive system seems to calm down and allow him to keep his food; without it he is sick to his stomach. My vet believes this is a product I should give to both of my dogs daily to maintain their health. This is what I do.
September 18th, 2009





Gayle says...
This product was recommended and I am so glad I followed through and ordered it! My new pup was being fed horrible food at the breeders and when we first brought her home, she had terrible gas. As soon as we put her on the probiotics, the gas stopped and she has been great ever since. She is now on antibiotics for a UTI and I will definitely continue to use it to help maintain some degree of good bacteria in her gut while she is being treated. This is a great product!
August 27th, 2009





Anonymous says...
I have used this product for years as well. It is a great foundation item to any feeding regimen. I could use it in a larger container.
August 23rd, 2009





Rachel Neufeldt says...
This is my first time using 4 in 1 Probiotics but I love it! The breeder recommended it for our puppy and it is wonderful she rarely has stomach issues and when she it clears up right away.
August 16th, 2009





M Avery says...
Before using Probiotics my Great Dane had numerous breakouts on her face (acne) and Probiotics has cleared her acne and given her coat a healthy shine.
August 15th, 2009




Grumpys Edge Kennels says...
so far as good...
August 7th, 2009





Denise McClure says...
I LOVE THE PRODUCT HOWEVER WAS DISAPPOINTED TO SEE THAT I GOT THE PROBIOTICS IN THE TALLER, NARROWER CONTAINER THIS TIME INSTEAD OF THE SHORTER FATTER CONTAINER. THE SHORTER, FATTER CONTAINER IS MUCH EASIER TO GET INTO TO SCOOP OUT THE PRODUCT WHEN FEEDING, MY KNUCKLES DON'T GET HUNG UP IN THE TOP EDGE OF THE CONTAINER WITH YOUR SHORTER FATTER CONTAINERS.
August 5th, 2009





Anonymous says...
Great product! It has definately helped get my pup's digestive tract back in order.
August 5th, 2009




Moke says...
I like the wide and lower container, its just easier.
August 1st, 2009





Janet Schiff says...
I've been using this product for over 5 years for my 2 Great Danes. It's one of the products for the feeding program they are on. One has a sensitive stomach, and it seems to really help her prevent gastric problems. I would highly recommend this for anyone with a giant breed dog.
July 29th, 2009





Sandy says...
My breeder has suggested using this product when we purchased out Great Dane puppy. Anything to keep him healthy is my priority.
July 19th, 2009





Lyn Williams says...
I also got this to help the great dane get through her vaccinations. I think it help keeps their bellies healthy, and it is always good to have when they need antibiotics. Will continue giving the probiotic.
July 3rd, 2009




Anonymous says...
bought based on great dane lady. I have 2 red bones. do not hunt, just pets. grass in 4 in 1 caused eye allergy in one of my dogs, other dog did fine. will keep using on the 1 dog
July 1st, 2009





Kif says...
Our Mastiffs suffer from spinal stenosis (Wobblers) as well as ligament issues. We added this supplement post operatively and noted rapid improvement. We also feed it to our cats, it helped clear up a chronic eye condition in one, a skin sensitivity in another and calmed irritable bowel in a third. (Yes we have the "unadoptable" shelter cats)
June 30th, 2009





vickibk says...
Our dog was suffering from diarreah or constipation all thet ime. At one point he had an obstruction of some kind. He is great now that I am adding 1/4 scoop to his food 1x daily. Made a big difference and now he's very regular too! Great product!
June 30th, 2009





Anonymous says...
I do question the price. Does it really cost this much? Thank you for the swift service.
June 29th, 2009





Anonymous says...
Each to use, dogs like the flavor, smells very pleasant.
June 29th, 2009





Alison says...
I originally chose this product for my young Great Dane and was very satisfied. I now also use it for the Great Danes that I foster as I try to improve their nutrition and health before they are adopted.
June 29th, 2009





Anonymous says...
This is the 2nd or 3rd bottle I have purchased. I have had great success with it and have recommended it to others.
List of All Supplements | Terms and Conditions | Dislcaimer | Refund Policy
Shipping: We ship Priority, Flat Rate Priority and International Priority rates. FCN is a small family owned company and not able to offer free shipping like the big ecommerce conglomerates who often buy almost out of date supplements and you have no recourse for returning product. However, what we have that they do not have is, first rate customer service, people to answer specific nutritional questions. We have real people here in the USA to help you and your vet with health problem solving and developing your pet's feed program. This is a service no other large companies offer their customers. Our customers appreciate the difference at FCN because we not only care, but have our own pets years of experience and we know nutrition!
Copyright 2017. First Choice Naturals, Inc. is owned by Blackwatch Nutritional Consulting LLC, and all descriptive text, links to articles and nutritioinal information found at this website, in articles or feed programs, is owned by Blackwatch Nutritioinal Consulting LLC. No information at this website is to be used in lieu of physician or veterinarian's advice, diagnosis, or treatment. Always seek the advice of your health care professionals. Any photographs sent to this website becomes the property of Blackwatch Nutritional Consulting LLC, and can be used for website, seminars, lectures, books, for the sole purpose of educating the general public. Efforts are taken to remove recognizable images or names from photos, no names are used of owner, breeder or pet to protect the of the individuals.