Canine Supplements | Equine Supplements | Feline Supplements | Human Supplements | All
4 in 1 Probiotics Plus (ORANGE)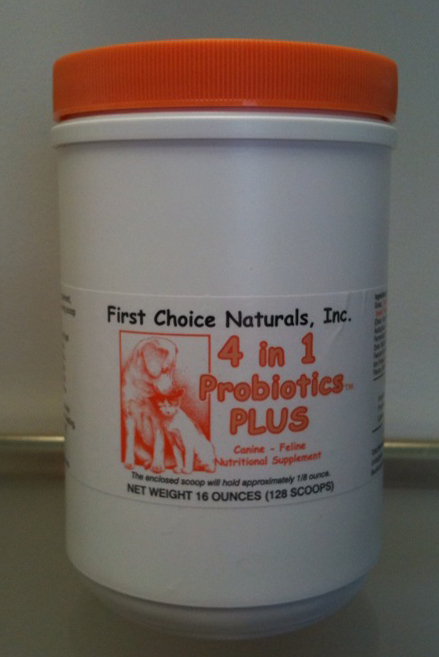 click to zoom
4 in 1 Probiotics Plus is available in a - 1 lb container (454 grams) = 128 scoops per jar.
Dosages: 1/4 scoop - 1-10lbs 1/2 scoop - 10- 25 lbs 1 scoop - 25-50 lbs 1 & 1/2 scoop - 50 - 100lbs 2 scoops - over 100 lbs
Directions: Use on all meals and use increased amounts, up to double the recommended dose, during times of stress or on antibiotics.
Ingredients: Vitamin C, (from USA), organic Barley/Wheat Grass, Dried Apples, Dried, Carrots, Dried Peas, Dried Cranberries, Dried Sweet Potatoes, Dried Spinach, Dried Lactobacillus acidophilus Fermentation Product, Dried Streptococcus Faecium Fermentation Product, Dried Bacillus subtillis Fermentation Product, Dried Bifidobacterium thermophilum Fermentation Product,Dried Saccharomyces cerevisiae Fermentation Product, Lecithin, Natural Flavors, Dried WheyConcentrate, Sucrose, Sodium Silicate, Guaranteed Microbiotic Analysis not less than 85 million colony forming Units/Gram.Guaranteed Enzymatic Analysis; Amylase 110 Units/gram, Protease 110 Units/gram,Lipase 8.8 Units/gram.
Note: There is 500 mg of C per scoop so this combined with the Vitamin C in your natural/holistic dog foods gives you ample Vit C without over doing it.
Pricing: 1 - 16 oz container - $31.95 Buy 2 for $55.95
ote: organic barley grasses will vary in color depending on the time of year it has been harvested. This does not effect the nutritional analysis of the product.
Related Feed Programs: Feed Program for Large / Giant Adults Feed Program for Large / Giant Puppy Feed Program for Small / Medium Adults Feed Program for Small / Medium Puppy Feed Program for Sensitive Stomach Feed Program for Rescue and Repair Feed Program for Boosting Immune Function
Related Research Articles: A Healthy Gut, The Basis of Wellness The Importance of Digestive and Dietary Enzymes in a Diet
4.9 out of 5 stars (33 ratings)
Showing 22 customer reviews...
October 3rd, 2013





Pauline says...
Both of my dogs seem to have somewhat sensitive digestive systems so it is good to know that this quality product helps to protect and maintain good health.
September 26th, 2013





Sheila Mills says...
Seems to be making a positive difference in both of my danes
March 4th, 2013





Anonymous says...
But I cannot recommend a company that has wasted my money by sending me product I did not order. I only received one item I ordered the other 2 were replaced without my OK. They are not the same product at all. They were shipped all the way to my home in Alaska, return shipping is to much and I can't use them so I have to throw them out I'm very disappointed that it was not OK'd with me before shipping the new items to me. One of the items I ordered was the large bottle of Oxedrops, which use to come with a dropper bottle and does not any more either. I will not be re-ordering. I had to throw out over a $100 worth of product.
February 1st, 2013





Pine Valley great Danes says...
same review
January 17th, 2013





Anonymous says...
My breeder recommended this product for my Bernese Mountain Dog puppy. I like the product so much I put all my dogs on the probiotic!
November 17th, 2012



Anonymous says...
It's an easy Probiotic to feed. I suspect that most Probiotics are similar but I like the First Choice Natural products.
October 11th, 2012





Michael Schiff says...
Been using these all of their lives (7.5 and 8.5) and have had no serious health problems (thank god).
July 24th, 2012





Anonymous says...
Shipping fee is nuts! order again or not????????
July 18th, 2012





Michael Schiff says...
My girls are 8 1/2 and 7 years old. Have been on these supplements since birth. They are both doing very well, albeit we have no real measure since they have never been off them,
June 3rd, 2012





Karen Boos says...
I've met The Great Dane Lady and heard her speak and was thoroughly impressed with her research into canine nutrition and its effect on various health issues. If it is recommended by Linda Arndt, it's got to be good.
March 28th, 2012





Debra says...
I have been buying products from First Choice Naturals for many years. They are wonderful to do business with! I use the 4 in 1 Probiotics Plus or Bac Pack Plus. I have had wonderful results with both of these products & see a big difference in my dogs. I feed a top quality dog food along with fresh meats & vegetables. Keeping the digestive track healthy allows them to absorb more nutrition. I get so many compliments on how wonderfully healthy my dogs look & act from everyone including my Veterinarian!GREAT PRODUCTS!!!!
December 21st, 2011





Anonymous says...
Dreat products and great service as usual...
October 2nd, 2011





Anonymous says...
Product was recommended by my breeder.....Watching the growth and coat, they surely are an added necessity for my pups...They are turning out jusst like their parents...I will provide this to my babies all their lives...Thanks, Howard
October 1st, 2011





Vickie Soper says...
I moved up to this product to get a bit more punch for my new girl. She was having immune issues and a tender tummy. The product helped along both lines. I switched my adult male over also as I dislike having to have separate products, if not neccessary. Both are blooming--system issues settling--
September 24th, 2011





James Bryson says...
This is an excellent product and provides the extra help I need for a performance dog. Thank you for a great product.
August 18th, 2011





Anonymous says...
I love this product! My Great Dane is 6 months old. I started him on the probiotics as a tiny baby and he has never had a single gastric problem. I was even able to switch his food with out the long process of mixing it. His stomach seems so healthy and I am able to rest assured knowing I'm doing everything I can to help prevent BLOAT. I love this product and this site. The customer service is excellent! I am able to get help almost immediately just by emailing. Thank you First Choice Naturals!!
June 12th, 2011





Anonymous says...
Highly recommended to me as I will to you.....If you saw the beautiful danes these breeders have I follow all their feeding rules...Easy to use and well worth the price.
May 6th, 2011





Anonymous says...
We have been using the Probiotics for over 2 years now- it seems to help as allergies are not as bad as they were before we used the probiotics
April 13th, 2011





Neicie says...
My pup is part of the Yeast Removal program, so these treats are the perfect ticket! Highly recommend, my little one "loves" them!! Great service too! Thanks!
April 6th, 2011





Anonymous says...
I love this product. I can't say enough nice things about it. I used another product before buying this one. I feel with all the natural ingredients you just can't go wrong. I just wish you had a better shipping rate. It really is horrible.
February 20th, 2011





Karen Boos says...
I have use the 4 in 1 Probiotics for years and when I saw theis new PLUS product, I had to try it. My dogs have been doing very well on the original product and they are 13-1/2 and 11 years old, so I expect good results from this new version, as well.
January 30th, 2011





Anonymous says...
She absolutely loves these treats and believe me is puts her nose up to most things! Thank you so much!
List of All Supplements | Terms and Conditions | Dislcaimer | Refund Policy
Shipping: We ship Priority, Flat Rate Priority and International Priority rates. FCN is a small family owned company and not able to offer free shipping like the big ecommerce conglomerates who often buy almost out of date supplements and you have no recourse for returning product. However, what we have that they do not have is, first rate customer service, people to answer specific nutritional questions. We have real people here in the USA to help you and your vet with health problem solving and developing your pet's feed program. This is a service no other large companies offer their customers. Our customers appreciate the difference at FCN because we not only care, but have our own pets years of experience and we know nutrition!
Copyright 2018. First Choice Naturals, Inc. is owned by Blackwatch Nutritional Consulting LLC, and all descriptive text, links to articles and nutritioinal information found at this website, in articles or feed programs, is owned by Blackwatch Nutritioinal Consulting LLC. No information at this website is to be used in lieu of physician or veterinarian's advice, diagnosis, or treatment. Always seek the advice of your health care professionals. Any photographs sent to this website becomes the property of Blackwatch Nutritional Consulting LLC, and can be used for website, seminars, lectures, books, for the sole purpose of educating the general public. Efforts are taken to remove recognizable images or names from photos, no names are used of owner, breeder or pet to protect the of the individuals.