About Us
Our company began with Nutritional Consultant Linda Arndt (1946-2013), known worldwide as "The Great Dane Lady" because of her educational website www.GreatDaneLady.com, which focuses on the care and feeding of all breeds and specializes in large/giant breed issues. She owned Blackwatch Great Dane Kennels, where she bred/showed dogs with the Grays for 40 years. Linda also owned Blackwatch Nutritional Consulting, LLC., where she consulted for holistic pet food and supplement companies, helping to design foods and supplements to provide wellness and longevity for our pets. We are honored to have had her as our pet nutritional consultant for so many years.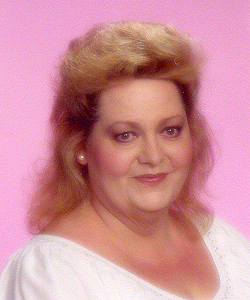 Linda Arndt, Great Dane Lady (1946-2013)
Joseph Hamady, CEO of First Choice Naturals, Inc., has years of practical business experience in the human food industry,owning a produce company, a USDA meat packing facility and restaurant. He is also a professional musician (drummer) and owns Owosso Audio Company. In addition he has worked as a Production Manager at Pieres Entertainment Center, in Ft Wayne, IN, and he has run sound for over 1000+ National acts as well as being on tour with bands like Guns N Roses. Joe brings a stabilizing element due to his business background, a wealth of information and practical experience to FCN, and we appreciate his efforts tremendously!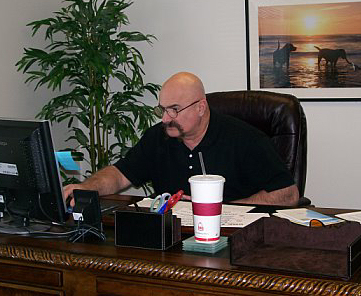 Joe Hamady, CEO of First Choice Naturals
Sue Thrasher, Customer Service, brings the sunshine wherever she goes! When Sue joined us at First Choice Naturals, she was a breath of fresh air, always handling the day with a positive and upbeat attitude, which is greatly appreciated. Her infectious laugh and genuine interest in learning and sharing info makes her a joy to work with at FCN. She is a retired teacher and a dedicated Toy Manchester breeder, breeding some of the top winning Toy Manchester in the breed. We thank her for her efforts in helping to educate our clients and assisting them when they call the office.
Sue Thrasher, Customer Service
Jane Gray has been a successful breeder of champion Great Danes and Whippers for 50 years and owner/operator of a large boarding kennel for 30 years.
While closely associated with Linda Arndt and instrumental in helping with research, feed trials, writing, and lecturing on nutritionally-caused growth problems, Jane did the "busy" work of raising a family and numerous litters of puppies. Although Linda was the public face of The Great Dane Lady, Jane was frequently the "legman" behind the scenes, raising, conditioning, and exhibiting the dogs whose winnings proved the success of the studies done for their benefit.
Jane was constantly seeing the results of poor-quality feed practices in the dogs being boarded, and understood the necessity of proving the worth of quality feeds and supplements. Along with Linda, and after many trials and heartaches, she was able to consistently avoid the failures with good feed and supplements. Those of us who are closely bound to our conpanion animals are always trying to rectify the ongoing problems of less-than-adequate or unbalanced nutrition for growing puppies.
She sees the continuing problems of breeders and owners of fast-growing canines, and with long-term experience of assisting others with correcting probelems, Jane has agreed to continue the practice of consulting with breeders and owners of dogs who need help.
List of All Supplements | Terms and Conditions | Dislcaimer | Refund Policy
Shipping: We ship Priority, Flat Rate Priority and International Priority rates. FCN is a small family owned company and not able to offer free shipping like the big ecommerce conglomerates who often buy almost out of date supplements and you have no recourse for returning product. However, what we have that they do not have is, first rate customer service, people to answer specific nutritional questions. We have real people here in the USA to help you and your vet with health problem solving and developing your pet's feed program. This is a service no other large companies offer their customers. Our customers appreciate the difference at FCN because we not only care, but have our own pets years of experience and we know nutrition!
Copyright 2017. First Choice Naturals, Inc. is owned by Blackwatch Nutritional Consulting LLC, and all descriptive text, links to articles and nutritioinal information found at this website, in articles or feed programs, is owned by Blackwatch Nutritioinal Consulting LLC. No information at this website is to be used in lieu of physician or veterinarian's advice, diagnosis, or treatment. Always seek the advice of your health care professionals. Any photographs sent to this website becomes the property of Blackwatch Nutritional Consulting LLC, and can be used for website, seminars, lectures, books, for the sole purpose of educating the general public. Efforts are taken to remove recognizable images or names from photos, no names are used of owner, breeder or pet to protect the of the individuals.