Canine Supplements | Equine Supplements | Feline Supplements | Human Supplements | All
Breath-Less Fizzy Plaque-Zappers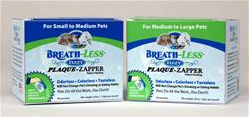 click to zoom
When FCN compared all the plaque removal products on the market, Ark Naturals was one of our two favorite products based on healthy ingredients and research. We carry both dental products Petzlife Oral Spray/Gel and Fizzy Plaque Zappers for your convenience and the two can be used together if needed.
It is Ark Naturals patented formula of Breath-Less "Fizzy" Plaque Zappers powder maintains saliva natural pH balance and disrupts the growth pathogenic organisms which cause of plaque & tartar on the teeth. It keeps your pet's teeth clean and breathe fresh simply by putting in your daily drinking water.
1 box contains 30 packages or 1 month supply for medium/large dogs Small dogs 1/2 packet will last 2 months.
5.0 out of 5 stars (2 ratings)
Showing 2 customer reviews...
August 28th, 2013





Bernice says...
Bad breath gone
August 31st, 2011





Anonymous says...
My vet likes this product. I have seen a difference in the blackness on her stomach.
List of All Supplements | Terms and Conditions | Dislcaimer | Refund Policy
Shipping: We ship Priority, Flat Rate Priority and International Priority rates. FCN is a small family owned company and not able to offer free shipping like the big ecommerce conglomerates who often buy almost out of date supplements and you have no recourse for returning product. However, what we have that they do not have is, first rate customer service, people to answer specific nutritional questions. We have real people here in the USA to help you and your vet with health problem solving and developing your pet's feed program. This is a service no other large companies offer their customers. Our customers appreciate the difference at FCN because we not only care, but have our own pets years of experience and we know nutrition!
Copyright 2018. First Choice Naturals, Inc. is owned by Blackwatch Nutritional Consulting LLC, and all descriptive text, links to articles and nutritioinal information found at this website, in articles or feed programs, is owned by Blackwatch Nutritioinal Consulting LLC. No information at this website is to be used in lieu of physician or veterinarian's advice, diagnosis, or treatment. Always seek the advice of your health care professionals. Any photographs sent to this website becomes the property of Blackwatch Nutritional Consulting LLC, and can be used for website, seminars, lectures, books, for the sole purpose of educating the general public. Efforts are taken to remove recognizable images or names from photos, no names are used of owner, breeder or pet to protect the of the individuals.