Canine Supplements | Equine Supplements | Feline Supplements | Human Supplements | All
BULK PRODUCTS - For Breeders & Multiple Dog Families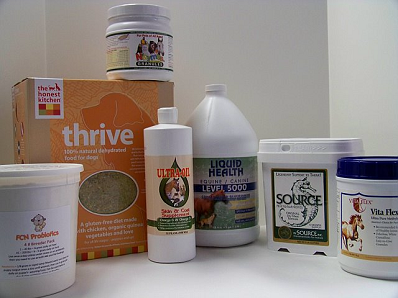 click to zoom
First Choice Naturals now offers our most popular products in larger containers specifically for breeders, veterinarians and multiple dog families, including brands you've come to know and trust like Honest Kitchen, FCN Probiotics and Digestive Enzymes, Liquid Health, Source and more.

BREEDERS BASIC CORE 4 Kit# - LG28  - (Bulk)

3.6 lb FCN Breeder Pack Probioitcs /Digestive Enzymes - $ 120.00
8 lbs Dietary Enzymes Granular - $152.00 (photo not shown)
8 Oz. OX-E-Drops (concentrate) - $54.00 (not shown)..also comes in quarts under name pH Restore (see drop down menu).
CORE 4 KIT # GL28 .............................$326.00 TOTAL
_____________________________________________________
Other Supportive Supplements in Bulk for Breeders:
1 Gallon Liquid Health – Level 5000 Joint Support - $155.00
1 Gallon Ultra Oil s– Balanced Omegas - $113.00 (not shown)
10 lb Honest Kitchen Dehydrated Raw- THRIVE & EMBARK 74.00/$78.25
5 lbs Source – Micro-Minerals (seaweeds) - $47.00
2 lbs MSM- Nutritional Sulfur - $40.72
1 Quart of pH Restore Drops (concentrate) - $125.00 (not shown)
NOTE: For breeders overseas - you can purchase in bulk the Great Dane Lady's Filling N The Wholes product. It will ge shipped in plastic bags, labeled this way, because it fits into the boxes easier cutting your shipping cost. They will give you a 12 case price which is 12#. This is a comprehensive product that has been made from whole foods, not synthetics, has vitamins/minerals and it has probiotics/digestive enzymes, dietary enzymes, omegas, joint support, colostrum for immune support, l-carnitine for heart support, MSM for even growth, Vitamin C and more. It does not have the dietary enzymes (Nzymes) product it in it, but it does have organic flax sprouts, which does the same thing.

In some cases, this might be the best alternative for a comprehensive product and the least costly to ship overseas. Email them and ask for shipping costs: 1stchoicenaturals@comcast.net

NOTE: THERE IS AN ADDITIONAL $4.05 SHIPPING ON ALL GALLON CONTAINERS BEING SHIPPED IN THE USA.
5.0 out of 5 stars (3 ratings)
Showing 2 customer reviews...
November 2nd, 2012





Anonymous says...
Great service, fast shipping, quick response to questions. Love the probiotics. Excellent product at excellent price!
June 29th, 2009





Anonymous says...
Part of supplement profile.
List of All Supplements | Terms and Conditions | Dislcaimer | Refund Policy
Shipping: We ship Priority, Flat Rate Priority and International Priority rates. FCN is a small family owned company and not able to offer free shipping like the big ecommerce conglomerates who often buy almost out of date supplements and you have no recourse for returning product. However, what we have that they do not have is, first rate customer service, people to answer specific nutritional questions. We have real people here in the USA to help you and your vet with health problem solving and developing your pet's feed program. This is a service no other large companies offer their customers. Our customers appreciate the difference at FCN because we not only care, but have our own pets years of experience and we know nutrition!
Copyright 2018. First Choice Naturals, Inc. is owned by Blackwatch Nutritional Consulting LLC, and all descriptive text, links to articles and nutritioinal information found at this website, in articles or feed programs, is owned by Blackwatch Nutritioinal Consulting LLC. No information at this website is to be used in lieu of physician or veterinarian's advice, diagnosis, or treatment. Always seek the advice of your health care professionals. Any photographs sent to this website becomes the property of Blackwatch Nutritional Consulting LLC, and can be used for website, seminars, lectures, books, for the sole purpose of educating the general public. Efforts are taken to remove recognizable images or names from photos, no names are used of owner, breeder or pet to protect the of the individuals.