Canine Supplements | Equine Supplements | Feline Supplements | Human Supplements | All
Canine Relax-N - Anxiety Complex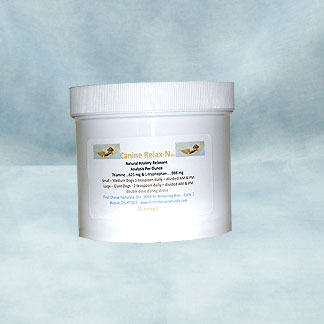 click to zoom
Ingredients:
Flaxseed Meal, Stabilized Rice Bran, Saccharomyces Cerevisiae, l-Tryptophan, Thiamine Mononitrate, Calcium Carbonate, Magnesium carbonate.
Guaranteed Analysis:
l-Tryptophan 1000mg,
Thiamine 500mg,
Calcium 20mg
Magnesium 2.5mg
Saccharomyces Cerevisiae 8.75 Billion CFU,
Omega 3 Fatty Acids 3.5%; from flaxseed.
1 lb container


Small – Medium Dogs 1 teaspoon daily – divided AM & PM
Large – Giant Dogs - 2 teaspoon daily – divided AM & PM
Double dose when needed
Separation anxiety is something we think is caused by improper early socialization and training or lack of it. Many rescue dogs have this condition and it is due to malnourishment that is often suffered from the time they were in the womb. When we provide optimal nutrition, in time, there is a definite change in the behavior patterns. Many of these animals are lacking the nutrients necessary to provide the body what is needed to make serotonin and melatonin, which are vital in stabilizing mood/behavioral patterns.
4.7 out of 5 stars (12 ratings)
Showing 10 customer reviews...
April 28th, 2014





Kristen says...
I have used this product since 2007 on several dogs. It works great. I previously tried Prozac and Clomacalm and neither of them helped. After a few weeks on this I saw a noticeable difference. My vet started to suggest it to clients with anxiety as well.
May 14th, 2013




Amy D. says...
Although I didn't notice a big effect on my dog, he did seem to sleep a little more and he no issues when we left him to go on vacation.
November 11th, 2012





Lori says...
I have a rescue dog that was so anxious she had diarrea all the time. So I ordered this product and it work great for her. Her stools are normal now and have been since I started using this anxiety complex.
August 5th, 2012





Lori says...
My german shepard was a rescue dog and she is afraid of evrything. She was having loose stools all the time from the anxiety. I use the Core 4 for my other dog and it worked so well that I decided to try your canine relax-n-anxiety complex. Again your product worked great! She is still having some anxiety issues but the loose stools are gone and she does relax about a half hour after she eats it with her meals. It doesn't make her too relaxed like a medication would and its a natural product I am giving her. I am thrilled with the results and I will use your products forany problem my dogs may have in the future. I will also be putting her on the Core 4 diet in the near future now that I know the loose stools were from anxiety.Again, Thank You!
September 15th, 2010





Anonymous says...
I definetly notice a change in my 2 month old puppy's temperment. It does not make her sleepy, groogy or comatosed. She is just relaxed and has much less anxiety. This is great for us to use as we are starting her crate training and she is in the crate for most of the day while we are at work. I have used First Choice Naturals on my other pets and will continue to do so.
April 7th, 2010




Barbara Gillam says...
Seems to help him with anxiety (and licking just a bit).
September 4th, 2009




Charles Lane says...
Seems to have helped with my dane's anxiety about being crated. She still don't like it but is not soaking the crate with drool.
September 2nd, 2009





Donna says...
A wonderful product for dogs with "issues" like anxiety, fear, or nervousness. Very effective yet reasonably priced.
July 1st, 2009





Lisa Sensinger says...
This product is amazing. We have a whole new dog now! Our labradoodle had severe separation anxiety....to the point where we couldn't leave our house without taking him along. Not anymore! This product is amazing!!!!!
June 29th, 2009




Anonymous says...
The natural calm down (the name of which I have forgotten and it is downstairs while I am up) seems to be working and allows me to leave him home alone for a short period of time in a room by himself. That is a great improvement.
List of All Supplements | Terms and Conditions | Dislcaimer | Refund Policy
Shipping: We ship Priority, Flat Rate Priority and International Priority rates. FCN is a small family owned company and not able to offer free shipping like the big ecommerce conglomerates who often buy almost out of date supplements and you have no recourse for returning product. However, what we have that they do not have is, first rate customer service, people to answer specific nutritional questions. We have real people here in the USA to help you and your vet with health problem solving and developing your pet's feed program. This is a service no other large companies offer their customers. Our customers appreciate the difference at FCN because we not only care, but have our own pets years of experience and we know nutrition!
Copyright 2017. First Choice Naturals, Inc. is owned by Blackwatch Nutritional Consulting LLC, and all descriptive text, links to articles and nutritioinal information found at this website, in articles or feed programs, is owned by Blackwatch Nutritioinal Consulting LLC. No information at this website is to be used in lieu of physician or veterinarian's advice, diagnosis, or treatment. Always seek the advice of your health care professionals. Any photographs sent to this website becomes the property of Blackwatch Nutritional Consulting LLC, and can be used for website, seminars, lectures, books, for the sole purpose of educating the general public. Efforts are taken to remove recognizable images or names from photos, no names are used of owner, breeder or pet to protect the of the individuals.