Canine Supplements | Equine Supplements | Feline Supplements | Human Supplements | All
CORE 4 Kit #50 -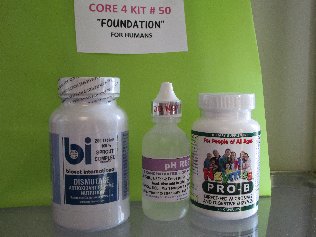 click to zoom
CORE 4 Kit #50 - HUMAN FOUNDATION - contains:

Pro B Probiotics- This is a blend of good micro-organisms in combination with the needed digestive enzymes to break down the foods and deliver the nutrients to our system. They also take the load off the pancreas having to produce more daily. (90 capsules - 2-3 months supply)

(Amount: 1 capsule daily, double if stressed or on antibiotics).

Dietary Enzymes - Dismutase Tablets (200 capsules) help to provide the things necessary to slow the free radical damage and provide antioxidant and anti-aging  properties as well. This is what we use to keep our body detoxified from all types of toxin, on a daily basis.  (Amounts: ease into 4 - 6 capsules daily depending on weight (see bottle. You can double dose when stressed and triple more for really heavy detoxification purposes, but it is important to EASE into this level of detoxification so you don't get nausea, lethargy and loose stools).  Note: The GreatDaneLady used 10 capsules in AM and 10 in the PM when going through chemotherapy. Call us for her positive experiences with dietary enzymes, which she has taken for over 30 years and continues with great health.
pH Restore Drops - This is a concentrated liquid that is used to balance the body's pH.  Keeping your digestive tract with a pH 7 or above is so important to health. Research shows us that an acid environment is not representative of wellness and in fact invites disease and suppressed immune function.  (2 oz bottle). (Amount: put 10 drops in 8 oz glass of filtered water - drink it AM and PM. You can also put 10 drops in your bottled water that you drink all day. This can be used topically as long as it is diluted - 1 teaspoon in 1 cup distilled water and it can be used on cuts, abrasion, sunburn etc - no sting). It can be used the same as OxEDrops. 
List of All Supplements | Terms and Conditions | Dislcaimer | Refund Policy
Shipping: We ship Priority, Flat Rate Priority and International Priority rates. FCN is a small family owned company and not able to offer free shipping like the big ecommerce conglomerates who often buy almost out of date supplements and you have no recourse for returning product. However, what we have that they do not have is, first rate customer service, people to answer specific nutritional questions. We have real people here in the USA to help you and your vet with health problem solving and developing your pet's feed program. This is a service no other large companies offer their customers. Our customers appreciate the difference at FCN because we not only care, but have our own pets years of experience and we know nutrition!
Copyright 2018. First Choice Naturals, Inc. is owned by Blackwatch Nutritional Consulting LLC, and all descriptive text, links to articles and nutritioinal information found at this website, in articles or feed programs, is owned by Blackwatch Nutritioinal Consulting LLC. No information at this website is to be used in lieu of physician or veterinarian's advice, diagnosis, or treatment. Always seek the advice of your health care professionals. Any photographs sent to this website becomes the property of Blackwatch Nutritional Consulting LLC, and can be used for website, seminars, lectures, books, for the sole purpose of educating the general public. Efforts are taken to remove recognizable images or names from photos, no names are used of owner, breeder or pet to protect the of the individuals.