Resource Articles
Dealing with Diarrhea and Giardia Protozoa
Posted on 11/06/2012
Giardia Protozoa in Dogs (Diarrhea, Vomiting, and Weight loss)
Kit #23 - Giardia Protozoa Support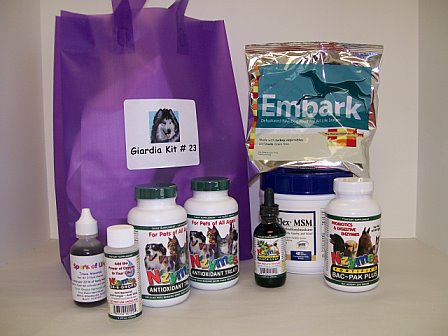 This kit should last a giant breed approximately 4-5 weeks. For smaller breeds it will last longer - enough to get the dog on track again and then you can move to one of the CORE 4 Kits to maintain wellness.
Are you sick and tired of your dog having a loose stools all the time? Are they on/off again stools, yet your dog is still eating? The vet sends you home with flagyl or metronidzoal, none of which work past the first week or two. If this sounds oh two familiar might I suggest your pet has Giardia.
Giardia nas been growing in frequency across the country not only in dogs, but in humans (often diagnosed as IBD or Chrones Disease.)
Giardia is a one cell microrganism, that lives in water & it is carried from birds, it can stay in the soil and in standing water for a long time so it only works to treat the dog with Panacur wormer, at the same time follow up with beneficial bacteria and the supplements in the Giardia Support Kit.

The worst part is that it is next to impossible to find Giardia in a stool check. The only time you can tell it is at the cycst cycle which is a very short segment over a 2 week time period.
What I have found works the best is to ask your vet to forget about the testing, it is very inaccurate, and go ahead and treat with Panacur wormer for 7 days, then repeat again in 7 days. But it is very very important to be using a Probiotic (beneficial bacteria) at the same time so the gut is not stripped of all the good flora and fauna.
Because this has become such an enormous problem since the early 90's, I developed a Giardia Support Kit to help get the dogs digestive system back on track and keep the Giardia levels down. This organism is in all dogs intestines and it rears it's head when the dog is stressed or going through their heat cycle.
The reasearch done on MSM - Nutritional Sulfur has shown it to be helpful in setting up an environment in the gut where Giarda does not like to multiply, so MSM must become a daily supplement to keep levels low. Now most MSM is made in China, and at First Choice Naturals we use only supplements and components in our supplements that are made in the USA. Our MSM is 99.9% pure for human grade.
The Giardia Support Kit containes MSM as well as other important components to restore the digestive tract and boost immune function after being depleated.
Remember nothing helps keep your dog in good health like a holistic dog food and one of the CORE 4 Kits.
List of All Supplements | Terms and Conditions | Dislcaimer | Refund Policy
Shipping: We ship Priority, Flat Rate Priority and International Priority rates. FCN is a small family owned company and not able to offer free shipping like the big ecommerce conglomerates who often buy almost out of date supplements and you have no recourse for returning product. However, what we have that they do not have is, first rate customer service, people to answer specific nutritional questions. We have real people here in the USA to help you and your vet with health problem solving and developing your pet's feed program. This is a service no other large companies offer their customers. Our customers appreciate the difference at FCN because we not only care, but have our own pets years of experience and we know nutrition!
Copyright 2017. First Choice Naturals, Inc. is owned by Blackwatch Nutritional Consulting LLC, and all descriptive text, links to articles and nutritioinal information found at this website, in articles or feed programs, is owned by Blackwatch Nutritioinal Consulting LLC. No information at this website is to be used in lieu of physician or veterinarian's advice, diagnosis, or treatment. Always seek the advice of your health care professionals. Any photographs sent to this website becomes the property of Blackwatch Nutritional Consulting LLC, and can be used for website, seminars, lectures, books, for the sole purpose of educating the general public. Efforts are taken to remove recognizable images or names from photos, no names are used of owner, breeder or pet to protect the of the individuals.