Canine Supplements | Equine Supplements | Feline Supplements | Human Supplements | All
FCN Probiotics - Breeders Pack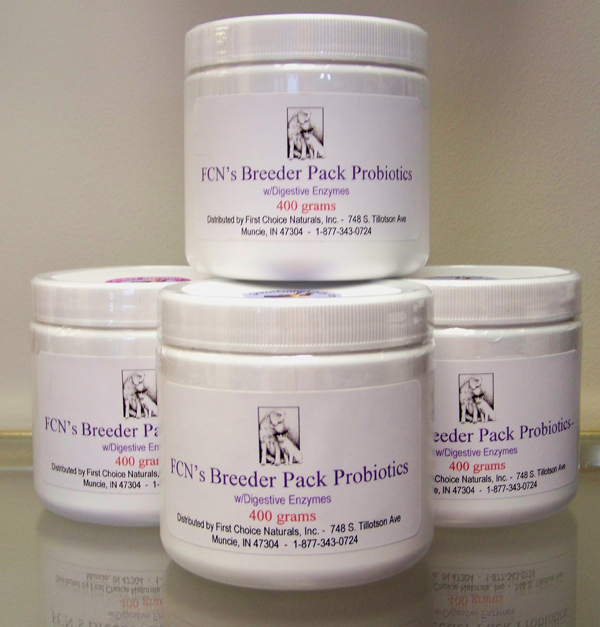 click to zoom
Probiotics and digestive enzymes are part of the GreatDaneLady's program and meant to be used on a daily basis. This probiotic is ideal for every day digestive health or systemic yeast infections, IBS, IBD, Giardia, Coccidia, Colitis and chronic diarrhea. All of these problems require a blend of many beneficial organisms to get the digestive system back on track. It is also ideal to use on newborn puppies and kittens since they are born with a sterile GI tract. Two of the beneficial bacteria are specifically "micro encapsulation" which provides protection against heat and stomach acid and insures that 95% of the viable bacteria reach the GI tract. This blend promotes proper digestion and improved assimilation of foods.
DOSAGES:
1 – 40 lbs – ¼ gram daily on food
41 – 200 lbs – ¼ - ½ gram daily on food
Use once a day unless under stress or on antibiotics then you need to use at both feedings AM and PM
INGREDIENTS:
Dried Whey, Saccharomyces cerevisiae, Silicon Dioxide, Organic Flax Seed, Yucca Schidigera, Dried Aspergillus oryzae Fermentation Product Extract, Dried Aspergillus niger Fermentation Product Extract, Dried Lactobacillus acidophilus Fermentation product, Dried Bifidobacterium thermophilum Fermentation Product, Dried Enterococcus faecium Fermentation Product and Bacillus subtillis Fermentation Product. 1 billion units per gram scoop.
This Product a GreatDaneLady.com - 5 STAR FAVORITE!
GUARANTEED ANALYSIS:
| | |
| --- | --- |
| Lactic Acid Producing Bacteria | at least 1 Billion per gm |
| Protease (A. oryzae) | 475 µg amino acids hydrolyzed/minute/gm |
| a-Amylase(A. oryzae) | 3560 µg starch hydrolyzed/minute/gm |
| Hemi-Cellulase (A. niger) | 410 µg hemicellulose broken-down/minute/gm |
| Phytase (A. niger) | 240 µg of phytate hydrolyzed/minute/gm |
| Cellulase (A. niger) | 190 µg cellulose broken-down/minute/gm |
| Lipase (A. oryzae) | 140 µg fatty acids hydrolyzed/minute/gm |
| Pectinase (A. oryzae) | 95 µg pectin broken-down/minute/gm |
| beta-Gluconase ( A. niger) | 70 µg beta glucans hydrolyzed/minute/gm |
3.6 pounds total weight in 4 coutainers - $120
We do not recommend buying in this large quantity unless you have 6 or more large breed dogs or a large. Remember it takes 5-6 small dogs to equal one Great Dane, so if you have a large kennel of 30 or more tiny breeds, I would not suggest buying it in this bulk. The 400 gram bottle will be sufficient. Do not store in the refridgerator, store in a dark dry cupboard. Shake the container occasionally for anti-caking.
4.5 out of 5 stars (2 ratings)
Showing 1 customer review...
March 31st, 2011





Melanie says...
This product, like all of the other products, that I have ordered from First Choice Naturals is excellent. The quality and specificity of the ingredients relative to my growing puppies health and developmental needs is superior to any other source I have investigated. In addition to the products themselves, First Choice Naturals or better stated, the people who support these superior products are beyond exceptional. Good, bad or otherwise, I am a very discerning customer, in that I always seek additional information to support my buying decisions for my incredible 4 legged family member. My questions are ALWAYS expertly and promptly answered, to include securing my purchase decision or advising me toward a more appropriate choice
List of All Supplements | Terms and Conditions | Dislcaimer | Refund Policy
Shipping: We ship Priority, Flat Rate Priority and International Priority rates. FCN is a small family owned company and not able to offer free shipping like the big ecommerce conglomerates who often buy almost out of date supplements and you have no recourse for returning product. However, what we have that they do not have is, first rate customer service, people to answer specific nutritional questions. We have real people here in the USA to help you and your vet with health problem solving and developing your pet's feed program. This is a service no other large companies offer their customers. Our customers appreciate the difference at FCN because we not only care, but have our own pets years of experience and we know nutrition!
Copyright 2018. First Choice Naturals, Inc. is owned by Blackwatch Nutritional Consulting LLC, and all descriptive text, links to articles and nutritioinal information found at this website, in articles or feed programs, is owned by Blackwatch Nutritioinal Consulting LLC. No information at this website is to be used in lieu of physician or veterinarian's advice, diagnosis, or treatment. Always seek the advice of your health care professionals. Any photographs sent to this website becomes the property of Blackwatch Nutritional Consulting LLC, and can be used for website, seminars, lectures, books, for the sole purpose of educating the general public. Efforts are taken to remove recognizable images or names from photos, no names are used of owner, breeder or pet to protect the of the individuals.