Canine Supplements | Equine Supplements | Feline Supplements | Human Supplements | All
Filling N The Wholes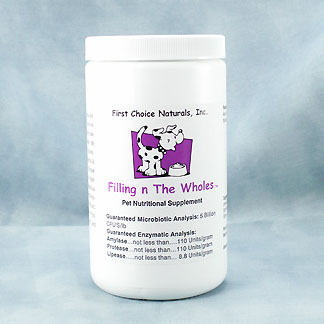 click to zoom
"Filling N The Wholes" should replicates the living components found in diets in the wild, and helps support digestive, heart, joint, skin, ligament and immune functions all in one through the use of green foods vitamins/ minerals, phyto-nutrients, antioxidants, l-carnintine, colostrums, micro-minerals, amino acids, omegas, probiotics (beneficial flora) and digestive enzymes. This supplement powder is suitable for any breed, and age and is compatible with raw, home cooked or commercial kibble.
Note: lately this product does not have a scoop in the jar. We are trying to rectify this with our manufacturer. Until it is resolved, know that the scoop is equal to a regular measuring teaspoon. 1 teaspoon.
Filling in the wholes is a maintenance level supplement and should be compatible with other therapeutic supportive nutrition and should not unbalance your current feeding program. Note: organic barley grasses will vary in color depending on the time of year it has ben cut. This does not effect the nutritional anaylsis of the product on they color will vary, not the source.
INGREDIENTS: Cereal Grass (Barley), Organic Sprouted Flax Seed, Dried Whey Concentrate, Ascorbic Acid (source Vit C), Arabinogalactin, Dried Milk (source of Colostrum), MSM, Brewers Yeast (Saccharomyces Cerevisiac), DMG-L, Carnitine, Humic Shale (source of extracted trace minerals), Lethicin, Chicken Cartilage (source of Glucosamine Sulfate),Type IV Collagen & Type II Collagen, (Direct Fed Microbials) & Digestive Enzymes) Aspergillus Oryzae Fermentation Product, Dried Aspergillus Niger Fermentation Extract Product, Dried Aspergillus niger Fermentation Extract Product, Lactobacillus Acidophilus, Bifidobacterium Thermophilum, Enterococcus Faecium, Bacillus Subtilis, Silicon Dioxide, Dried Yucca Schidigera.*Ascorbic Acid (Vit C) min 25mg/lb Filling In The Wholes is available in a - 1 lb container (128 scoops/teaspoon) and a 1/2 lb container (64 scoops/teaspoons).
Feeding Directions: As a dietary supplement, administer daily according to the following scoop / weight recommendations:
| | |
| --- | --- |
| Number of Scoops or Teaspoons | Weight Range |
| 1/4 1/2 1 1 1/2 2 | 1 - 10 lbs 10 - 25 lbs 25 - 50 lbs 50 - 100 lbs over 100 lbs |
Note: some times this product does not have a scoop in the jar. We are trying to rectify this with our product manufacturer. Until it is resolved, know the scoop is equal to 1 regular measuring teaspoon.
Suggested Use:Once a day on food and when feeding several times daily, divide recommended amount over each feeding. Sprinkle over moistened food under 115 degrees. Store in Cool Dry Place. Related Feed Programs: Basic Feed Program for All Breeds / Mixed Breeds Feed Program for Adult Working / Performance Dogs Feed Program for EPI - Endocrine Pancreatic Insufficiency Feed Program for Rescue and Repair Related Research Articles: Colostrum and Heart Health The Importance of Enzymes in a Diet A Healthy Gut, The Basis of Wellness
4.9 out of 5 stars (57 ratings)
Showing 39 customer reviews...
July 1st, 2014





Anonymous says...
Excellent product, really helps the dogs stay healthy.
February 24th, 2014





Anonymous says...
Follow Great Dane Lady recommendations for Blackwatch feeding program. It is great. Just not fond of Precise food, results from everyone I know is loose stool. But all the supplements are excellent.
February 6th, 2014





Kristen says...
My Great Dane is on Atopica for allergies and skin issues, which suppresses his immune system. He had canine papilloma virus which a dog with a healthy immune system can fight off easily. His body was not fighting the infection and he had an outbreak of papillomas in his mouth. We had them surgically removed and they came back within a couple of weeks. The second outbreak was considerably worse. Within 3 weeks of starting Filling N The Wholes (along with antibiotics, that did not work the first time) his mouth is completely clear!
November 19th, 2013





Anonymous says...
Our beloved Golden is 15 years old & his vet says he is in amazingly good health! I discovered the products from FCN almost 2 years ago when our dog came down with a systemic yeast infection after taking lots of antibiotics. Ordered the yeast kit & Filling N the Wholes & his hair grew back & his energy level increased.
February 1st, 2013





Pine Valley great Danes says...
I have two Great Danes. My female is not a big eater. We were worried about her nutrition because we planned on breeding the two dogs. I started both on the "Filling in the Wholes" and "4 in 1 Probiotic Plus". with in a week both Angus and Camille looked and felt like they had a spa day! Their coats have stayed this way. My female also gained thirteen pounds! She was 1.5 yrs. old at the time, so due for a growth spurt also. Both of our dogs love these products and we love the healthy results!
January 19th, 2013




Anonymous says...
Seems to have helped. Since using it, my dogs never get sick.
June 10th, 2012





eileen glickson says...
It seems to helphis coat, and i hope to lengthen his life span.
March 24th, 2012





Anonymous says...
Excellent service and product. My dog has considerably less gas now that she is taking the probiotic.
March 1st, 2012




Anonymous says...
This product is easy to feed. I mix it along with honest kitchen embark and use it to top his kibble.
March 1st, 2012





Anonymous says...
Great product
January 29th, 2012





Cressida Bedolla says...
This is a great supplement I feed to all my dogs.
January 28th, 2012





Shannoa says...
Using this product for my older dogs to round out their Precise kibble. They seem to not mind it blended into their breakfast.
January 27th, 2012





Karin Graeff says...
Have been feeding this for years, or the 4 in 1 Probiotics. My dogs are seniors now and have never had any problems with digestion, etc.
December 9th, 2011





mike urbaniak says...
my dog has bad hips , he was on pain meds . with the fill in the wholes and the level 5000.also use the nymes. he has been doing great,he is off the pain meds.the vet even asked me what i was doing for him.thank you very much. me and mombo are happy again.
August 25th, 2011





Anonymous says...
Though your product is excellent, my dogs won't eat their food with the powder mixed in with it. I wish it came in tablet form because the ingredients are fantastic. I have very very fussy dogs. (Spoiled!!)
August 9th, 2011





Carrie says...
Great!!! I use it everyday for my 2 labs. It has helped my one a lot with his yeast and food allergies. I use it for the other one just to keep him healthy.
June 8th, 2011





Anonymous says...
It makes sense to supplement our girl's diet. We purchase top of the line food for her and supplement with fresh carrots, broccoli, zucchini, and occasionally apple, green beans, etc. Daily she receives a teaspoon of Filling N The Wholes to do exactly what it's called. She has great digestion, and is bright and healthy. No vet bills so we feel it's worth every dime.
May 26th, 2011





Anonymous says...
A great product! Helps my giant breed get the extra nutrients he needs that he wouldn't get from his food alone. I just sprinkle on top of his food and helps keep him healthy and in good condition!
March 12th, 2011





Kris says...
This product along with the other products recommended for diabetic dogs has helped me keep my dogs glucose levels under control, I didn't think we would ever achieve control of my dogs diabetes without the help of First Choice Naturals! Thank you!!
February 11th, 2011





Anonymous says...
Just feel this is good for our corgi, so I give it to her daily. She is very healthy.
October 15th, 2010





Anonymous says...
Great product. Bloat is a big concern with Great Danes and I have never worried about it with mine since he is on Filling N The Wholes. It keeps his digestive system on track and he has never had so much as a stomach ache.
July 14th, 2010





Anonymous says...
Great product. Keeps their digestive systems in balance. It's nice that it also contains MSM.
June 3rd, 2010





mike urbaniak says...
i really dont know much about these products . but what i do know is i have a 1year old rott who is my baby. he was on pain meds, for bad hip dis. since useing these products we were able to take him off pain meds.he seems like a puppie again. thank you for these products.
May 28th, 2010





Karin Graeff says...
I like this product - seems palatable and they've been doing well on it.
May 28th, 2010





Anonymous says...
Great all around product. I was using the 4 in 1 probiotics but found it was causing some digestive upset in my Rottweiler/Mastiff mix. I changed over to Filling N the Wholes and am happy with the results.
March 18th, 2010





Dawn Walters says...
This is a GREAT product!!!! First Choice Naturals is a GREAT company to do business with!!!!
March 10th, 2010





Anonymous says...
I have always have great prompt service and delivery. Thanks!
February 21st, 2010





Bonnie Deschenes says...
I have 1 dog on the cardiac kit and one dog on the yeast removal kit. All 9 dogs are on the Ox-E-Drops and Fillin N the Wholes, they are all doing great!
February 18th, 2010





Anonymous says...
Great product. Will buy again.
February 13th, 2010



Noel Carroll says...
As above
October 15th, 2009




Meghan Rosenstengel says...
A wider mouthed bottle would be nice.
September 24th, 2009





Anonymous says...
Filling n The Wholes is the best nutritional supplement I've found. It keeps her digestion running smoothly and her weight stable.
September 13th, 2009





Dawn Walters says...
This is an excellant product. My Boxer likes it and looks great. The company is easy to work with and has fast shipping.
September 12th, 2009





Bonnie Deschenes says...
This product came in my cardio kit for my older dog, I am now using it with all of my 9 dogs!
August 12th, 2009





Anonymous says...
My male Airedale has a very sensitive stomach and also had to take massive amounts of antibiotics from a recent surgery. This product has greatly helped his sensitive stomach and kept him from having diarrhea during the time he took the antibiotics.
August 11th, 2009





suzette says...
Great all in one product.
August 6th, 2009





Anonymous says...
My dog does well on it. Has not had a seizure in over a year. He is on meds, and raw diet.
August 1st, 2009




Iris says...
I would give this product a 5 if my dogs wouldn't turn their heads everytime they smell it. To me it smells fresh...I've even used it myself to see what happens since my dogs are so darn picky. There are no side effects, in fact I started feeling more energy and bowel movements stabilized. As to giving it to my dogs, I have to sneak it into their food at minimum quantities so they can barely detect it. I've researched every single ingredient in the product and it's just too wholesome to not be giving it to my dogs anymore...besides they eat raw and need a superior supplement with their meat. Their coats turned darker and richer in color and VERY shiney.
June 29th, 2009





Anonymous says...
First Choice Naturals provides excellent service and products. I rescue Great Danes who come to me in relatively poor health. Filling N The Wholes helps to balance their health and condition. They look better and feel better.
List of All Supplements | Terms and Conditions | Dislcaimer | Refund Policy
Shipping: We ship Priority, Flat Rate Priority and International Priority rates. FCN is a small family owned company and not able to offer free shipping like the big ecommerce conglomerates who often buy almost out of date supplements and you have no recourse for returning product. However, what we have that they do not have is, first rate customer service, people to answer specific nutritional questions. We have real people here in the USA to help you and your vet with health problem solving and developing your pet's feed program. This is a service no other large companies offer their customers. Our customers appreciate the difference at FCN because we not only care, but have our own pets years of experience and we know nutrition!
Copyright 2017. First Choice Naturals, Inc. is owned by Blackwatch Nutritional Consulting LLC, and all descriptive text, links to articles and nutritioinal information found at this website, in articles or feed programs, is owned by Blackwatch Nutritioinal Consulting LLC. No information at this website is to be used in lieu of physician or veterinarian's advice, diagnosis, or treatment. Always seek the advice of your health care professionals. Any photographs sent to this website becomes the property of Blackwatch Nutritional Consulting LLC, and can be used for website, seminars, lectures, books, for the sole purpose of educating the general public. Efforts are taken to remove recognizable images or names from photos, no names are used of owner, breeder or pet to protect the of the individuals.