Canine Supplements | Equine Supplements | Feline Supplements | Human Supplements | All
Immune-Assist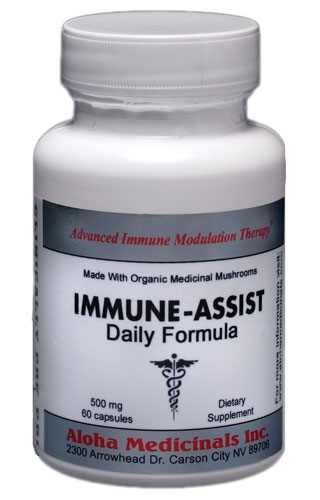 click to zoom
Immune-Assist is similar to other mushroom-based polysaccharides in that it is formulated through an enzymatically process whereby they are converted to active immunomodulators. There is about three times more arabinoxylane per dose of Immune-Assist than there is in MGN3, and four times more AHCC than in the ImmPower brand of AHCC. Immune-Assist - It has been tested in a number of clinical trial, human and animal.
Call for special pricing Buy 2 get 1 free - order must be made over the phone.
| | | |
| --- | --- | --- |
| NUTRIENT | AMOUNT | % Daily Value |
| Proprietary Beta-Glucan complex plus nucleosides and other bioactive compounds extracted from six well-known, organically grown medicinal mushrooms:Agaricus blazei,Cordyceps sinensishybrid, Lentinula edodes, Grifola frondosa, Ganoderma lucidum, and Coriolus versicolor. | 1,000 mg | * |
 IMMUNE-ASSIST does not contain wheat, rye, oats, corn, barley, gluten, soy, egg, dairy, yeast, sugar, wax, preservatives, colorings, or artificial flavorings.
 INGREDIENTS: IMMUNE-ASSIST proprietary blend and plant-derived cellulose (capsule).
DIRECTIONS: As a dietary supplement take two capsules per day in divided doses, or as recommended by a health care professional. In severe conditions, we suggest six capsules per day for two weeks to build up immune activity, then maintaining a dosage of 2 capsules per day. Alternatively, Immune-Assist can be taken at the time of exposure or first signs of illness, in which case we recommend taking two caps three times per day.
*No established Daily Value
COMPOSITION: Two vegetarian capsules provide the following percentage of the Daily Value:
List of All Supplements | Terms and Conditions | Dislcaimer | Refund Policy
Shipping: We ship Priority, Flat Rate Priority and International Priority rates. FCN is a small family owned company and not able to offer free shipping like the big ecommerce conglomerates who often buy almost out of date supplements and you have no recourse for returning product. However, what we have that they do not have is, first rate customer service, people to answer specific nutritional questions. We have real people here in the USA to help you and your vet with health problem solving and developing your pet's feed program. This is a service no other large companies offer their customers. Our customers appreciate the difference at FCN because we not only care, but have our own pets years of experience and we know nutrition!
Copyright 2018. First Choice Naturals, Inc. is owned by Blackwatch Nutritional Consulting LLC, and all descriptive text, links to articles and nutritioinal information found at this website, in articles or feed programs, is owned by Blackwatch Nutritioinal Consulting LLC. No information at this website is to be used in lieu of physician or veterinarian's advice, diagnosis, or treatment. Always seek the advice of your health care professionals. Any photographs sent to this website becomes the property of Blackwatch Nutritional Consulting LLC, and can be used for website, seminars, lectures, books, for the sole purpose of educating the general public. Efforts are taken to remove recognizable images or names from photos, no names are used of owner, breeder or pet to protect the of the individuals.