Canine Supplements | Equine Supplements | Feline Supplements | Human Supplements | All
Immune Balance 365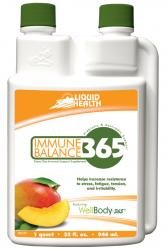 click to zoom
Immune Balance is balanced with powerful immune enhancers. Its combination improves general health and fight infections.

Directions: Shake well. Refrigerate after opening. May be mixed with juice for best taste. Settling is normal. Protect from heat, light, & moisture. As with any natural product, color and taste may vary. Bottle is a 30 day supply
Recommended Serving Size 1 ounce daily (2 Tbsp)
 
 
 
 Amount per 1 ounce - % Daily value               
 
 
Calories
32
 
Total Carbohydrates
1
 
Sugars
1
 
Sodium
20 mg
 < 1%
Vitamin C (as Calcium ascorbate)
240 mg
400%
Vitamin D (as cholecalciferol)
400 iu
100%
Vitamin E (as d-alpha tocopherol acetate)
60 iu
200%
Wellbody 365™ 
132 mg
**
Ashwagandha (Withania somnifera) root and leaf extract, Maitake (Grifola frondosa) fruit body extract.   
Proprietary Blend
600 mg
**
NutraFlora® ScFOS prebiotic blend, Elderberry juice, Eleuthero (Eleutherococcus senticosus) leaf extract, Stevia leaf extract, Rhodiola rosea root extract
Other Ingredients: Purified water, Aloe vera juice, Organic agave cactus nectar, Vegetable glycerin USP, Citric acid, Natural flavoring, Lou han guo, Xanthan gum, Potassium sorbate (to preserve freshness), Potassium benzoate (to preserve freshness.
† Based on a 2000 calorie diet
** Daily Value Not Established
CONTAINS NO ARTIFICIAL COLORING OR FLAVORING, SUGAR, STARCH, SALT, WHEAT, GLUTEN, YEAST, OR MILK DERIVATIVES
CONTAINS SOY
100% VEGETARIAN
THESE STATEMENTS HAVE NOT BEEN EVALUATED BY THE FDA. THIS PRODUCT IS A DIETARY SUPPLEMENT AND IS NOT INTENDED TO DIAGNOSE, TREAT , CURE, OR PREVENT ANY DISEASE.
ALL Liquid Health™, Inc. Products MADE IN THE USA
List of All Supplements | Terms and Conditions | Dislcaimer | Refund Policy
Shipping: We ship Priority, Flat Rate Priority and International Priority rates. FCN is a small family owned company and not able to offer free shipping like the big ecommerce conglomerates who often buy almost out of date supplements and you have no recourse for returning product. However, what we have that they do not have is, first rate customer service, people to answer specific nutritional questions. We have real people here in the USA to help you and your vet with health problem solving and developing your pet's feed program. This is a service no other large companies offer their customers. Our customers appreciate the difference at FCN because we not only care, but have our own pets years of experience and we know nutrition!
Copyright 2018. First Choice Naturals, Inc. is owned by Blackwatch Nutritional Consulting LLC, and all descriptive text, links to articles and nutritioinal information found at this website, in articles or feed programs, is owned by Blackwatch Nutritioinal Consulting LLC. No information at this website is to be used in lieu of physician or veterinarian's advice, diagnosis, or treatment. Always seek the advice of your health care professionals. Any photographs sent to this website becomes the property of Blackwatch Nutritional Consulting LLC, and can be used for website, seminars, lectures, books, for the sole purpose of educating the general public. Efforts are taken to remove recognizable images or names from photos, no names are used of owner, breeder or pet to protect the of the individuals.