Canine Supplements | Equine Supplements | Feline Supplements | Human Supplements | All
JPleash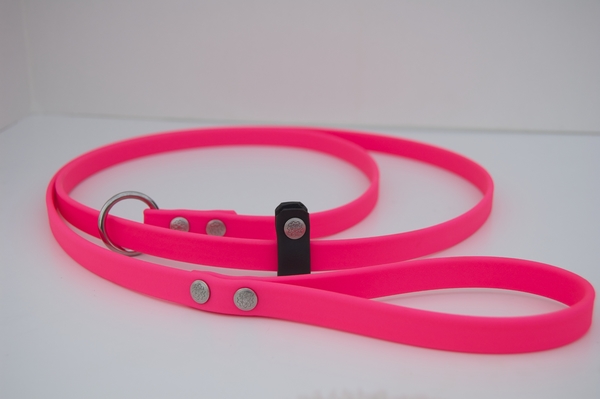 click to zoom
6 ft. Biothane Slip Lead and Collar Combo. 1 size fits all - Stainless Steel loop ring and 5 hand set Chicago Screws.
Material used as horse harness, Biothane Beta will wash easily with mild soap and water. Not subject to fraying and easy on the hand. These are available in colors listed below:
Pink (as shown) Stainless Steel Chicago Screws as do others below not otherwise marked.
Orange
Red
Purple (brass Chicago screws)
Blue
Lime Green
Hunter Green (brass Chicago screws)
Black
Collars available by special order with size specification. "Close Walkers" (short walking handles with clips) also available as well as 6 foot Clip leashes. Please call for special orders or put color request on the "comments" section of your order form.
Shipping for up to two leashes alone is $6.96. Shipping charges will be altered prior to charging at time of processing.
List of All Supplements | Terms and Conditions | Dislcaimer | Refund Policy
Shipping: We ship Priority, Flat Rate Priority and International Priority rates. FCN is a small family owned company and not able to offer free shipping like the big ecommerce conglomerates who often buy almost out of date supplements and you have no recourse for returning product. However, what we have that they do not have is, first rate customer service, people to answer specific nutritional questions. We have real people here in the USA to help you and your vet with health problem solving and developing your pet's feed program. This is a service no other large companies offer their customers. Our customers appreciate the difference at FCN because we not only care, but have our own pets years of experience and we know nutrition!
Copyright 2018. First Choice Naturals, Inc. is owned by Blackwatch Nutritional Consulting LLC, and all descriptive text, links to articles and nutritioinal information found at this website, in articles or feed programs, is owned by Blackwatch Nutritioinal Consulting LLC. No information at this website is to be used in lieu of physician or veterinarian's advice, diagnosis, or treatment. Always seek the advice of your health care professionals. Any photographs sent to this website becomes the property of Blackwatch Nutritional Consulting LLC, and can be used for website, seminars, lectures, books, for the sole purpose of educating the general public. Efforts are taken to remove recognizable images or names from photos, no names are used of owner, breeder or pet to protect the of the individuals.