Canine Supplements | Equine Supplements | Feline Supplements | Human Supplements | All
K-9 Immunity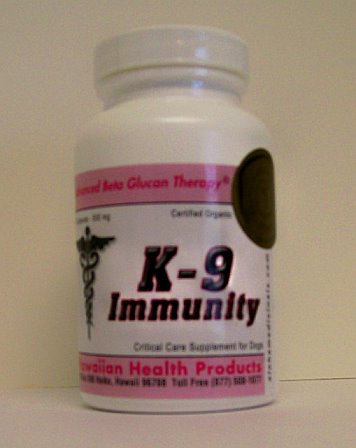 click to zoom
K9 IMMUNITY was originally developed to treat cancer and it is USDA Certified Organic.
Ingredients:
Agaricus blazei, Cordyceps sinenis hybrid, Lentinula edodes, Grifola frondosa, Ganoderma lucidum, Coriolus versicolor
DOSAGE: Use 1 capsule per 10 lbs of body weight up to 12 capsules a day. Divide AM and PM
Note: There isn't any need to exceed 12 capsules per day.
4.7 out of 5 stars (52 ratings)
Showing 45 customer reviews...
July 12th, 2012





Linda Spinner says...
I have been using this for several years with a dog with lymphoma. She was diagnosed over two years ago and I think this has helped tremendously. She does get chemo but it is about every 6 weeks which is a long interval. I think the K9 Immunity and K9 Factor kept her immune system healthier and she acts much younger than a 13 year old. thank you from me and Sissy.
April 25th, 2012





Anonymous says...
Wonderful product,I believe it is what is keeping our dog going.
March 4th, 2012





DOUG says...
Our golden has osteosarcoma,given 6 months,that was almost 3 years ago.I started this product the same time of her diagnosis!!!!!!!!
September 22nd, 2011




JJ Gallagher says...
The product is reasonably priced...the shipping cost is way high for a bottle of pills.
August 26th, 2011





jim vicars says...
My dog is 9 years old. contracted osteo sarcoma about 2 1/2 years ago. Did a foreleg amputation 1 and 1/2 years ago. did not do traditional cancer treatment. All K-9 and transfer and omegas along with the change in diet. Dogs do not process grains. He was clear for a year, but now cancer has metatasticized. He is a fighter and feels good, and has outlasted the odds. I trust this compound in humans (myself) and this situation has taught me to remember it for the future. Don't think he would have lived this long otherwise, but the main thing is that he feels good right now. a ?2
June 30th, 2011





DOUG says...
working wonderfully for over 2 years
April 20th, 2011





Kim Stewart says...
Used this product for over two years and my precious pup passed away this weekend. I truly feel this product gave me two more years with quality that I would have never had otherwise.
April 15th, 2011





DOUG says...
We have been using this product for over 2 on a dog with osteo and was given 6 months to live TOPS.
March 12th, 2011





Anonymous says...
Our best friend was diagnosed with osteosarcoma and given a relatively negative prognosis since he's not a candidate for chemotherapy or other conventional treatment. He started taking K9 Immunity as soon as we received our order and has been taking it religiously daily. His mood has improoved and he's almost back to himself again (except for the limping). He is playful and sleeps better. We are very happy with this product.
March 4th, 2011





DOUG says...
A wonderful product
February 21st, 2011



Anonymous says...
I can't really give a review yes or no, didn't get a chance to see if it would help or not. Got the product gave it to him one time. He was bleeding from the mouth so bad from Mast cell tumors, with so much blood loss he was probable too far gone to help:(
January 8th, 2011




Sharon says...
See my review under K-9 Transfer Factor.
January 6th, 2011





DOUG says...
This product is the best thing on the market
December 5th, 2010




Anonymous says...
My judgement is very non-scientific, based on my impression. But, my dog who is going through chemotherapy of Lymphoma showed minimum or no bad side effects, and is very active. I think something in K-1 immunity and K-1 transfer is helping him. So, I will continue giving them to the dog. Thank you.
December 3rd, 2010





Wanda Pittman says...
I have been using K9 Immunity for 9 months. My brittan with nasal cancer is doing better than I had hoped. Along with the grain free diet that I switched him to and K9 Immunity, I believe it has given me more time with him. When he was diagnosed in March of 2010, the vet gave him 3 months.
December 1st, 2010





Dan says...
Long story short, my dog was diagnosed with bladder cancer back in May, he had surgery in June and it's now December. He had 3 rounds of chemo and he takes provoxicam, after his first chemo session, a week later his white blood cell count was low and he had to start on antibiotics to be on the safe side. I had been doing research and found K9 Transfer Factor and Immunity and started him on both. After his second chemo session, the test a week later found his white blood cell count to be in an acceptable level and no antibiotics were needed. So now I swear by both and I won't take him off of them, he is 14 and in decent shape considering what he has been through.
November 12th, 2010




Anonymous says...
Had surgery for Hemangiosarcoma in early September,2010.His spleen and part of liver were removed. He has been on this K-9 immunity among many other supplements. We had ultrasound and xrays done 11/10/2010. We didnt see any new tumor growths and we hope that this is the case throughout his 5 session chemo protocol.
November 5th, 2010





Doug says...
Dog has osteosarcoma,was given 6 months,that was 19 months ago,she is still going on walks and loving live,I believe this product is the only thing keeping her going...
October 14th, 2010



Anonymous says...
Again, I am neutral at this moment.
October 13th, 2010




Patrizia Bracci Bangkok says...
I am hoping that this will help our 4 years old lab whose mast cell tumor on her front leg was operated 2 months ago. For now (two months later) everything seems Ok. The product had great reviews and we are hoping that it will work for our beloved Bloom.
October 4th, 2010





Anonymous says...
Yes, I do love the products. I wish you have more discounts if we buy more K9 immunity.
October 1st, 2010





DOUG says...
Awesome product
September 27th, 2010





Kim Stewart says...
My only complaint is that they discontinued selling the products in larger quantites at a discount rate.
August 18th, 2010





Mona's Mom says...
Mona was diagnosed with stage 3 lymphoma in May.10. We decided against against chemo and we went with prednisone and K-9 Immunity and Transfer as well as many other natural supplements. Her 60 days of life is now at 120.
July 31st, 2010





Karen Raabe says...
It's been four months since Delta was diagnosed with osteosarcoma, had her right rear leg amputated and began taking the K9 Immunity and Transfer Factor and so far she acts as if nothing has ever happened to her. She is enjoying life and their have been no signs of spreading.
July 28th, 2010





Anonymous says...
My 11 year old belgian has had a melonoma on her upper jaw two 1/2 years ago. I started her on K-9 immunity and transfer factor. It slowed the progression but it did not stop it. She was slowly going down hill. A year ago I added a product called Del ImmuneV to her raw diet and other vitamin and mineral and omega3s. She has regained much of her former vigor and runs and playes like a young dog! She has recently gotten catracts I started using a product called Similasan Cataract Care which I have been using for several years. It dosen't remove the cataracts but it seems to slow the progression and makes the cataract clear restoring much of her former vision. My veterinarian was so impressed with her eyes he ordered to try on other clients. He is starting to use the Del-Immune on a trial basis.
July 16th, 2010





Mona says...
Mona is a 3 year old bassett hound that was diagnosed with Lymphoma 7 weeks ago. We chose a more natural attack on her cancer with with the K-9 Immunity and K9 Transfer Factor along with an arsonal of vitamens and supplements. She is on a raw diet as well, but she is beating the odds and doing great!
July 14th, 2010





Kim says...
I just recently lost my black lab, but I feel very strongly that this product added years to his life and improved the quality of his life as well. The only negative thing about this product is the discontinuing of large quantities at a much reduced price. Having two very large dogs on the product makes it very expensive to purchase at a per bottle rate. I would love to see the production company bring back this option to their carriers who can then pass it along to us consumers.
July 7th, 2010





DOUG says...
Best price on the net,fast shipping.
July 1st, 2010





Wanda Pittman says...
I am using this product for my Brittany who has nasal cancer. It is not a cure, but a immune supplement. He has more energy and seems to be doing good using this product. When he was diagnosed in March he was given about 3 months. He is now into his 5 month. I hope to have him around for a while.
July 1st, 2010





Megan Mozitis says...
I started my rottie on K9 Immunity a week prior to start chemotherapy for Lymphoma. Within 10 days of using the product my dog vastly improved, energy, vitality. Through the past 6 weeks of chemo he has done remarkably well. I thoroughly endorse the use of K9 Immunity. As for First Choice Naturals...I received my products in a very timely manner...2 days! FCN is most economical as well!
June 28th, 2010





Anonymous says...
Excellent service. Super fast delivery; I expected a week but received in 2 days! Loved the samples!!! These K9 immunities are great. My dog started having pain front leg and after taking K9, he doesn't have anymore lameness; it took 2 weeks for it to be effective. (The only reason I suspect he had cancer b/c his mom just died of bone cancer a year before & she had the same symptoms in the beginning--before all those lameness started). Excellent price, wish it would be cheaper.
April 14th, 2010





Anonymous says...
the cheapest product I have ever seen. I can't believe it's that cheap. I only wish I had known this website earlier. The K9 immunity and transfactor worked like miracle. My dog improved in 4 days, a total different dog. I recommend this product to every dog with cancer. I also use these supplement for my other dogs to prevent cancer.
March 27th, 2010



Anonymous says...
I have only used this a short period of time and really cannot say if it has impacted the life of my dog in positive way however she is doing well.
March 26th, 2010





Jan says...
We had used K-9 Immunity and K-9 Transfer Factor for some months and were delighted to find them at a lower price at First Choice Naturals. Sadly, our little dog Flash died before we could use the products we received - First Choice Naturals graciously allowed us to return them. Hopefully others will benefit from the products and good service of First Choice Naturals.
December 3rd, 2009





Pookie's and P.J.'s Mom says...
I'll be back! Great Products! Great Price and Great Service!
November 29th, 2009





Anonymous says...
I actually bought this and the Transfer Factor for my cat, who had lymphoma. Unfortunately, she was too far gone for anything to work. However, had I given these products to her earlier on in her disease, she may have been helped.
November 19th, 2009





Agata says...
My 5 years old Dane was just diagnosed with osteosarcoma of his hind leg and after talking to multiple breeders and searching multiple sites I discovered First Choice Naturals and ordered recommended supplements. Even though I understand that it takes time for everything to work, it does not happen magically overnight, after 1 1/2 moths I do see difference, Tiger is doing great, is very active, almost pain free. I know it won't cure the disease but seeing him happy bouncing around is worth all the money. I am very happy with product I purchased and would definetely recommend it to everybody
September 25th, 2009





Anonymous says...
My pet was diagnosed with cancer. K 9 Immunity is a great product and has helped my pet a lot. This product is used with K 9 Transfer factor. I feel both products have helped my pet by strengthening his immune system which has helped him with chemotherapy.
August 31st, 2009




Jim C says...
Our 13 year old Springer was diagnosed with a lung tumor almost 6 months ago, rather than put her through the surgery which (I doubt she would have survived due to her other complications), we chose to put her on the K-9 Immunity and Transfer Factor. It's hard to say if it has made any difference scientifically. I can say that she has had 6 months without the pain and suffering of the surgery and is only now showing signs of slowing down. Has it changed her outcome, I'd like to think it has. We changed her diet to raw food at the same time, our vet seems impressed that she has done as well as she has so far. All we hoped for was to slow the growth down and preserve some decent quality of life for her, I think between the raw diet and the K9 products we have accomplished that.
August 27th, 2009





Anonymous says...
Our 12 1/2 year old Golden has been fighting bone cancer for 5 months and has been on K-9 immunity and transfer factor since he was diagnosed. He has shown no signs of the cancer spreading and still acts like he is not sick. I believe the k-9 immunity is slowing the progression of the cancer and helping him fight the disease. Also First Choice Naturals provides great service and speedy shipping.
July 28th, 2009





Anonymous says...
Recommended by our Holistic Vet. A good supplement while our dog is receiving therapy for cancer.
July 22nd, 2009





Anonymous says...
Great service!
July 8th, 2009




Barbara says...
My dog is fighting cancer. The cancer has spread from the liver to the spleen and lungs. This is not a cure for the cancer but I do feel that it helps our dog in his fight with cancer. The doctors are always impressed with his overall look and good spirit. He is always bright and alert. The cancer is still spreading despite our efforts but our dog's quality of life has not deteriorated much.
July 8th, 2009





Terry Meier says...
great product for cancer I appreciate that your products are affordable as I use 1 bottle of each per month and it gets expensive. Other suppliers can be very very costly.
List of All Supplements | Terms and Conditions | Dislcaimer | Refund Policy
Shipping: We ship Priority, Flat Rate Priority and International Priority rates. FCN is a small family owned company and not able to offer free shipping like the big ecommerce conglomerates who often buy almost out of date supplements and you have no recourse for returning product. However, what we have that they do not have is, first rate customer service, people to answer specific nutritional questions. We have real people here in the USA to help you and your vet with health problem solving and developing your pet's feed program. This is a service no other large companies offer their customers. Our customers appreciate the difference at FCN because we not only care, but have our own pets years of experience and we know nutrition!
Copyright 2018. First Choice Naturals, Inc. is owned by Blackwatch Nutritional Consulting LLC, and all descriptive text, links to articles and nutritioinal information found at this website, in articles or feed programs, is owned by Blackwatch Nutritioinal Consulting LLC. No information at this website is to be used in lieu of physician or veterinarian's advice, diagnosis, or treatment. Always seek the advice of your health care professionals. Any photographs sent to this website becomes the property of Blackwatch Nutritional Consulting LLC, and can be used for website, seminars, lectures, books, for the sole purpose of educating the general public. Efforts are taken to remove recognizable images or names from photos, no names are used of owner, breeder or pet to protect the of the individuals.