Canine Supplements | Equine Supplements | Feline Supplements | Human Supplements | All
K9 - Transfer Factor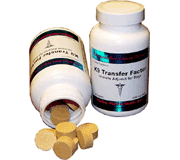 click to zoom
Transfer Factors are produced in the body naturally unless a body is ill, and then with cancer or other auto-immune diseases the body's ability to manufacture sufficient Transfer Factors is impaired so it is very helpful to use Transfer Factor in the daily diet.
Dosage:
1 lbs to 24 lbs = ½ wafer
25 lbs to 49 lbs = 1 wafer
50 lbs to 74 lbs = 1 ½ - 2 wafers
75 lbs to 140 lbs = 2 wafers
140 + lbs = 2 -3 wafers

NOTE: Each 3000 mg of chewable wafer contains 400 mg of Transfer Factor.
4.7 out of 5 stars (41 ratings)
Showing 28 customer reviews...
April 25th, 2012





Anonymous says...
Wonderful product,I believe it is what is keeping our dog going.
March 4th, 2012





DOUG says...
Our golden has osteosarcoma,given 6 months,that was almost 3 years ago.I started this product the same time of her diagnosis!!!!!!!!
January 2nd, 2012





Maria Haeger says...
My Dog was diagnosed with cancer over 3 years ago in 2008 and we were told that he has 6 months to live. Today is better than he was 3 years ago. He has more energy and plays with our dog and is happy than he ever was. I really believe in this product and will never stop giving it my my dog.
November 3rd, 2011





Anonymous says...
It's working wondeful
June 30th, 2011





DOUG says...
working wonderfully for over 2 years
April 15th, 2011





DOUG says...
We have been using this product for over 2 on a dog with osteo and was given 6 months to live TOPS.
March 4th, 2011





DOUG says...
A great product.We have used it for almost 2 years
February 21st, 2011



Anonymous says...
I can't really give a review yes or no,didn't get a chance to see if it would help or not. Got the product gave it to him one time. He was bleeding from the mouth so bad from Mast cell tumors, with so much blood loss he was probable too far gone to help:(
February 17th, 2011





Anonymous says...
The products I purchased from your company helped me to keep my beloved Chester for a year after he was diagnosed with lymphoma.
January 8th, 2011




Sharon says...
Two months ago my 8 year old German Shepherd, Maxie had a splenectomy. Her spleen burst. She was diagnosed with hermangiosarcoma. I have her on the K9 Immunity, K9 Transfer Factor, lots of other supplements and chemo, plus a special cancer diet. As of today she looks great, has lots of energy and is full of life. You look at her you would never know she has cancer. Her quality of life is excellent. I'm hoping and praying I can keep her going like this for a long long time.
December 1st, 2010





Dan says...
Long story short, my dog was diagnosed with bladder cancer back in May, he had surgery in June and it's now December. He had 3 rounds of chemo and he takes provoxicam, after his first chemo session, a week later his white blood cell count was low and he had to start on antibiotics to be on the safe side. I had been doing research and found K9 Transfer Factor and Immunity and started him on both. After his second chemo session, the test a week later found his white blood cell count to be in an acceptable level and no antibiotics were needed. So now I swear by both and I won't take him off of them, he is 14 and in decent shape considering what he has been through.
November 12th, 2010




Anonymous says...
Same as K-9 immunity
November 5th, 2010





Doug says...
Dog has osteosarcoma,was given 6 months,that was 19 months ago,she is still going on walks and loving live,I believe this product is the only thing keeping her going...
October 14th, 2010



Anonymous says...
I can not judge the effectiveness of the product at this moment.
October 4th, 2010





Anonymous says...
Love the products, only wish the 500 counts bottle of K9 transfer factor available. We use large quantities. Can your company make a request to package the 500 counts in your company name?
October 1st, 2010





DOUG says...
Awesome product.
September 27th, 2010





Kim Stewart says...
My only complaint is they discontinued selling the prodcuts in larger bulk quantities at a discounted rate.
July 14th, 2010





Kim says...
I just recently lost my black lab, but I feel very strongly that this product added years to his life and improved the quality of his life as well. The only negative thing about this product is the discontinuing of large quantities at a much reduced price. Having two very large dogs on the product makes it very expensive to purchase at a per bottle rate. I would love to see the production company bring back this option to their carriers who can then pass it along to us consumers.
July 7th, 2010





DOUG says...
We have a golden that has osteosarcoma,she was give 6 months TOPS by her oncologist----that was 13 months ago
July 1st, 2010





Megan Mozitis says...
I use K9 Transfer Factor in conjunction with K9 Immunity...my dog readily eats the Transfer Factor (they MUST be quite flavorful! sorry but I myself am not tasting, I have to go on my dog's opinion!) The product is easy to administer, my only criticism...it should be available in greater quantity...a bottle only lasts in a large dog 10 days.
March 26th, 2010





Jan says...
see above comments
January 2nd, 2010




Delinda Rathlein says...
wonderful product!
November 19th, 2009





Agata says...
My 5 years old Dane was just diagnosed with osteosarcoma of his hind leg and after talking to multiple breeders and searching multiple sites I discovered First Choice Naturals and ordered recommended supplements. Even though I understand that it takes time for everything to work, it does not happen magically overnight, after 1 1/2 moths I do see difference, Tiger is doing great, is very active, almost pain free. I know it won't cure the disease but seeing him happy bouncing around is worth all the money. I am very happy with product I purchased and would definetely recommend it to everybody
September 25th, 2009





Anonymous says...
My pet was diagnosed with cancer. K 9 Transfer Factor is a great product and has helped my pet a lot. This product is used with K 9 Immunity. I have used both products together. I believe the K 9 Transfer Factor and the K 9 Immunity are 100% necessary if you have a pet with cancer.
August 31st, 2009




Jim C says...
Our 13 year old Springer was diagnosed with a lung tumor almost 6 months ago, rather than put her through the surgery which (I doubt she would have survived due to her other complications), we chose to put her on the K-9 Immunity and Transfer Factor. It's hard to say if it has made any difference scientifically. I can say that she has had 6 months without the pain and suffering of the surgery and is only now showing signs of slowing down. Has it changed her outcome, I'd like to think it has. We changed her diet to raw food at the same time, our vet seems impressed that she has done as well as she has so far. All we hoped for was to slow the growth down and preserve some decent quality of life for her, I think between the raw diet and the K9 products we have accomplished that.
July 28th, 2009





Anonymous says...
Recommended by our Holistic Vet. A good supplement while our dog is receiving therapy for cancer.
July 22nd, 2009





Anonymous says...
Great service!
July 8th, 2009




Terry Meier says...
good product for cancer
List of All Supplements | Terms and Conditions | Dislcaimer | Refund Policy
Shipping: We ship Priority, Flat Rate Priority and International Priority rates. FCN is a small family owned company and not able to offer free shipping like the big ecommerce conglomerates who often buy almost out of date supplements and you have no recourse for returning product. However, what we have that they do not have is, first rate customer service, people to answer specific nutritional questions. We have real people here in the USA to help you and your vet with health problem solving and developing your pet's feed program. This is a service no other large companies offer their customers. Our customers appreciate the difference at FCN because we not only care, but have our own pets years of experience and we know nutrition!
Copyright 2018. First Choice Naturals, Inc. is owned by Blackwatch Nutritional Consulting LLC, and all descriptive text, links to articles and nutritioinal information found at this website, in articles or feed programs, is owned by Blackwatch Nutritioinal Consulting LLC. No information at this website is to be used in lieu of physician or veterinarian's advice, diagnosis, or treatment. Always seek the advice of your health care professionals. Any photographs sent to this website becomes the property of Blackwatch Nutritional Consulting LLC, and can be used for website, seminars, lectures, books, for the sole purpose of educating the general public. Efforts are taken to remove recognizable images or names from photos, no names are used of owner, breeder or pet to protect the of the individuals.