Canine Supplements | Equine Supplements | Feline Supplements | Human Supplements | All
Kit #1 - My New Puppy - Baby Growth - All Breeds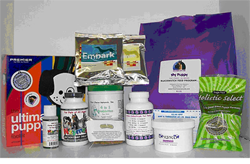 click to zoom
Supplements - Contents of Kit # 1
PRODUCTS

RETAIL

1 – Bottle 4 in 1 Probiotics – 1 lb/ 128 scoops

$24.95

2 – Bottles of Nzymes Treats – 120 treats

$42.06

1 – Bottle of Ox-E-Drops – 2 oz

$21.06

1 – Bottle Colostrum 8 oz.

$20.00

1 – MSM – 1/2 #

$11.00

1 – Out of The Box Puppy Game/Training Kit

$18.00

Subtotal

$137.13

Discount

$6.85

TOTAL

$130.28

 

 

One large/giant puppy – 2-3 months supply costs

($43-$65)

One small/medium pet – 3/4 months supply cost

($37.22)

Reorder Kit # 3 Puppy Growth;Stage 2- Lg/Giants*
Or for maintanence use CORE4 Kit#28

 

Reorder Kit # 4 Adults – for small/medium breeds*

 

 

*Based on one dog and will vary based on size, frequency of use and amount fed.

 

 
This program is not meant to be used in lieu of veterinarian advice, diagnosis or treatment and should be discussed with your veterinarian prior to using.

Note: There is a $10 restocking fee for return of any Kits
4.7 out of 5 stars (9 ratings)
Showing 7 customer reviews...
January 11th, 2013




Anonymous says...
Good product. Only thing kept from five stars is the "Out of The Box Puppy Game/Training Kit". Better off putting a book on training in the kit. A great recommendation would be. Knack Puppies: A Complete Guide to Raising a Happy Puppy in a Positive Environment
April 14th, 2012




Lisa Machado says...
I have read great things about the products, but I have only been using them for a short time, so it is difficult to tell if they are working. My Great Dane 11 week old puppy still has the puppy acne and I was hoping these products would help, but I guess it is too soon to tell. I also thought the packaging for the Colostrum and MSM was not very professional looking and made me weary to feed it to my puppy. I am basing my positive feedback on what I have read and the receommendation from the Great Dane Lady, but not really on personal experience - YET!
April 14th, 2011





Mary Kreuter says...
We recently recieved the puppy kit and it arrieved quickly. Then when I emailed the company about samples of the Honest Kitchen for my elderly great dane (9 years old) they quickly responded and sent me some of them. Thanks so much
April 10th, 2011





Katie C. says...
I have raised three Great Danes so far. All were on the Blackwatch Feeding Program from eight weeks on and were perfect specimens of health, which I attribute to the program. I strongly recommend the puppy kit for giant breed puppies! The price of the kit is nothing when you consider the cost, both financial and emotional, of having an unhealthy puppy...
September 15th, 2010





Anonymous says...
This is the second puppy I have used this kit on and I can not say enough good things about it. The puppy's stool is solid and her coat is shiney. Overall, she is in great health and a lot of that can be contributed to these suppliments. I am going to continue to use these kits with all of my dogs as they grow.
December 4th, 2009




Darin Kosty says...
Outstanding product. Everything conveniently packaged in one to get my puppy started off right. Although it may seem a bit pricey, I think the reward of a beautiful healthy dog in the end is worth every penny! I will continue to use First Choice Naturals products for the life of my dog.
September 24th, 2009





Laura R. Knox says...
I started this kit the day we picked our Great Dane puppy up from the breeder. She has had amazing results and her stool has been hard, which is a great thing in a GD puppy! I love knowing that she is getting the best possible nutrition because it is a lot easier to prevent than treat illness. We will continue on this product for her entire life!!
List of All Supplements | Terms and Conditions | Dislcaimer | Refund Policy
Shipping: We ship Priority, Flat Rate Priority and International Priority rates. FCN is a small family owned company and not able to offer free shipping like the big ecommerce conglomerates who often buy almost out of date supplements and you have no recourse for returning product. However, what we have that they do not have is, first rate customer service, people to answer specific nutritional questions. We have real people here in the USA to help you and your vet with health problem solving and developing your pet's feed program. This is a service no other large companies offer their customers. Our customers appreciate the difference at FCN because we not only care, but have our own pets years of experience and we know nutrition!
Copyright 2018. First Choice Naturals, Inc. is owned by Blackwatch Nutritional Consulting LLC, and all descriptive text, links to articles and nutritioinal information found at this website, in articles or feed programs, is owned by Blackwatch Nutritioinal Consulting LLC. No information at this website is to be used in lieu of physician or veterinarian's advice, diagnosis, or treatment. Always seek the advice of your health care professionals. Any photographs sent to this website becomes the property of Blackwatch Nutritional Consulting LLC, and can be used for website, seminars, lectures, books, for the sole purpose of educating the general public. Efforts are taken to remove recognizable images or names from photos, no names are used of owner, breeder or pet to protect the of the individuals.