Canine Supplements | Equine Supplements | Feline Supplements | Human Supplements | All
Kit #11 - Immune, Rescue & Repair Support- All Breeds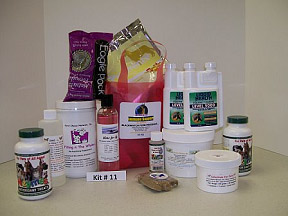 click to zoom
Immune Support- Contents of Kit #11
PRODUCTS
RETAIL
1 – Bottle Filling N The Wholes - 1 lb/ 128 scoops
$32.50
2– Bottle of Nzymes Treats – 120 treats
$42.12
1 – Bottle of Ox-E-Drops – 2 oz
$21.06
1 – DMG-L
$27.50
1 – Bottle Colostrum
$20.00
1 – Bottle Water for Life
$19.50
Subtotal
$162.68
discount
$8.13
TOTAL
$154.55
Cost per weeksupply for large/giant breed
($22)
Cost per week for approximate 3-4 months for small/medium breeds
($11)

It will take approximately 6 months of using this kind of kit before you will want to switch over to Kit #4 – Adults or one of the CORE 4 Kits
5.0 out of 5 stars (2 ratings)
Showing 2 customer reviews...
November 4th, 2012





Anonymous says...
I am a firm believer in using these products. I still believe in using the veterinarian. However, when my puppy could not eliminate Giardia from her system, I found these nutritional products to work wonders.
July 4th, 2009





Carol Wood says...
I have a 13 yr old pug that was very sick suffering from some intestinal parasites after fostering a litter of pups. Everyone responded to treatment except Lacey. It has been 4 months now and we are finally beginning to see a light at the end of the tunnel due to administering your supplements and others that I received. I love the "Filling N the Wholes" product as well as the Nzyme Granules. Thank you for putting together a package such as this.
List of All Supplements | Terms and Conditions | Dislcaimer | Refund Policy
Shipping: We ship Priority, Flat Rate Priority and International Priority rates. FCN is a small family owned company and not able to offer free shipping like the big ecommerce conglomerates who often buy almost out of date supplements and you have no recourse for returning product. However, what we have that they do not have is, first rate customer service, people to answer specific nutritional questions. We have real people here in the USA to help you and your vet with health problem solving and developing your pet's feed program. This is a service no other large companies offer their customers. Our customers appreciate the difference at FCN because we not only care, but have our own pets years of experience and we know nutrition!
Copyright 2018. First Choice Naturals, Inc. is owned by Blackwatch Nutritional Consulting LLC, and all descriptive text, links to articles and nutritioinal information found at this website, in articles or feed programs, is owned by Blackwatch Nutritioinal Consulting LLC. No information at this website is to be used in lieu of physician or veterinarian's advice, diagnosis, or treatment. Always seek the advice of your health care professionals. Any photographs sent to this website becomes the property of Blackwatch Nutritional Consulting LLC, and can be used for website, seminars, lectures, books, for the sole purpose of educating the general public. Efforts are taken to remove recognizable images or names from photos, no names are used of owner, breeder or pet to protect the of the individuals.