Canine Supplements | Equine Supplements | Feline Supplements | Human Supplements | All
Kit #19 - Kidney Support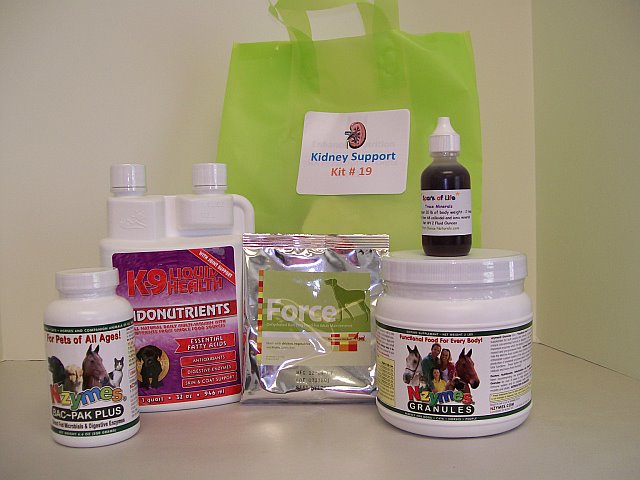 click to zoom
When pets are put on prescription diets for kidney issues, the diets are often bland and leave much to be desired in terms of good nutrition and variety. Kit #19 for Kidney Support offers supplements that will not conflict with medicine and will help to detoxify the body from the toxins the kidney's can't flush from the body. They are low in protein which is important in cases of compromised kidney function. If you want to use a raw component to the diet we only recommend Honest Kitchen Preference - which is a dehydrated fruit and veggie mix, low in proteins due to no meat in this dehydrated food.
Kit #19 - Kidney Support
| | |
| --- | --- |
| 1 – Filling N The Wholes - 1 lb | $32.00 |
| 1 – Granular Nzymes – 2 lb | $43.20 |
| 1 – BakPakPlus Probiotic – 200 gr | $28.08 |
| 1 – Spark of LifeTracite Micro Minerals 2 oz | $15.00 |
| | |
| | |
| subtotal - | $116.28 |
| discount - | $ 5.82 |
| TOTAL - | $110.46 |
5.0 out of 5 stars (1 rating)
Showing 1 customer review...
November 10th, 2011





Paula Hebert says...
Her labs have improved since she began using the kit.
List of All Supplements | Terms and Conditions | Dislcaimer | Refund Policy
Shipping: We ship Priority, Flat Rate Priority and International Priority rates. FCN is a small family owned company and not able to offer free shipping like the big ecommerce conglomerates who often buy almost out of date supplements and you have no recourse for returning product. However, what we have that they do not have is, first rate customer service, people to answer specific nutritional questions. We have real people here in the USA to help you and your vet with health problem solving and developing your pet's feed program. This is a service no other large companies offer their customers. Our customers appreciate the difference at FCN because we not only care, but have our own pets years of experience and we know nutrition!
Copyright 2018. First Choice Naturals, Inc. is owned by Blackwatch Nutritional Consulting LLC, and all descriptive text, links to articles and nutritioinal information found at this website, in articles or feed programs, is owned by Blackwatch Nutritioinal Consulting LLC. No information at this website is to be used in lieu of physician or veterinarian's advice, diagnosis, or treatment. Always seek the advice of your health care professionals. Any photographs sent to this website becomes the property of Blackwatch Nutritional Consulting LLC, and can be used for website, seminars, lectures, books, for the sole purpose of educating the general public. Efforts are taken to remove recognizable images or names from photos, no names are used of owner, breeder or pet to protect the of the individuals.