Canine Supplements | Equine Supplements | Feline Supplements | Human Supplements | All
Kit #22 - Insulin Sensitivity Support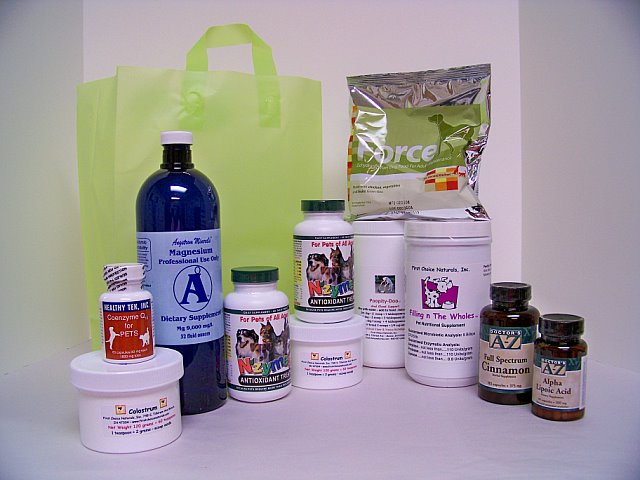 click to zoom
For the past 40 years our most of our pets have been feed "grain based" processed foods (kibble) devoid of high quality meat protein, and the "living enzyme" component. The results has been a premature depletion of the enzymes needed for digestion, which taxes the pancreatic function, rendering it unable to manage the regulation of glucose and insulin levels. This program helps to support the pancreatic function and restore regulation of glucose levels.
Insulin Sensitivity Support Kit # 22 Instructions Schedule of Supplements
If your dog has been diagnosed with diabetes, and you choose to purchase this kit after discussion with your vet, introduce each supplement according to the chart below while continuing with the supplements all ready started - so you can monitor the dog's insulin levels carefully. If there is any loose stool, slow the introduction down a day or two and ease into the next supplement.
While continuing with the supplements that have been added to the diet, add each new supplement in the order, with the timing, that is shown below:
This is the schedule for daily supplementation:
Day 1 - Filling N' The Wholes (dosage on label) then add:
Day 3 - Nzymes - do not double dose as jar suggests (dosage see label) then add:
Day 6 - Cinnamon (1-2 capsules - large/giants,-- 1 capsule for med/small dogs, --cats, 1/4 teaspoon) then add :
Day 9 - Colostrum -(dosage on label) then add:
Day 12 - Alpha Lipoic Acid (300 mg daily - all sizes) then add:
NOTE THIS HAS TO BE EMBEDDED IN THE MIDDLE OF THEIR FOOD SO IT DOES NOT CAUSE ACID REFLUX. IT IS A VERY VERY IMPORTANT ANTIOXIDANT AND USED FOR DIABETICS, BUT IT NEEDS TO BE TAKEN WITH FOOD, NOT JUST SET ON TOP OF THE FOOD SO IT IS THE FIRST THING IN THE TUMMY. I SUGGEST MAKING A MEATBALL OF CANNED OR RAW MEAT AND EMBEDDING IN YOUR KIBBLE.
Day 12 - Co-Q-10 (1 capsule daily - 30 mg) then add:
Day 12 - Poopity Doo - (dosage on label) then add:
Day 15 - Angstrom Magnesium Liquid (1 tablespoon Giants, 2 teaspoons large/medium, 1 teaspoon small, ½ teaspoon toy breeds)
Assistance call; 765-287-8288 Our experience has been that once on the program there tends to be a decrease in the amount of insulin needed on a daily basis, so monitoring the dog very carefully is a an absolute must. Please consult your veterinarian and for a holistic veterinarian, who may be more approachable about supplementation, please go to this directory.
American Holistic Veterinarian Site
Food Recommendations - these work for all breeds, sizes For diabetes as in cancer situations, the dogs generally do better with a higher protein and moderate fat diet, with less carbohydrates. Precise Plus Canine Adult 26% protein 16% fat Precise Foundation 24% protein 14% fat If you want to feed a raw diet use Honest Kitchen Dehydrated Raw which we sell at this website or Darwins Raw (shipped frozen to your door). Insulin Sensitivity Support Kit#22
| | |
| --- | --- |
| 1 - Filling N The Wholes – 1 lb | $32.50 |
| 2 - Nzymes – chewable pet treats | $42.12 |
| 2 - Colostrum – 120 grams | $40.00 |
| 1 - Co-Q-10 - 30 mg | $10.00 |
| 1 Magnesium Liquid | $26.95 |
| 1 - Cinnamon - (500 mg) - 2 a day = 1000 mg | $9.95 |
| 1- Alpha Lipoic Acid (300 mg) - 1 a day =600 mg | $14.00 |
| 1- Poopity Doo | $10.00 |
| | |
| | $185.52 |
| Discount | $ 9.27 |
| TOTAL | $176.25 |
Large breeds - lasts 2 months Small / Medium breeds - lasts 3-4 months
List of All Supplements | Terms and Conditions | Dislcaimer | Refund Policy
Shipping: We ship Priority, Flat Rate Priority and International Priority rates. FCN is a small family owned company and not able to offer free shipping like the big ecommerce conglomerates who often buy almost out of date supplements and you have no recourse for returning product. However, what we have that they do not have is, first rate customer service, people to answer specific nutritional questions. We have real people here in the USA to help you and your vet with health problem solving and developing your pet's feed program. This is a service no other large companies offer their customers. Our customers appreciate the difference at FCN because we not only care, but have our own pets years of experience and we know nutrition!
Copyright 2018. First Choice Naturals, Inc. is owned by Blackwatch Nutritional Consulting LLC, and all descriptive text, links to articles and nutritioinal information found at this website, in articles or feed programs, is owned by Blackwatch Nutritioinal Consulting LLC. No information at this website is to be used in lieu of physician or veterinarian's advice, diagnosis, or treatment. Always seek the advice of your health care professionals. Any photographs sent to this website becomes the property of Blackwatch Nutritional Consulting LLC, and can be used for website, seminars, lectures, books, for the sole purpose of educating the general public. Efforts are taken to remove recognizable images or names from photos, no names are used of owner, breeder or pet to protect the of the individuals.