Canine Supplements | Equine Supplements | Feline Supplements | Human Supplements | All
Kit #29 - Basic Wellness (Humans)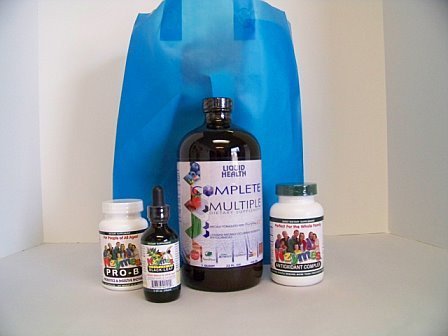 click to zoom
All the liquid supplements can go into one small glass and be taken together and they are pleasent tasting - you can't get it any easier than this to maintain a wellness routine!

Always take your supplements with food and preferably in the AM or at noon. The basic kit consists of:

 1). Liquid Health™ Complete is the first all-inclusive daily nutritional product containes the highest quality ingredients, including Optiberry, Ester-C, Lyc-O-Mato and FloraGlo Lutein. The addition of fiber and 10 blends and complexes designed to enhance the whole food based vitamins, minerals, enzymes, and amino acids in this formula makes this the most comprehensive multiple available.

2). Nzymes Capsules - dietary enzymes provides the body with the nutrients needed for the body to produce antioxidants, which may have anti-inflammatory and anti-aging effects.

3). ProB - Probiotics/Digestive Enzymes which help reseed the gut with benefical microrganisms and digestive enzymes help break down our food so it is more digestable by the body.

4). Oxy-E-Drops - anti-bacterial, anti-fungal, anti-viral and will help to keep the pH of the gut where it should be.
| | |
| --- | --- |
| 1 – 32 oz Liquid Multiple Vitamin/Mineral (from whole foods) | $34.95 |
| 1 – Probiotics/Digestive Enzymes – 90 capsules* | $37.26 |
| 1 – OxE-Drops - 2 oz | $21.06 |
| 1 – Nzymes – 180 capsules* | $42.12 |
| Subtotal - | $135.39 |
| 5% discount - | $ 6.76 |
| Total - | $128.63 |
| 1 month for one adult |   |
List of All Supplements | Terms and Conditions | Dislcaimer | Refund Policy
Shipping: We ship Priority, Flat Rate Priority and International Priority rates. FCN is a small family owned company and not able to offer free shipping like the big ecommerce conglomerates who often buy almost out of date supplements and you have no recourse for returning product. However, what we have that they do not have is, first rate customer service, people to answer specific nutritional questions. We have real people here in the USA to help you and your vet with health problem solving and developing your pet's feed program. This is a service no other large companies offer their customers. Our customers appreciate the difference at FCN because we not only care, but have our own pets years of experience and we know nutrition!
Copyright 2017. First Choice Naturals, Inc. is owned by Blackwatch Nutritional Consulting LLC, and all descriptive text, links to articles and nutritioinal information found at this website, in articles or feed programs, is owned by Blackwatch Nutritioinal Consulting LLC. No information at this website is to be used in lieu of physician or veterinarian's advice, diagnosis, or treatment. Always seek the advice of your health care professionals. Any photographs sent to this website becomes the property of Blackwatch Nutritional Consulting LLC, and can be used for website, seminars, lectures, books, for the sole purpose of educating the general public. Efforts are taken to remove recognizable images or names from photos, no names are used of owner, breeder or pet to protect the of the individuals.