Canine Supplements | Equine Supplements | Feline Supplements | Human Supplements | All
Kit #31 - Nzymes Immune Support Kit - for Humans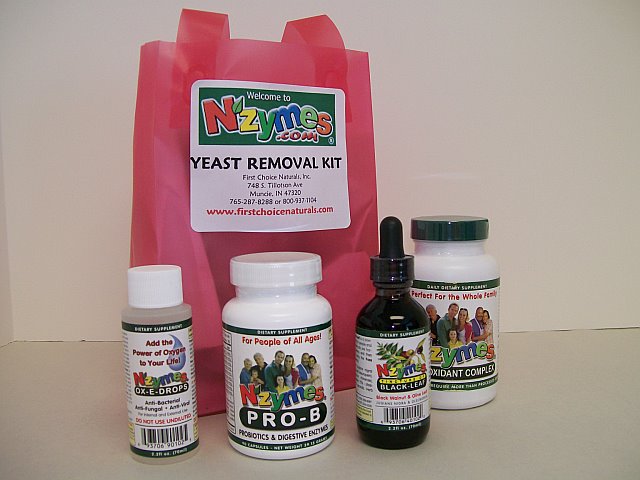 click to zoom

Here are some suggestions to assist with yeast overgrowth:

1) Change your diet, lower your carbs, up protein, veggies and fruit.
2) Use the Nzymes Immune Support Kit.
3) Take a wholefood Liquid Multiple Vitamin/Mineral - which you can purchase at this website.
4) BE PATIENT

It took a while for you to get in this condition, so it will take a while for it to clear up. In chronic cases of systemic yeast, plan on 3- 6 months or more. You will go through a detox process as you ease into this program. But many people can feel a difference in a week or two, just stick with your program!

It is imperative you follow instructions included in this kit.

Nzymes Yeast Removal Kit
1 - NZYMES® Human Capsules - $42.12
1 - NZYMES® Ox-E-Drops (2.2 oz.) $21.061
1 - NZYMES® Pro-B probiotic - $37.26
1 - NZYMES® Tincture of Black-Leaf (2.2 oz.) - $27.00
                                                           Discount $6.37
                                                          TOTAL -  $121.07
4.8 out of 5 stars (4 ratings)
Showing 4 customer reviews...
October 13th, 2013





Kathy says...
Fantastic Service both before and after purchase, great products and speedy delivery to Australia. Have already sent this site onto friends. Kathy.
June 28th, 2012





cheri c. says...
i felt the difference and needed the four products and will continue them for a while. thanks i will reorder probiotics soon they work well!also the antioxidants, went through those quick ,since you used 4 caps 2x a day in the beggining . i use a homeopathic dr. and her products are excellent, these are comparable.
February 15th, 2011





Ileana Nadal says...
I purchased the Human Detox Kit for Systemic Yeast. It did the job!!! PLus, I learned what was causing me to have this problem, and it was diet related. I realize I had been eating foods that caused my problem. Thank you!
September 12th, 2010




Anonymous says...
positive experience would purchase from them again
List of All Supplements | Terms and Conditions | Dislcaimer | Refund Policy
Shipping: We ship Priority, Flat Rate Priority and International Priority rates. FCN is a small family owned company and not able to offer free shipping like the big ecommerce conglomerates who often buy almost out of date supplements and you have no recourse for returning product. However, what we have that they do not have is, first rate customer service, people to answer specific nutritional questions. We have real people here in the USA to help you and your vet with health problem solving and developing your pet's feed program. This is a service no other large companies offer their customers. Our customers appreciate the difference at FCN because we not only care, but have our own pets years of experience and we know nutrition!
Copyright 2017. First Choice Naturals, Inc. is owned by Blackwatch Nutritional Consulting LLC, and all descriptive text, links to articles and nutritioinal information found at this website, in articles or feed programs, is owned by Blackwatch Nutritioinal Consulting LLC. No information at this website is to be used in lieu of physician or veterinarian's advice, diagnosis, or treatment. Always seek the advice of your health care professionals. Any photographs sent to this website becomes the property of Blackwatch Nutritional Consulting LLC, and can be used for website, seminars, lectures, books, for the sole purpose of educating the general public. Efforts are taken to remove recognizable images or names from photos, no names are used of owner, breeder or pet to protect the of the individuals.