Canine Supplements | Equine Supplements | Feline Supplements | Human Supplements | All
Kit #34 - Skin and Coat Repair Kit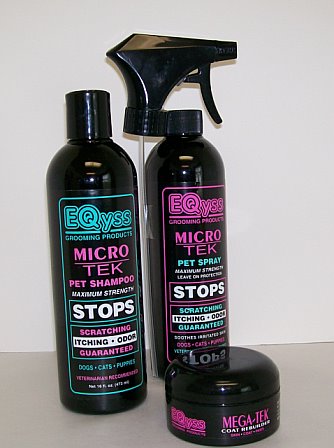 click to zoom
These are three companion products used to stop itching and chewing and to repair and rebuilding new coats that have been damaged due to yeast, allergies or bacterial infections. The shampoo and coat rebuilder are concentratesand need to be diluted for use. Instructions on bottle.
Micro-Tek Medicated Spray 16oz
INSTANTLY stops biting, licking and itching - Recommended for use with our Systemic Yeast Removal Kit.THE ONLY MEDICATED LEAVE ON SPRAY! All Natural.
Ingredients: Sodium PCA, Cetrimonium Chloride, Glycosaminoglycans, Clove Extract, Lavender Extract, Thyme Extract, Allantoin, Aloe Barbadensis Gell, Polysorbate 20, Polysorbate 80, Citric Acid, DM DM Hydantoin,Methylparaben,
Tetrasodium EDTA, Fragrance, Defoamer. Active Ingredients: Trichlocarban 0.026%
Micro-Tek Medicated Shampoo Anti-Itch Formula - 16 oz
Micro- Tek is the fastest acting, most effective natural shampoo ever developed! It aids in the control of problems upon contact, using a trademarked formula developed from NASA research on the decontamination of astronauts. Ideal for allergy and yeasty skin conditions. This is a concentrate and needs to be diluted.
Active Ingredients: Trichlocarban 0.2O% Deionized Water, Sodium Laureth Sulfate, Cocamidopropyl Betaine, Cocamide DEA, Polysorbate 20,Polysorbate 80, Polyquatemium 10, Allatoin, Sodium PCA,Glycosaminoglycans, Trichlocarban, Aloe Vera, Clove Extract, Lavender Extract, Thyme Extract, DM DM Hydantoin, Methylparaben, Tetrasodium EDTA, Citric Acid, Salt, Natural fragrance.
Mega-Tek Rebuilder - 2 oz
Strengthensand repairs dry damaged coat and cracked paw pads! Used to repair damaged coat from itching, chewing caused by allergies and yeast issues. and bacterial infections. This is a concentrate and needs to be diluted.
Deionized Water, Steralkonium Chloride,Glyceryl Sterate, Cetearyl Alcohol. PEG-40 Caster Oil, Cetrimonium Chloride. Hydrolyzed Keratin, Panthenol, Tocopheryl Acetate, DM DM Hydantoin, Methylparaben, Propylparaben, Terasodium EDT, Natural Fragrance.
4.6 out of 5 stars (20 ratings)
Showing 17 customer reviews...
August 4th, 2014



Anonymous says...
I tried this on our Great Dane and it didn't relieve his itching. He also licked off the cream, which smells amazing, but didn't seem to remedy the itching.
January 16th, 2014





Joanna says...
I have a 5 year old rescued Pug/Sharpei (not a great recipe for skin issues!) who developed yeast issues about a year ago after her companion died and she was bitten by one flea. She started to lose hair and the vet diagnosed her with yeast. She was put on the usual things. I started to research and decided to finish the meds from the vet and change her diet. Through experimentation, I found out she was allergic to fish and that many meats made her itchy. So I changed her to The Honest Kitchen Preference with cooked turkey. She has been doing better and I was using a vet shampoo to bath her. Sadly, her hair is very patchy and her skin very dry. I found this product and decided to order it. While her hair has a long way to go and she is still bald in many areas, I have found that these three products are soothing and after two weeks there is some slight hair growth. The vet had said it may never grow back completely, but at least now I feel I am doing more to help. These products have certainly helped some and will hopefully help more.
December 19th, 2013





Ronda says...
The combo pack of shampoo spray and cream Were the miracle cure I had been searching for!! The condition of Sadies skin changed over night with the very first use of all three products together. I don't mean to say she was cured overnight, but I saw with my own eyes a physical improvement in skin color and her lack of Scratching. Day by day the spray eased her red patchy skin back to a normal color and only 2 weeks later I saw fuzz hair start to regrow! I also changed her main dry kibble diet to brown rice and chicken and added 2 scoops of plain yogurt as well as a capsule of probiotic twice daily. Sadie and I are So greatful to have stumbled onto your website! Yeast infections are miss diagnosed and that is such a shame! Sadie and I could never thank-you enough!! We love your product because they work!! Ronda Nguyen
May 29th, 2013





Aurabella's mom says...
I have recommended this product to every friend that I know who owns a dog. It is nothing short of miraculous how it has relieved my dog's suffering. For eight years I have tried almost every product out there, been to numerous vets including the "specialists" and no one or any product has helped her like this one. My shepherd now looks at me with such gratitude and love, is so happy and playful, because she no longer suffers from her skin rashes and hot spots. I can't begin to express how thankful I am to you and your products for allowing my shepherd to enjoy her life again! And how happy that makes me!
November 24th, 2012





Anonymous says...
Thank you so much GDL/FCN! Our pit beagle was shredding himself. We were at our wits end. We were feeding duck and potato as recommended by vet. Eventually our dog started getting slow and bloated. Then The itching and chewing started. He was a miserable bloody scabby mess anywhere he could reach. Thankfully we found thegreatdanelady, and started treating for yeast, switching his food to the precision holistics grain free products, as well as supplementing with salmon oil, yogurt, and proper veggies etc....(cheaper than the vet recommended food). It has now been several months, and our dog is perfectly healthy with a thick rich beautiful coat. His skin is still black in places but for the most part has returned to healthy pink. He has energy levels of a pup again! It was amazing to see the yeast make its was out through the skin (and smelly). If your dog has the symptoms described, give this a try. If yeast is the problem, THIS REGEMIN IS A MUST! PDW, Portland, OR.
September 5th, 2012





Marilyn L says...
The shampoo is amazing! Stella (parsons russell) coat is beautiful and she has not chewed her feet from allergies since her bath 2 days ago. Leo's (jack russell) coat is soft, smooth and both dogs smell great. We haven't had to use the spray....but I am sure it will work beautifully by the shampoo results.
March 9th, 2012





STEVE says...
VERY GOOD PRODUCTS. ALSO I HAD MADE AN ORDER FOR A MUCH MORE EXPENSIVE SET OF PRODUCTS IN ERROR. WHEN I FOUND THAT I ONLY NEEDED TO USE THIS PRODUCT, I CALLED AND THEY CANCELLED THE LARGE ORDER WITHOUT ANY PENALTY, OR PROBLEMS. VERY GOOD TO DEAL WITH.
February 3rd, 2012



Anonymous says...
I ordered these products because my dog had a yeast infection, and I was hoping to provide him some relief from the itching. I was disappointed that the products were not available individually, since I was most interested in the medicated shampoo. I tried it - it offers some relief for him. The spray, on the other hand, seemed to sting him and he also experienced some wheezing when I sprayed it, so I discontinued using that. I did not use the other product, since I did not feel it was warranted for his skin problems.
January 15th, 2012





Sandy says...
works great, a bit complicated since there are so many steps each day, but I see a difference already after just a few weeks
August 9th, 2011




Carrie says...
My older lab has yeast really bad and this has helped some. Not got rid of the problem. He had like welts all over him and scabs, that is gone now along with other herbal products from here. Hes still not better though so that why I only gave it a 4.
August 5th, 2011





Patsy says...
I've tried so many products trying to find some relief for Rylee from the iching and yeast breakouts. She was miserable! The Micro Tek shampoo and spray have made a marked difference in the scratching and licking. I use the Coat Rebuilder in the final rinse as a conditioner. Her coat is looking silky again!
May 25th, 2011




Carol Richane says...
The shampoo and skin products smelled great and were effective in helping my dog's skin feel better. The ear solution is also an excellent product and my dog has not had any more problems with yeast infections in his ears. The product also works well at treating hot spots.
March 20th, 2011





Kim and Taz says...
Taz has had yeast problems which had been misdiagnosed for the last 3 years by our vet. I found this site somewhat by accident while searching for something else. I have been using the products for about 3 weeks, and have seen HUGE improvement. I will only be using this shampoo and spray going forward. I thank you for such great products and my dog thanks you too! I also love the smell- an added bonus! The shampoo we used before that was prescribed by our vet had peroxide in it, which ruined towels, etc. I love that this shampoo doesn't do that.
December 6th, 2010




Anonymous says...
I have a 10 year old Shetland Sheepdog who has had a yeast infection for 13 months now. I have been trying everything in his diet and on his coat. First Choice Naturals seems to make him very comfortable and not itching as much. Now if I could only get rid of the yeast infection altogether I would be so happy. Thank you for your products. I will continue using them.
October 10th, 2010




Debbie K. says...
This product is very good for the dogs skin and coat. My dog hardly ever bits or scratches any more because his skin is getting better from the products that I purchased.
March 18th, 2010





jill says...
very good and friendly service would recommend to anyone
July 13th, 2009




Cari Cramer says...
The shampoo, conditioner and spray work well, however, I think they may be masking the true cause of the dogs itching.
List of All Supplements | Terms and Conditions | Dislcaimer | Refund Policy
Shipping: We ship Priority, Flat Rate Priority and International Priority rates. FCN is a small family owned company and not able to offer free shipping like the big ecommerce conglomerates who often buy almost out of date supplements and you have no recourse for returning product. However, what we have that they do not have is, first rate customer service, people to answer specific nutritional questions. We have real people here in the USA to help you and your vet with health problem solving and developing your pet's feed program. This is a service no other large companies offer their customers. Our customers appreciate the difference at FCN because we not only care, but have our own pets years of experience and we know nutrition!
Copyright 2018. First Choice Naturals, Inc. is owned by Blackwatch Nutritional Consulting LLC, and all descriptive text, links to articles and nutritioinal information found at this website, in articles or feed programs, is owned by Blackwatch Nutritioinal Consulting LLC. No information at this website is to be used in lieu of physician or veterinarian's advice, diagnosis, or treatment. Always seek the advice of your health care professionals. Any photographs sent to this website becomes the property of Blackwatch Nutritional Consulting LLC, and can be used for website, seminars, lectures, books, for the sole purpose of educating the general public. Efforts are taken to remove recognizable images or names from photos, no names are used of owner, breeder or pet to protect the of the individuals.