Canine Supplements | Equine Supplements | Feline Supplements | Human Supplements | All
Kit #48 - Cancer & Auto-Immune Support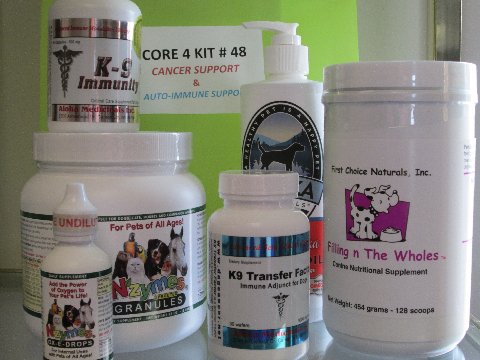 click to zoom
Products in Kit #48
1 - lb Filling N The Wholes 1 - 2 lb Nzymes Granular 1 - 2 oz OxEDrops 1 K9 Transfer Factor - 30 Wafers 1 K9 Immunity - 84 caps 1- 16 oz Ultra Oil
which focuses on basic health; probiotics, dietary enzymes (Nzymes), a pH restorer and a whole food vitamin/mineral product enhanced with several other real food ingredients to boost the immune system and provide antioxidants to reduce free radical damage. The second group of nutrients involves 3 products we have found specific to supporting the body with cancer or an auto-immune disease. Omega fatty acids, Transfer Factors (a powerful type of colostrum) and Medicinal Mushrooms to help reduce tumors and boost immune function. Also feeding a high protein, higher quality omega fats are important and then using a moderately low carbohydrate intake is best.
This kit consists of supplements.
Precise Holistic Complete Grain Free diets are ideal for cancer situations. www.precisepet.com, for a Raw Diet use www.darwinspet.com Our customers have expressed positive responses to these supplements with reports of increased longevity and improvement in attitude of their dogs. These include:
K9- Immunity - It contains anticancer compounds: PSK, PSP and Lentinan, as well as nearly 200 other related immunomodulator compounds. This product like all the products we handle at FCN is made in the USA under strict lab controls. Dose can be divided AM and PM
1- 14 pounds – 1 K9 Immunity capsule 14-24 pounds – 2 K9 Immunity capsules 25-34 pounds - 3 K9 Immunity capsules 35-44 pounds - 4 K9 Immunity capsules 45-54 pounds - 5 K9 Immunity capsules 55-64 pounds - 6 K9 Immunity capsules 65-74 pounds – 7 K9 Immunity capsules 75-84 pounds - 8 K9 Immunity capsules 85-94 pounds - 9 K9 Immunity capsules 95-104 pounds - 10 K9 Immunity capsules 105-114 pounds – 11 K9 Immunity capsules 115+ pounds - 12 K9 Immunity capsules
no more than 12 capsules are needed for dogs over 115#
Transfer Factor - chewable wafer designed to go with K-9 Immunity™ for increasing immune function and enhances the absorption the K-9 Immunity™. It is an easy to feed liver flavored wafer, containing the anti-cancer compounds IP6 and SOD in addition to the Transfer Factors a concentrated Colostrum, for maximum effectiveness. Ingredients: Each capsule contains 500 mg. of a proprietary blend of the following hyphomycetes species (medicinal mushrooms):
Cordyceps sinenis hybrid
Lentinula edodes
Ganoderma lucidum
Coriolus versicolor
Grifola frondosa
Agaricus blazei
Dosage : 1 lbs to 24 lbs = ½ wafer 25 lbs to 49 lbs = 1 wafer 50 lbs to 74 lbs = 1 ½ - 2 wafers 75 lbs to 140 lbs = 2 wafers 140 + lbs = 2 -3 wafers NOTE: Each 3000 mg of liver flavored chewable wafer contains 400 mg of actual Transfer Factor
Important Links: http://www.greatdanelady.com/articles/feed_program_for_cancer_supsport.htm
http://www.greatdanelady.com/cancer_how_to_improve_your_health.htm
List of All Supplements | Terms and Conditions | Dislcaimer | Refund Policy
Shipping: We ship Priority, Flat Rate Priority and International Priority rates. FCN is a small family owned company and not able to offer free shipping like the big ecommerce conglomerates who often buy almost out of date supplements and you have no recourse for returning product. However, what we have that they do not have is, first rate customer service, people to answer specific nutritional questions. We have real people here in the USA to help you and your vet with health problem solving and developing your pet's feed program. This is a service no other large companies offer their customers. Our customers appreciate the difference at FCN because we not only care, but have our own pets years of experience and we know nutrition!
Copyright 2018. First Choice Naturals, Inc. is owned by Blackwatch Nutritional Consulting LLC, and all descriptive text, links to articles and nutritioinal information found at this website, in articles or feed programs, is owned by Blackwatch Nutritioinal Consulting LLC. No information at this website is to be used in lieu of physician or veterinarian's advice, diagnosis, or treatment. Always seek the advice of your health care professionals. Any photographs sent to this website becomes the property of Blackwatch Nutritional Consulting LLC, and can be used for website, seminars, lectures, books, for the sole purpose of educating the general public. Efforts are taken to remove recognizable images or names from photos, no names are used of owner, breeder or pet to protect the of the individuals.