Canine Supplements | Equine Supplements | Feline Supplements | Human Supplements | All
Kit #5 - HOD, PANO, Knuckling & Bowing Legs ( Bone Growth support for puppies)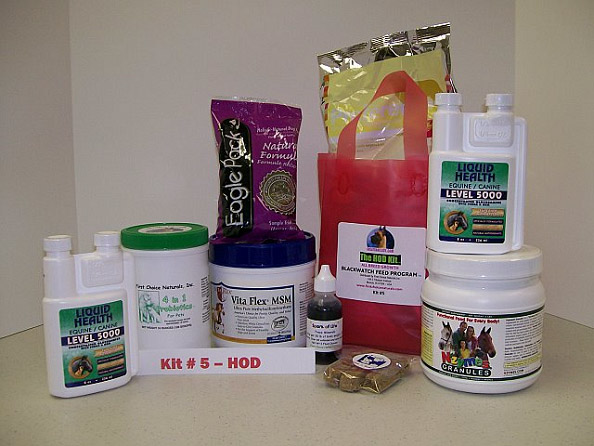 click to zoom
Restoring a controlled, balanced diet and monitoring intake of calories and excerise needed reversing this condition. Supplying the nutrients needed to correct malabsorption, provide the missing nutrients and regulating intake is a positive step in correcting this problem.
It is critical that you go to www.GreatDaneLady.com and read the Feed Program for HOD before you start this program.
INTRODUCING THE SUPPLEMENT SCHEDULE: HOD Kit #5 A puppy with HOD - feed two times a day - if the dog is in stage 4 which means not moving much without help, cut the rations to 1/2 what you would normally feed and add broth to it so the dog takes in enough liquids. Liquids are more important that food right now.
Day 1 Morning- Start with the MSM - Spark of Life
Day 2 Morning - Continue the MSM - Spark of Life - 4 in 1 Probiotic -
Day 3 Morning - Continue the MSM - Spark of Life - 4 in 1 Probiotic Day 3 Evening- Introduce theLevel 5000 joint supplement
Day 4 Morning- Continue the MSM - Spark of Life - 4 in 1 Probiotic - Day 4 Evening- Level 5000 joint
Day 5 Morning- Continue the MSM - Spark of Life - 4 in 1 Probiotic - Day 5 Evening- Level 5000 joint support - Nzymes granular
Day 6 Morning and there after: MSM - Spark of Life - 4 in 1 Probiotic - Day 6 Evening and there after: Level 5000 joint spport - Nzymes granular --
Important - A note from our nutritional consultant that needs to be discussed with your veterinarian - quote: "I am not a vet, but I have found when working with veterinarian's and their clients to resolve nutritional HOD cases, that a change in feeding protocols, the HOD Supplement Kit#5 and the use of steroids is critical in clearing up nutritional developmental orthopedic diseases in puppies. I have observed what works best is an injection of Dexamethsone (steroid) followed up with a round of Azium or Voren tablets over the next two weeks - spaced/dosed according to the label for these drugs. These route seem to provide greater relief than Prednisone or Prednisolone, but all of these are all of these steroids and should not be used with Aspirin, Rimadyl -as the combination could lead to bleeding in the stomach or intestines. Use Pepcid or Zantac during the use of steroids. Dexamethasone is considered to be a long-acting steroid, meaning that a dose lasts about two or two-and-a-half days. For this reason an every other day schedule is excessive for dexamethasone; every third day (or less) is the goal for dexamethasone. Print this info out and discuss it with your veterinarian"
Linda Arndt Blackwatch Nutritional Consulting LLC HOD Kit # 5
| | |
| --- | --- |
| PRODUCTS | RETAIL |
| 1 – Bottle 4 in 1 Probiotics – 1 lb/ 128 scoops | $24.95 |
| 1 – Bottles of Nzymes Granular – 2 lb | $43.20 |
| 1 – Bottle of Spark of Life – 2 oz | $15.00 |
| 1 – MSM – 1 lb | $25.65 |
| 2 – Bottles of Level 5000 Joint Support 8 oz ea | $45.20 |
| | |
| Subtotal | $154.00 |
| discount | 7.70 |
| TOTAL | $146.30 |
| | |
| 1 large/giant dog – 2 - 3 months supply costs per mo | ($60-70) |
| | |
| Reorder Kit # 5 HOD if under 12 months of age. If 12 months order Kit #4 – Adults. | |
| *Based on one dog and will vary based on size, frequency of use and amount fed. | |
4.8 out of 5 stars (6 ratings)
Showing 4 customer reviews...
January 12th, 2014





Anonymous says...
10 week old puppy was knuckling and after a couple weeks, decided it was time to try the kit. It took a couple weeks, but her leg did start to return to it's normal shape "straight". We will continue to give the supplements.
September 1st, 2013





Teresa Gleason says...
I ordered Kit #5 - HOD, PANO, Knuckling & Bowing Legs The resulting improvement in my puppy is tremendous! She is running around, jumping on our older dane and all around being a puppy. Thank you for your help with this issue. We are ecstatic to have our puppy happy and healthy.
April 11th, 2012





Anonymous says...
Thank goodness for you and the GreatDaneLady. Brought our 8 wk. old puppy home, made the initial vet visit on the first day, back on the third because she was knuckling over and favoring her left side. He diagnosed HOD; we got online found the info we needed and got her on the Blackwatch HOD suppliments and now at 14 weeks she is amazingly healthy and happy. We are sharing some of the products, enzymes, probiotics with the older dogs and they have aquired a noticable spring in their steps. So the whole pack of two legged and four leggeds have benefited. Thanks!
September 15th, 2010




Deborah Gormsen says...
Other people have had experiences of this being a miracle cure for HOD within a couple of days. Although that is not the case for my Great Dane, he is steadily improving and I am weening him off of his anti-inflamatories. I had kept him on those because when I stopped, he would get really lame and get a fever. I'm hoping he will be completely off of the anti-inflamatories very soon and I can continue with just the Kit. He hasn't had a bad day since he's been on these, so I really think it is helping a lot. Thank you so much for the great kit!
List of All Supplements | Terms and Conditions | Dislcaimer | Refund Policy
Shipping: We ship Priority, Flat Rate Priority and International Priority rates. FCN is a small family owned company and not able to offer free shipping like the big ecommerce conglomerates who often buy almost out of date supplements and you have no recourse for returning product. However, what we have that they do not have is, first rate customer service, people to answer specific nutritional questions. We have real people here in the USA to help you and your vet with health problem solving and developing your pet's feed program. This is a service no other large companies offer their customers. Our customers appreciate the difference at FCN because we not only care, but have our own pets years of experience and we know nutrition!
Copyright 2018. First Choice Naturals, Inc. is owned by Blackwatch Nutritional Consulting LLC, and all descriptive text, links to articles and nutritioinal information found at this website, in articles or feed programs, is owned by Blackwatch Nutritioinal Consulting LLC. No information at this website is to be used in lieu of physician or veterinarian's advice, diagnosis, or treatment. Always seek the advice of your health care professionals. Any photographs sent to this website becomes the property of Blackwatch Nutritional Consulting LLC, and can be used for website, seminars, lectures, books, for the sole purpose of educating the general public. Efforts are taken to remove recognizable images or names from photos, no names are used of owner, breeder or pet to protect the of the individuals.