Canine Supplements | Equine Supplements | Feline Supplements | Human Supplements | All
Liquid Health Level 5000 - (32 oz shown)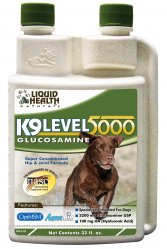 click to zoom
Level 5000 is for all size dogs and also contains a comprehensive blend of natural, cutting-edge support ingredients to further enhance its effectiveness. These ingredients include Aquamin® Algae mineral blend, enzyme support from Bromelain, antioxidant support from grape seed extract, and Boswellia. (note grape seed extract is safe for dogs). Yes, yeasty dogs can be on this product.
Liquid Health™ K9 Level 5000 Glucosamine
Directions for Use • Shake well before administering • Store at 15-30° c (59-86° f) • Refrigerate after opening • Protect from heat, light, and moisture
| | |
| --- | --- |
| Under 10 lbs | 1/2 teaspoon |
| 10-24 lbs | 1 teaspoon |
| 25-49 lbs | 1 teaspoon in A.M. |
| | 1 teaspoon in P.M. |
| 50-100 lbs | 2 teaspoons in A.M. |
| | 1 teaspoon in P.M. |
| Over 100 lbs | 2 teaspoons in A.M. |
| | 2 teaspoons in P.M. |
Active Ingredients per Fluid Ounce
Glucosamine Sulfate (shellfish) USP
2600 mg
Glucosamine Hcl (shellfish) USP
2600 mg
Chondroitin Sulfate USP
1000 mg
(beef and/or porcine, shark cartilage)
MSM (Opti-MSM® Brand)
1000 mg
Hyaluronic Acid (as Sodium Hyaluronate)
100 mg
Ascorbic Acid
200 mg
Joint PLUS (Proprietary Blend) Aquamin® Red Algae mineral blend (Lithothamnion Calcareum), Bromelain, Boswellia Serreta, Grape Seed Extract
1400 mg
Inactive Ingredients - Citric Acid, Organic Beef Flavoring, Potassium Sorbate, Purified Water, Stevia Leaf Extract, Vegetable Glycerin USP, Xanthan Gum
• For use in Dogs • Contains NO Sugar, Starch, Wheat, Gluten, Yeast, Milk, Corn or Soy derivitives. • Some settling is normal • As with any natural product, color and taste may vary
Cautions: • Safe use in pregnant animals has not been tested or proven. • Consult with your veterinarian before using this product in animals: with clotting disorders; being treated with anticoagulant medications; diabetes, or any metabolic disorder causing hypoglycemia; history of urinary tract stones, known allergies to shellfish. • If lameness worsens, discontinue use and contact your veterinarian. • Administer during or after the animal has eaten to reduce incidence of gastrointestinal upset. • Federal law prohibits the off-label use of this product in ruminants.
This product comes in 8 oz - 32 oz and in 124 oz (Gallons)
4.9 out of 5 stars (55 ratings)
Showing 35 customer reviews...
January 19th, 2013





Anonymous says...
I use this for my great dane who does agility, and she has never had any joint problems - which are common in the breed, so I guess its working.
January 12th, 2013





Anonymous says...
our female still will need surgery for her elbow but this has made her more comfortable in 3 weeks time and will keep giving it to her as joint support. thank you for your other great products also.
January 7th, 2013





Linda Robertson says...
Great shampoo. Dogs smelled marvelous.
March 26th, 2012



Anonymous says...
I have always had anal gland issues with all my Danes past and present. I feel like the Bichon and my 7 year old Dane are benefitting from this. I notice some scooting with the puppy so have added to her diet and have not noticed a different. I have not noticed an oder with the puppy like I do with the other two dogs when they become overloaded or impacted.
February 19th, 2012





Bella Blue says...
I am a dog that is getting up in years now. My muzzel is turning grey and my joints just don't move as easily as when I was a young pup. I have my human get me Liquid Health Level 5000 because it keeps my joints supple.After all a great dane that can move without pain is a happy dog!
January 29th, 2012





Cressida Bedolla says...
This is a great supplement I feed to all my dogs.
January 28th, 2012





Shannoa says...
Using this for my older Lab who has some joint stiffness at age 9. This and the Ultra Oil has loosened him up and eased his complaining when getting out of bed.
December 22nd, 2011





Terrie says...
I have been using this product on my 4 year old Great Dane who has some hip dysplasia that was causing her pain. Within a month of being on Liquid Health she is not limping like she was and seems to be pain free. I am also using Microlactin to help with inflamation.
December 11th, 2011





Elise Beattie says...
Liquid Health 5000 has been helpful for my aging dog's arthritis. yes I recommend its use for any older dog in need of this type of supplement.
August 9th, 2011





Carrie says...
Tremendous!!!! My lab limps around after a 3 days weekend of playing with 3 labs and 2 blue heelers. They are all rough and play from 7 am till they go home at night. After this he hardly ever limps. Maybe now only Sunday nights after hes been laying around. Not like before when it was Friday, Saturday, and Sunday he didn't get up.
August 1st, 2011





Shawn says...
I kinda had an urgent need to start the Nzymes and when I called they hurried and got it out that day! Oh my gosh. I had never had such a wonderful response in person - let alone on the phone! The product itself has been great! My 9 yr old Rott has been like a kid again with the MSM and Liquid Health Level 5000.... my new puppy has also responded well to those and the Nzymes - she's going to be a giant size. (5 mths she was 50 lbs!)
June 8th, 2011





Anonymous says...
Our girl has thrived on Liquid Health for the past couple of years. When she tore her stifle and could hardly walk the vet wanted to do surgery. We chose to keep her confined and give her nutrients. Her hind quarters are solid and she has absolutely no pain. She can run like the wind! We know the formula has been adjusted for canines only and have seen no difference in the new formula.
April 18th, 2011




Maggie says...
I have noticed a huge improvement in my dogs limping after a soft tissue injury this spring. I am hopeful that the meds and some gentle walking and rest will have her back running in no time.
March 31st, 2011





Melanie says...
Superior quality, absorption and results.
March 13th, 2011





Melanie says...
I got this for my 11 yr beagle who has had 2 acl surgeries. She is doing great.
February 17th, 2011




cocacolagang says...
I have only been using this product for a few weeks but I think I notice a difference. My only complaint is that the liquid is messy to dispense and it need to be refrigerated which I didn't realize when I purchased it.
February 11th, 2011





Anonymous says...
Our corgi thrives on Level 5000. She had a serious injury to her stifle when she was only a year and a half. She now can run and play with ease.
October 28th, 2010





Christina Jaeger says...
I love this product. My eldest Dane is 7 1/2 years old and known in Great Dane circles as a "mover". We just placed 1st in the 6-8 Veteran dog class at the Great Dane Nationals and the judge wanted to know what BISS Ch Shah Shah Jaeger was doing in that class saying "he moves like a puppy". I've been using Liquid Health for 3 years, thank you for this wonderful product, it keeps my boy gliding across the ground, powerful and pain free!
July 23rd, 2010





Connie Sower says...
I have 3 chihuahuas & have been buying three products that my dogs have been doing great on. It helped my 9 year old especially, she has seizures & has gone from 7 seizures a day, to 1 every 3 months. Your products have saved her life. I give them Nzymes - dietary enzymes, 4 in 1 probiotics & liquid health level 5000, for joint support.
June 25th, 2010





Elise says...
Liquid Health Level 5000 was recommended to me by a naturopathic healthcare professional. I am very happy with this product for my 6 + year old great dane. This type of nutritional supplement makes a big difference in the mobility of an ageing animal. Since I started including this product in my dogs daily regime, she seems to have less stiffness and pain. Well worth it!
June 3rd, 2010





mike urbaniak says...
this products are great , my 1year old rott has bad hip disp.we were able to take him off his pain meds. and he is doing great. i know there is no miracle cure for this , but these products seem to change my dogs health. thanks again.
May 10th, 2010





Janice Stewart says...
My black lab is almost 8 years old, was always very active until she tore both the tendons in her knees (surgeries were 2 months apart). This product has given her a lot of her mobility back, and she even runs now. I would recommend this to
March 28th, 2010





Jones says...
Great, easy product that you just add to the food. Helps keep my danes joints in good health!
February 20th, 2010





ivan says...
i love this products. my puppys r getting bigger every day. they look good act good. if u have a giant breed puppys use this product and u ll see change 1 week.
December 4th, 2009




Darin Kosty says...
Outstanding product. Peace of mind knowing my puppy is getting the right supplements for growth!
November 26th, 2009





Janice, California says...
Excellent product for my labs with hip displasia and for my girl who had surgery on both her knees. It changed their lives
November 21st, 2009





Christina Jaeger says...
I love this product, my 6 year old Dane is frolicking like a puppy, runs 2 miles a day with no evidence of any arthritis. I'm taking it too!
September 10th, 2009





Connie Sower says...
Excellent products, I have 3 Chihuahua's and they are always jumping up & down, so I would worry about their legs & also one chihuahua had surgery on her knee, so I really wanted help for her to stay well.
August 5th, 2009





Anonymous says...
Good product. I'm going through it faster than I thought I would. I'm going to get the larger size next time.
August 1st, 2009





Iris says...
We purchased a pure bred English Mastiff from a breeder about 3 weeks ago that used to fall over with her behind. Now we are not sure if she had any HD or not since she's still so young but I immmediately started her on Glucosamine, the best product I have found was recommended by Thegreatdanelady.com. About a week or 1.5 weeks after taking the supplement the puppy started to get up easier, doesn't fall on her behind anymore and is actually romping around with our 110 lbs Pitbull (which is probably not a good thing but it shows how much she has improved). I highly recommend this to other pet owners.
July 22nd, 2009





Anonymous says...
I have not seen anything substantial yet, as my dog has only been on this product for a few days; however, the ingredients are excellent, and I am sure it will be helpful.
July 13th, 2009





Anonymous says...
We had a 9 week old Great Dane puppy that was "knuckling over", a condition where the puppy is growing too fast and proper nutrition was not being provided. We tried this joint supplement, along with an all natural diet recommended for Great Danes, and within 3 weeks, his legs are nice and straight and he is bouncing around like a puppy should! I would recommend this to all Great Dane puppy owners as well as breeders for developing healthy joints to support their fast growing bones. Rhonda Poe, N2S Great Danes
July 9th, 2009





Mary - Corona CA says...
We are so pleased with the results of giving Level 5000 to our corgi. She could hardly get up after an injury to the left stifle. The veterinarian recommended surgery but after reading articles on the internet and taking the advice of the Great Dane Lady we decided to try nutrition instead. A few months later she is completely limp free and doing great!
July 8th, 2009





Josy Brown says...
My mastiff had VERY severe arthritis which we had tried many things for (including various medications and supplements from the vet) and nothing seemed to help much. After starting this product he is feeling better and has lost a substantial amount of weight because he can run and play again! Service has always been prompt and correct.
June 29th, 2009





Anonymous says...
Cost of this product is too high. I have found a different brand of the same product that I can buy locally for substantially less.
List of All Supplements | Terms and Conditions | Dislcaimer | Refund Policy
Shipping: We ship Priority, Flat Rate Priority and International Priority rates. FCN is a small family owned company and not able to offer free shipping like the big ecommerce conglomerates who often buy almost out of date supplements and you have no recourse for returning product. However, what we have that they do not have is, first rate customer service, people to answer specific nutritional questions. We have real people here in the USA to help you and your vet with health problem solving and developing your pet's feed program. This is a service no other large companies offer their customers. Our customers appreciate the difference at FCN because we not only care, but have our own pets years of experience and we know nutrition!
Copyright 2018. First Choice Naturals, Inc. is owned by Blackwatch Nutritional Consulting LLC, and all descriptive text, links to articles and nutritioinal information found at this website, in articles or feed programs, is owned by Blackwatch Nutritioinal Consulting LLC. No information at this website is to be used in lieu of physician or veterinarian's advice, diagnosis, or treatment. Always seek the advice of your health care professionals. Any photographs sent to this website becomes the property of Blackwatch Nutritional Consulting LLC, and can be used for website, seminars, lectures, books, for the sole purpose of educating the general public. Efforts are taken to remove recognizable images or names from photos, no names are used of owner, breeder or pet to protect the of the individuals.