Canine Supplements | Equine Supplements | Feline Supplements | Human Supplements | All
MicroLactin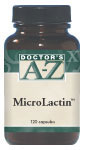 click to zoom
Studies show using a loading dose of two grams twice daily for 10-14 days, followed by a maintenance dose of one gram twice daily works best.
Dosage:
Small-Medium Breeds – 2-3 capsules given AM and PM for 10 – 14 days (Loading dosage)
Adult Large/Giant Breed – 4 capsules given AM and PM for 10-14 days (Loading dosage)
Then half that amount given AM and PM daily.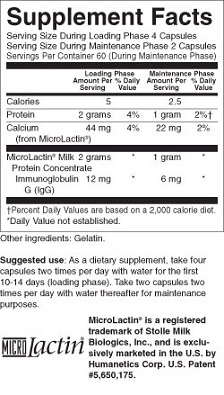 4.6 out of 5 stars (11 ratings)
Showing 7 customer reviews...
June 5th, 2014



Rachel says...
I love the products, and feel that they work very well, I just don't like that shipping prices have seemed to go up and it takes longer to receive products since Linda is no longer apart of the company. I also think the price of microlactin should be more economical. I just bought two bottles of it from another company for the same price as FCN charges for their one bottle.
September 12th, 2012





Anonymous says...
It takes awhile for this product to get into the dogs system but I think it really works in alleviating Joint/Arthritis inflammation naturally. I will continue to use it on my lab.
May 19th, 2011





Anonymous says...
Eay to slip into a piece of meat, and it's a natural pain reliever.
September 22nd, 2010




Anonymous says...
I'm not sure whether its the food, environment change (rescue dog) or the Microlactin - but his hygromas are slowly reducing in size. Soon I think they will have absorbed back into his body without surgery. So if the Microlactin has helped I think it's wonderful!!
March 12th, 2010





Tracy says...
The Microlactin is really helping my Mastiff with his Wobblers. He is still on prednisone but just a very low dose and when I ran out of microlactin he started with the wobblers again. Once back on, he is doing really good. Thank you.
February 26th, 2010





Anonymous says...
this product really worked to reduce the swelling on his elbows.
September 21st, 2009





Tracy says...
Microlactin/Really like the product and our Mastiff see's some relief and we are weaning him off of his prednisone.
List of All Supplements | Terms and Conditions | Dislcaimer | Refund Policy
Shipping: We ship Priority, Flat Rate Priority and International Priority rates. FCN is a small family owned company and not able to offer free shipping like the big ecommerce conglomerates who often buy almost out of date supplements and you have no recourse for returning product. However, what we have that they do not have is, first rate customer service, people to answer specific nutritional questions. We have real people here in the USA to help you and your vet with health problem solving and developing your pet's feed program. This is a service no other large companies offer their customers. Our customers appreciate the difference at FCN because we not only care, but have our own pets years of experience and we know nutrition!
Copyright 2018. First Choice Naturals, Inc. is owned by Blackwatch Nutritional Consulting LLC, and all descriptive text, links to articles and nutritioinal information found at this website, in articles or feed programs, is owned by Blackwatch Nutritioinal Consulting LLC. No information at this website is to be used in lieu of physician or veterinarian's advice, diagnosis, or treatment. Always seek the advice of your health care professionals. Any photographs sent to this website becomes the property of Blackwatch Nutritional Consulting LLC, and can be used for website, seminars, lectures, books, for the sole purpose of educating the general public. Efforts are taken to remove recognizable images or names from photos, no names are used of owner, breeder or pet to protect the of the individuals.