Canine Supplements | Equine Supplements | Feline Supplements | Human Supplements | All
Nzymes Bac-Pak Plus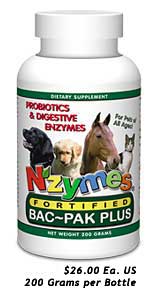 click to zoom
NZYMES Bac~Pak Plususes an optimall blend of "encapsulated" naturally occurring live freeze dried beneficial bacteria and digestive enzymes. Besides daily health, it is ideal for newborn puppies and kittens who they are born with a sterile digestive system. The "micro encapsulation" insures that 95% of the bacteria reach the lower digestive tract where difficult issues are persistant. This blend promotes proper digestion and assimilation of foods.
DIRECTIONS:
Mix the NZYMES®Fortified BAC-PAK PLUS powder with your pet's daily meal (see amounts below). Adjust levels to the individual animal's needs. During periods of increase stress it is suggested to double or triple the daily maintenance levels shown below. Remember: Always provide fresh water in a clean container for your pet daily.
USAGE INSTRUCTIONS:
| | |
| --- | --- |
| Pet Size | Regular Daily Use |
| 40 Lbs. or Less | Mix 1/4 gram with daily meal |
| 40 to 200 Lbs | Mix 1/4 to 1/2 gram with daily meal |
| 200 to 400 Lbs. | Mix 1 gram with daily meal |
| 800 to 1000 Lb. Horse | Mix 1 1/2 to 2 grams with daily meal |
INGREDIENTS:
Dried Whey, Saccharomyces cerevisiae, Silicon Dioxide, Flax Seed, Yucca Schidigera, Dried Aspergillus oryzae Fermentation Product Extract, Dried Aspergillus niger Fermentation Product Extract, Dried Lactobacillus acidophilus Fermentation product, Dried Bifidobacterium thermophilum Fermentation Product, Dried Enterococcus faecium Fermentation Product and Bacillus subtillis Fermentation Product.
GUARANTEED ANALYSIS:
| | |
| --- | --- |
| Lactic Acid Producing Bacteria | at least 1 Billion per gm |
| Protease (A. oryzae) | 475 µg amino acids hydrolyzed/minute/gm |
| a-Amylase(A. oryzae) | 3560 µg starch hydrolyzed/minute/gm |
| Hemi-Cellulase (A. niger) | 410 µg hemicellulose broken-down/minute/gm |
| Phytase (A. niger) | 240 µg of phytate hydrolyzed/minute/gm |
| Cellulase (A. niger) | 190 µg cellulose broken-down/minute/gm |
| Lipase (A. oryzae) | 140 µg fatty acids hydrolyzed/minute/gm |
| Pectinase (A. oryzae) | 95 µg pectin broken-down/minute/gm |
| beta-Gluconase ( A. niger) | 70 µg beta glucans hydrolyzed/minute/gm |
200 gram bottle - 400 1/2 gram scoops per jar400 gram bottle - 800 1/2 gram scoops per jar
4.8 out of 5 stars (37 ratings)
Showing 21 customer reviews...
December 17th, 2013





Anonymous says...
This worked well. I saw no adverse effects from being on the para be gone.
November 17th, 2013





Kristi S says...
Great product at a great price! Tried other probiotics with little positive results, this stuff is the real deal! Thanks!!
November 13th, 2013





peg,ngrr says...
Using on both goldens. Sandy, 15y chronic bladder infections every month. Started using your products and now she only gets about 2-3yearly. We are so very happy for her to be free of the infections. Sofie, 8y came into rescue a horrible mess. Chronic itching, allergies, heartworm. She is so much better and of course more comfortable. Thanks for giving us the chance to see our girls more comfortable when nothing else worked. Had to get all that nasty yeast out of their system! Peg, Sandy, and Sofie
May 1st, 2013





Ann Hallick says...
I believe this is the one I am giving him for his "crusty nose" in less than a week his nose is great. Very black not cry and cracked and greyish. Thanks! Ann
October 5th, 2012





Debra says...
This is a wonderful product. I see a huge difference in my dogs. A healhy digestive track is important in absorbing more nutrition which aids in good health & weight. My Great Danes & Greyhounds not only look wonderful they get "five gold stars" after their yearly Wellness Exam at our Veterinary clinc. Probiotics are a huge part of our feeding program.
July 1st, 2012



Anonymous says...
Good product, however I'm not thrilled with the fact that shipping was $11 and took over a week. Will be looking for a similar product when this bottle is gone, but I don't antinticipate ordering this product again in light of the shipping costs and time.
June 25th, 2012





Anonymous says...
This product is awesome! It really shows results. My pup has food change multiple times with no any stomach upset being on this product. The shipping from this site is way too expensive. The products on this site is already not cheap, why charge such a high shipping fee?
April 1st, 2012





Anonymous says...
Found a reference to this product on a blog. My dog was being treated for giardia and needed some GI support. This product is great.
March 7th, 2012





Anonymous says...
I was so impressed with this product. Everything said about Nzymes Bac-Pak Plus is true.
February 16th, 2012





charisse andrews says...
I feel you offer excellent products, but your shipping charges are exorbitant, especially since it took several days for order to arrive. For this reason I am unlikely to order again.
November 18th, 2011





Anonymous says...
Haven't had ani intestial problems since begining Nzymes Bac-Pak plus
November 10th, 2011





Paula Hebert says...
Product works well.
July 13th, 2011





Karen says...
My dogs both had what I believe was seasonal diarrhea. Within a day or so after starting the Nzymes Bac.Pak Plus both of my dogs were fine.
December 14th, 2010



Gina says...
IT DOES NOT APPEAR AS THOUGH THIS PRODUCT IS NOT DOING ANYTHING. I GAVE HIM THIS BASED ON REVIEWS STATING IT WOULD HELP DIARRHEA PROBLEMS, WHICH IT HAS NOT. THANKS
June 20th, 2010





Anonymous says...
Hallie had been vomiting for months and the vets couldn't figure it out. I spent hundreds in vet bills with no results. As soon as I put her on Bac-Pak plus her digestion improved and she hasn't thrown up since. Very good product for a very good price!
May 12th, 2010




Jennifer says...
We were having a problem with loose/soft stool since we brought Maverick home at 8 weeks of age.Our breeder recommended Bak-Pak Plus and we haven't had a problem since. If your pet is having a similar problem,I suggest trying this product before going to a specialist and having alot of expensive testing done.
March 4th, 2010





MaryKathryn says...
This was recommended by The Great Dane Lady. My Dane has been on it since he was about 9 months old. I think it helps his stomach a lot!
November 4th, 2009





Anonymous says...
My senior dane suddenly began having bad diarrhea, it was terrible. After two weeks with no success with immodium or a change in diet, I ordered Bac-Pak Plus. It worked. She hasn't had a loose stool since day 2 of the product. We've also had an unexpected side effect. Always a picky eater, my dog now barks at me when it's dinner time. Can a 1/4 scoop of this powder be that delicious? I have no idea, but it's the only different thing about her food. I'm very happy with the product.
October 3rd, 2009





Anonymous says...
Our English Mastiff puppy had a blood test done before going into surgery to get spayed. She was diagnosed with low protein levels. You could see it on her pale gums. She is on a raw, fresh food diet with occasional goat's milk, oatmeal, raw honey and fresh berries so thinking that this dog could ever have a problem never crossed my mind. I started giving Bac-Pak Plus and the problem went away. Blood tests taken during a growth spurt on giant breeds sometimes shows low protein levels, so the problem could've just been temporary anyways but I'm not going to take that chance. Her gums are now the perfect pink:) and she romps around with the best of them.
September 30th, 2009





Anonymous says...
Helps to keep their intestinal flora healthy to combat the bad bacteria and protozoa...so far, so good! And they're happier and so am I.
July 3rd, 2009





Anonymous says...
bought based on great dane lady...this product is excellent and one that I have seen immediate and long lasting results. my female red bone had digestive issues from the moment I got her. loose stools to diarrhea constantly. went through different foods for over 8 months trying to solve problem. got so bad, she spent 4 days in intensive care and almost died. after 2 weeks on bac pak plus her stools became "normal" and have been normal ever since. I do give her a double dose daily
List of All Supplements | Terms and Conditions | Dislcaimer | Refund Policy
Shipping: We ship Priority, Flat Rate Priority and International Priority rates. FCN is a small family owned company and not able to offer free shipping like the big ecommerce conglomerates who often buy almost out of date supplements and you have no recourse for returning product. However, what we have that they do not have is, first rate customer service, people to answer specific nutritional questions. We have real people here in the USA to help you and your vet with health problem solving and developing your pet's feed program. This is a service no other large companies offer their customers. Our customers appreciate the difference at FCN because we not only care, but have our own pets years of experience and we know nutrition!
Copyright 2018. First Choice Naturals, Inc. is owned by Blackwatch Nutritional Consulting LLC, and all descriptive text, links to articles and nutritioinal information found at this website, in articles or feed programs, is owned by Blackwatch Nutritioinal Consulting LLC. No information at this website is to be used in lieu of physician or veterinarian's advice, diagnosis, or treatment. Always seek the advice of your health care professionals. Any photographs sent to this website becomes the property of Blackwatch Nutritional Consulting LLC, and can be used for website, seminars, lectures, books, for the sole purpose of educating the general public. Efforts are taken to remove recognizable images or names from photos, no names are used of owner, breeder or pet to protect the of the individuals.