Canine Supplements | Equine Supplements | Feline Supplements | Human Supplements | All
NZymes Pro-B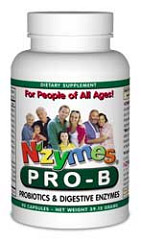 click to zoom
Probiotics friendly bacteria, like PRO-B keep bad bacteria and fungus from gaining a foothold in the environment of the gut. Some yogurts and other fermented food have these cultures in them but are just not be strong enough for today's stress, toxins and antibiotic use. This is why probiotic supplementation is essential on a daily basis.
Dosage: Take the NZYMES®Pro-B capsule (435 mg) daily with water and doubled or triple in times of stress, illness, diarrhea and antibiotic use.
INGREDIENTS:
Dried Yucca Schidigera, Dried Aspergillus oryzae Fermentation Product Extract, Dried Aspergillus niger Fermentation Product Extract, Dried Lactobacillus acidophilus Fermentation Product, Dried Bifidobacterium Thermophilum Fermentation Product, Dried Enterococcus faecium fermentation Product, and Bacillus subtilis Fermentation Product.
INGREDIENTS - Proprietary Blend
| | |
| --- | --- |
| Microorganisms | 5 X IO 9 CFU/gm at least 2.1 Billion cfu/gram |
| alpha-AMYLASE (A. oryzae) | 18,750 µg starch hydrolyzed/minute/g. |
| PROTEASE (A. oryzae) | 2500 µg amino acids hydrolyzed/minute/g. |
| HEMI-CELLULASE (A. niger) | 2200 µg hemicellulose broken-down/minute/g. |
| PHYTASE (A. niger) | 1,200 µg of phytate hydrolyzed/minute/g. |
| CELLULASE (A. niger) | 1,000 µg cellulose broken-down/minute/g. |
| LIPASE (A. oryzae) | 750 µg fatty acids hydrolyzed/minute/g. |
| PECTINASE (A. oryzae) | 500 µg pectin broken-down/minute/g. |
| Beta-GLUCANASE (A. niger) | 375 µg beta glucans hydrolyzed/minute/g. |
Reminder - This product works nutritionally. Any results are nutritional only and in no way meant to imply that you should not see a doctor.
5.0 out of 5 stars (1 rating)
Showing 1 customer review...
December 27th, 2012





Lisa Mastin says...
I use several Nzymes products for myself and my dogs. I highly reccomend them.
List of All Supplements | Terms and Conditions | Dislcaimer | Refund Policy
Shipping: We ship Priority, Flat Rate Priority and International Priority rates. FCN is a small family owned company and not able to offer free shipping like the big ecommerce conglomerates who often buy almost out of date supplements and you have no recourse for returning product. However, what we have that they do not have is, first rate customer service, people to answer specific nutritional questions. We have real people here in the USA to help you and your vet with health problem solving and developing your pet's feed program. This is a service no other large companies offer their customers. Our customers appreciate the difference at FCN because we not only care, but have our own pets years of experience and we know nutrition!
Copyright 2018. First Choice Naturals, Inc. is owned by Blackwatch Nutritional Consulting LLC, and all descriptive text, links to articles and nutritioinal information found at this website, in articles or feed programs, is owned by Blackwatch Nutritioinal Consulting LLC. No information at this website is to be used in lieu of physician or veterinarian's advice, diagnosis, or treatment. Always seek the advice of your health care professionals. Any photographs sent to this website becomes the property of Blackwatch Nutritional Consulting LLC, and can be used for website, seminars, lectures, books, for the sole purpose of educating the general public. Efforts are taken to remove recognizable images or names from photos, no names are used of owner, breeder or pet to protect the of the individuals.