Canine Supplements | Equine Supplements | Feline Supplements | Human Supplements | All
Nzymes Skin Recovery Kit #49 + K9 Ear Solutions - SMALL/TOY BREEDS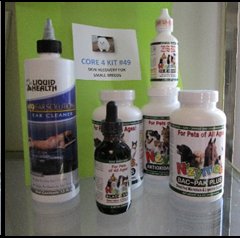 click to zoom
The skin is the biggest filter organ on the body, the toxins from the yeast dying off are excreted and deposited on the surface of the skin causing itching, scratching, chewing and shedding. This causes secondary skin infections, often Staph and then antibiotics are administered for the secondary infection and it makes the Yeast overgrowth even worse. And it cycles all over again! Here is where this kit, a good holistic food and a thyroid test will come to the rescue. If your dog has skin issues, antibotics and steroids will not clear up allergies or yeast overgrowth (Candida Albicans). This is why the Skin Recovery Kit #45 will benefit a dog with unbalanced yeast issues.
After the yeast rebalancing program is completed it is important to move the dog over to Kit # 40 or stay on Kit #30 for a lifelong maintenance level program.
We have found the vast majority of dogs with systemic yeast issues also have low thyroid or low normal thyroid and need to be medicated with the appropriate thyroid medicine suggested by your vet. Thyroid medications are as important as an appropriate high quality meat based diet otherwise the yeast kit does not have a fighting chance to work properly.
We highly suggest you go to www.hemopet.com (Dr. Jean Dodds) and get the forms necessary for your vet to draw blood and have your dog tested with a 5 Panel blood test, then send it to her for anaylsis. SHE IS THE EXPERT on thyroid issues! We want to get your dog back on track, you and the pet has suffered enough so let's get the proper test done that is the key to opening the door on this problem.
SUMMARY:
1) HAVE A THYROID TEST DONE FIRST, while you are getting your food lined up and Kit #30 ordered. If the thyroid test comes back "low normal" it is suggested that you treat with thyroid medication so be firm with your veterinarian on this. Remember estrus cycles and vaccines given within 2 months can skew the thyroid results. It may come back low normal, it is suggested you still need to medicate.
2) Change your pet's diet to Precise Holistic Complete Puppy or Adult dog food (large/giant or small/medium) or the Precise Holistic Complete Grain Free Diets (Pork or Lamb/Turkey). http://www.precisepet.com NutriSource Grain Free can be used if Precise is not in your area. Just make sure there is no potatoe in their grain free foods. www.nutrisourcepetfood.com
3) Order and use the Nzymes Skin Recovery Kit#30 and follow the instructions that come with the kit!! In chronic cases of systemic yeast, plan on 3- 6 months or more. Your dog will go through a detox process as you ease into this program. Our K-9 Ear Solutions is the absolute best ear wash for fungal infections in the ears - this one really works and it comes with the Kit #30 for all breeds and sizes.
Kit# 45 + K9 Ear Solutions - $125.00 2 - NZYMES® Treats 120 ct 1 - NZYMES® Ox-E-Drops (2.2 oz.) 1 - NZYMES® Fortified BacPak Plus (200 Gr.) 1 - NZYMES® Tincture of Black-Leaf (2.2 oz.) Plus 1 - K9 Ear Solutions (12 oz) FREE
Instructions will come with the kit, plus customer service along the way.
Related Article: Mini-Course in Systemic Yeast Infections
5.0 out of 5 stars (1 rating)
Showing 1 customer review...
May 5th, 2013





Colleen says...
I've used the Nzyme products before. They do really work. This is the second round for my Toy Fox Terrier & the first round for my Chiuahua. We are currently at the "gets worse before better" stage but I am persevering because I know we'll get thru this to better health. It's important to follow the instructions exactly, consistently. The K9 ear solution is excellent! I've got bottles & bottles of unused products because they were not effective. Thanks so much- all these products have been a life saver!
List of All Supplements | Terms and Conditions | Dislcaimer | Refund Policy
Shipping: We ship Priority, Flat Rate Priority and International Priority rates. FCN is a small family owned company and not able to offer free shipping like the big ecommerce conglomerates who often buy almost out of date supplements and you have no recourse for returning product. However, what we have that they do not have is, first rate customer service, people to answer specific nutritional questions. We have real people here in the USA to help you and your vet with health problem solving and developing your pet's feed program. This is a service no other large companies offer their customers. Our customers appreciate the difference at FCN because we not only care, but have our own pets years of experience and we know nutrition!
Copyright 2018. First Choice Naturals, Inc. is owned by Blackwatch Nutritional Consulting LLC, and all descriptive text, links to articles and nutritioinal information found at this website, in articles or feed programs, is owned by Blackwatch Nutritioinal Consulting LLC. No information at this website is to be used in lieu of physician or veterinarian's advice, diagnosis, or treatment. Always seek the advice of your health care professionals. Any photographs sent to this website becomes the property of Blackwatch Nutritional Consulting LLC, and can be used for website, seminars, lectures, books, for the sole purpose of educating the general public. Efforts are taken to remove recognizable images or names from photos, no names are used of owner, breeder or pet to protect the of the individuals.