Canine Supplements | Equine Supplements | Feline Supplements | Human Supplements | All
ParaBe-Gone PET WORMER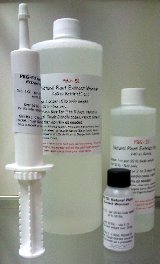 click to zoom
 The key to this wormer is plant based extracts that have a salt based protein, which acts as a modifier that can either enhance or breakdown and destroy the pathogenic (bad) protein molecules found in worms, protozoa, fungi/yeast, bacteria, virus.. This is a catalytic break down of the chemical bond and it degrades the pathogenic cell's surface causing it to be compromised and it kills the parasites,worms, protozoa, yeast / fungus, bacteria and virus.
Natural Wormer ParaBe-Gone can destroy the pathogenic proteins and good cells remain healthy which stops the propagation of the virus, pathogenic bacteria or fungus. In other words...good bye Giardia, Coccidia, Parasites, Pathogenic Bacteria, Virus and Yeast/Fungus etc. and the great part is that it does not destroy the beneficial micro-organisms (flora and fauna) of the digestive track.
Most wormers are chemical poisons which have to be processed by the kidneys & liver but not this wormer, it is easy on the body and targets the pathogenic elements that are making our pets unhealthy. (this is true for humans).
This wormer can be used on dogs under 1 lbs. The normal dosage is 1 CC per 10 lb of body weight up to 50 lbs, so in order to dose below 1 lb, you will have to get a 1 CC syringe from the pharmacy, so you will give smaller 1/10th  increments.

Example: if you have a 4 lb dog, you will pull up the liquid wormer to the 4th line on the 1 CC syringe or 4/10ths of a CC.
When in question call First Choice Naturals for assistance. You may want to drop a line and tell us what size CC syringe you would like 1 CC or 5CC depending on dogs/cats under 10 lbs need the 1 CC syringe. Everyone else will get the 5 CC syringe in their order:
email:  1stchoicenaturals@comcast.net

_______________________________________________
PBG-51 is available in:

30 CC Bottle - provides 6 days of 5 CC worming
4 Oz bottle (120 CC) provides 24 days of 5 CC wormings
8 ounce bottles (240 CC) ....provides 48 days worth of 5 CC wormings
32 ounces bottle (960 CC) - provides 192 days worth of 5 CC wormings


__________________________________________________________________________________________
Ingredients:
Filtered Water, 100% plant extract of Negella Sativa (Black Cumin), Mentha spicata (Spearmint), Mentha Piperita (Peppermint), and Cyatheales Dicksoniaceae (Fern)
__________________________________________________________________
Canine/Feline Dosage:
1 CC - per 10 lbs body weight up to 50 lbs.
5 CC for 50 lbs or over- total regardless of weight over 50 lbs.
Give 5-7 days repeat again in 7-10 days, then give it every month for 1-3 days for prevention, if needed.

Pets Under 10 lbs - use a 1 CC syringe and dose 1/10 of a CC per pound of body weight. Example: if you have a 3 lb pet, you would give them 3/10th of a CC daily for 3 - 5 days. Repeat again in 7-10 days then give once a month as a prevention, if needed.
 Another option for tough giardia cases is after worming  - mix 1.5 CC of ParaBe-Gone in a gallon of filtered water and use it as the drinking water. Depending on the size and number of the dog, you may need a gallon a day or a cup a day. Ease the dogs into this because it is not a great taste and you need to make sure they are drinking it so they do not get dehydrated.
If you have smaller dogs, use 3/4 CC in 1/2 gallon of water and use from it daily. Keep in refrigerator. For really tough cases of Giardia etc. Repeat as needed and it can be used for several days if it is needed to get the Giardia under control.
This is a liquid and can be mixed with canned meat, soft cheese or given directly with a syringe (no needle) into the side of the mouth..follow up with a treat.
Dosage for Horses & Goats: Young goats and foals, drench with 5 CC for 3-5 days.
Adults drench with 10 CC (total amount) daily and do so for 3-5 days, then redose in two weeks then follow-up once a month or use in drinking water at (1.5 CC) to a gallon of water
PBG - 51 is non-toxic, non-corrosive, and human and animal and plant friendly.
Other uses:
For Demodex mange, rub into spots daily until hair starts to grow back. Since Demodectic mange is an immune problem, boost the immune function with a holistic diet , CORE 4 supplements and Colostrum. (found at this website).
Sarcoptic Mange and Demodex - use as a shampoo to kill parasite mites, let set a minute in lather then rinse. repeat as needed.
For Mites/Fleas/Ticks:  a topical spray mix -  1 ounce of PBG-52 in 10 ounces of distilled water spray as needed, do not get in eyes.
PBG-51 can be used straight to kill ear mites. Use syringe or dropper and put 5-6 drops into ears - work it into the ear to kill the mites. Use as needed.
Use as a disenfectant for crates, floors etc 1 ox per gallon of water.
To use agains flies in a kennel or barn situation mixe 1 - 32 oz bottle in the overhead mister or puffer - it will kill any insects/bugs etc.
We have had two reports of dogs with urine crystals and bladder infections shows great improvement in 2-3 days on the PBG-51
PRECAUTION: This wormer, like Panacur wormer, will kill heartworm if the dog is infested. However, if the dog has heartworm it will kill and the dead heartworms will clog up the heart, which could kill your pet. So if you are using the PBG - 51 wormer, or Panacur, make sure your dogs do NOT have heartworm. When in doubt, check with the vet and get a heartworm test done prior to worming. If your dog has consistently been on a heart worm preventative it should not be a problem, but seek the advice of your veterinarian.
This is an herbal wormer and as with any wormer, do not use on pregnant or lactating bitches
4.6 out of 5 stars (22 ratings)
Showing 17 customer reviews...
August 11th, 2014





Anonymous says...
This stuff works great, so much better than chemicals from our vet! Our puppy was feeling better in no time.
June 22nd, 2014





Anonymous says...
Great product! Only thing that will stop direahea from a bad case of giardia.
June 5th, 2014





Rachel says...
I love the products, and feel that they work very well, I just don't like that shipping prices have seemed to go up and it takes longer to receive products since Linda is no longer apart of the company.
May 19th, 2014





Anonymous says...
PBG-51, is an excellent alternative to chemical based working solutions. As a proud owner of Doberman Pinschers, this products is a great alternative to my previous parasite wormers which typically would kill the good bacteria in the gut and result in intermittent loose stools and diarrhea until the dogs flora and enzymes build back up between wormings. But using this product in conjunction with their regular heart worm preventative has allowed me to keep my dogs parasite free without having to repeatedly expose my animals to so many chemicals. And most importantly this product WORKS.
February 24th, 2014





Anonymous says...
I found First Choice Naturals through The Great Dane Lady site when researching on the web for natural treatments for giardia. My Springer is a rescue girl, who spent over two years in an outdoor dirt pen with very dirty water and conditions she was rescued by The English Springer Spaniel Rescue of Mighigan. As a result, she had some stomach issues, not the least of which have been recurrent giardia and worms. We decided to treat with panacur and then follow up with the giardia kit from First Choice Naturals and I am delighted to say it works like a charm! Amazing stuff! We still treat once a month with the PBG-51 plus do the daily Blackleaf, Spark of Life, BacPac, Enzyme treats, etc. as recommended to keep the bugs at bay and have had tremendous success. Love this kit and the products in it. Highly recommended!
February 22nd, 2014





Debbie says...
I purchased this product because my puppy was diagnosed with whip worms. I did not want to use a chemical based product from the vet. ParaBe-Gone cleared up my pups whip worms, safely with no side effects. I would definitely purchase this product again. The customer service at First choice was excellent.
December 29th, 2013





T R Spiller says...
I decided to get a Dane from a local rescue. He had always been a picky eater so I didn't think much of it when he didn't eat all of his meals. After a year, he got worse and would sometimes skip entire meals. Then I began travelling for work and would find out he would eat nothing at all for days at a time. He would then go back to minimal eating when I returned. His weight would yo-yo up and down until finally one day on a walk he not only vomited but had a little blood in his stool. I knew something more was going on. This is the first dog I've ever owned so I over-researched the causes. After finding the Great Dane lady (initially when I first got my Dane for general suggestions) I found an article on under-eating and realized my dog probably had Giardia. I would have tried the vet, but realizing the odds of them actually finding it parasite and then the treatment options they would offer, I decided just treating him would be less stressful for both of us than having the vet visit. But I recognize others might want to do a vet visits. After 3 days of the treatment, I couldn't believe it. It was like an entirely new dog. His appetite skyrocketed, he put his normal weight back on and now I can't stop him from eating. I feel horrible that after having him a year I just realized this could have been handled in the beginning, but now am recommending to everyone who gets a rescue do to get them the PBG kit to give them a healthy start. Trust me, it's so worth it when your dog is finally eating right and you know he isn't in pain from eating. I plan on using the supplement on a monthly basis as a support. I'm happy I purchased this and I'm happy for the Great Dane Lady's recommendation which always turn out to be the best options, especially when you have a rescue dog.
December 21st, 2013





Alisha says...
I have three dogs and they were suffering from a serious case of Giardia. I absolutely love this product and would recommend it to anyone. Their Giardia is gone, thank goodness! I still give it to them once in a while only because it's healthy for them and to prevent any future infestations. Thank you so much. Happy Holidays Love, Alisha, Midnight, Trinity & Junine, WOOF WOOF
December 17th, 2013





Anonymous says...
Both my dogs have improved through the course of this treatment.
November 17th, 2013





Kristi S says...
We've been battling Giardia for the last 3.5 months with Panacur, Metronidazole, and the like with NO positive results. Thanks to the Great Dane Lady's website, I came along PBG. I loved the thought of using an all natural wormer, no more loading my pup up with chemicals. We've gone thru one round of the wormer with BakPak Plus and I'm happy to report that all cysts are gone! We still have Protozoa present but I am confident that another round will rid him of the giardia all together. Very impressed with this product! Thanks First Choice!
October 22nd, 2013




Ann C. says...
The product seems to work on my 2 year old pitbull (giardia), but it didn't seem to make much difference regarding the environmental skin allergies, which cause a systemic yeast infection, in my 14 year old pitbull/Rhodesian/Chow mix. So my older girl is now back on Atopica (generic Cyclosporine). But I noticed a HUGE health improvement in the young pitbull when I used this product in conjunction with the other First Choice recommended products. Thank you for what you do for animals!!
October 18th, 2013





Terri Woodbury says...
Excellent!
October 3rd, 2013





Pauline says...
When I brought my puppy home last fall, unbeknownst to me, he had giardia. Weeks went by before this was discovered and two subsequent traditional treatments were not effective. I ordered the PBG-51 as soon as I learned about it and his last test finally came back clear! I have used this too when my dogs have ingested things found out on the trail that seem to cause an upset. Great product and natural too.
June 12th, 2013





Anonymous says...
Amazing wormer!!! Won't be using anything else from now on.
June 3rd, 2013

pbg-51 says...
Used product according to directions on a litter of pups kept in a very clean enviornment. Pups had roundworm in fecal exam.
April 26th, 2013





Babes says...
The products I ordered from First Choice Naturals really works. I am so grateful for the resource articles the Great Dane lady has on her website. This is our second German shepherd rescue dog & my second rescue came with problems (Giarda) and since I have started him on Giarda treatments, probiotics, plus high grade dog food (Precise)he is on the road to recovery. He is a much happier dog, to say the least. Thank you for being around, helping animal lovers everywhere.
April 5th, 2013




Amy D. says...
My dog had intermittent diarrhea for a couple months. All the fecal tests came back negative. I was afraid it could still be giardia so we purchased this dewormer along with some other supplements. Since using this product we've had no more diarrhea.
List of All Supplements | Terms and Conditions | Dislcaimer | Refund Policy
Shipping: We ship Priority, Flat Rate Priority and International Priority rates. FCN is a small family owned company and not able to offer free shipping like the big ecommerce conglomerates who often buy almost out of date supplements and you have no recourse for returning product. However, what we have that they do not have is, first rate customer service, people to answer specific nutritional questions. We have real people here in the USA to help you and your vet with health problem solving and developing your pet's feed program. This is a service no other large companies offer their customers. Our customers appreciate the difference at FCN because we not only care, but have our own pets years of experience and we know nutrition!
Copyright 2018. First Choice Naturals, Inc. is owned by Blackwatch Nutritional Consulting LLC, and all descriptive text, links to articles and nutritioinal information found at this website, in articles or feed programs, is owned by Blackwatch Nutritioinal Consulting LLC. No information at this website is to be used in lieu of physician or veterinarian's advice, diagnosis, or treatment. Always seek the advice of your health care professionals. Any photographs sent to this website becomes the property of Blackwatch Nutritional Consulting LLC, and can be used for website, seminars, lectures, books, for the sole purpose of educating the general public. Efforts are taken to remove recognizable images or names from photos, no names are used of owner, breeder or pet to protect the of the individuals.