Canine Supplements | Equine Supplements | Feline Supplements | Human Supplements | All
Spark of Life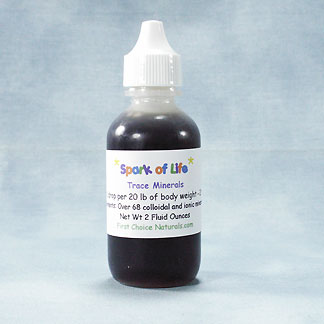 click to zoom
"Spark Of Life"
Spark of Life is our tracite mineral product for pets and humans. The body's metabolic, electrical and chemicals systems need usable minerals (macro & micro) to run properly and are actually the delivery system for vitamins and enzymes.
But because of today's aggressive farming techniques, our soils are depleted of these essential minerals, therefore the majority of our human foods are depleted of these necessary nutrients. This is even worse for our pets, who eat commercial foods that are totally lacking in trace nutrients. Even some of the better foods on the market have overlooked the need for trace minerals in a diet. Now you can restore these trace minerals to your pet's diet through the use of liquid organic trace minerals called Spark Of Life drops.
These are an organic form of trace minerals, not crude mined minerals, so they are very usable by the body. What the body does not need is expelled. Trace minerals keep toxins from accumulating in the body, they also help keep the pH of the body in balance, which is critical for wellness.
*"Almost Every Disease, Sickness or Ailment Can Be Traced To A Mineral Deficiency" ~ Dr. Linus Pauling – Nobel Prize in Chemistry 1954.
Ingredients:
This product contains a rich water-soluble blend of 84 ionically charged minerals naturally occurring and/or varying trace amounts: Magnesium, Chloride, Sodium, Potassium, Sulfate, Lithium, Boron, Calcium, Chromium, Bromide, Carbonate, Bicarbonate, Nitrogen, Zinc, Nickel, Tungsten, Germanium, Selenium, Phosphorus, Iodide, Manganese, Gold, Silver, Fluoride, Silicon, Titanium, Rubidium, Copper, Antimony, Molybdenum, Strontium, Scandium, Vanadium, Tellurium, Barium, Lanthanum, Yttrium, Gallium, Bismuth, Zirconium, Cerium, Cesium, Beryllium, Hafnium, Holmium, Samarium, Terbium, Europium, Gadolinium, Dysprosium, Thorium, Lutetium, Thulium, Cadmium, Erbium, Ytterbium, Neodymium, Praseodymium, Niobium, Tantalum, Thallium, Rhenium, Indium, Palladium, Platinum, Helium, Neon, Argon, Krypton, Radon, and other natural elements . This product is 100% natural from God's earth and contains no other added ingredients.
Dosage: 1 drop per 20 lbs of body weight, twice a day in their food.
*Spark of Life Trace Minerals are removed from humic shale using proprietary water extraction. Extraction acids and chemicals are never used. It takes two years to make a batch of Spark of Life and they are tested for mineral content, trace element content, electrical conductivity and impurities. Free from insecticide, bacteria, mold or yeast contaminates.
4.7 out of 5 stars (14 ratings)
Showing 10 customer reviews...
December 18th, 2013





Anonymous says...
Following the Great Dane Lady's ear health plan, which includes this formula, has eliminated the ear infections that previously plagued my Dane.
June 7th, 2013



Anonymous says...
Products seem fine. I don't see any results yet. It's been a several weeks. Only issue I have is the high shipping costs.
December 10th, 2012





Anonymous says...
Great stuff!
June 20th, 2012





Anonymous says...
You guys always come through; thanks. Paula Hebert
March 12th, 2012





Anonymous says...
I noticed a big change in her the first few days. Stools became more normal and skin was not dry/itchy. Excellent product. Thanks
January 29th, 2012





Cressida Bedolla says...
This is a great supplement I feed to all my dogs.
August 19th, 2011





Linda says...
I give to all my dogs, purchased for my puppy who was suffering from colitis for 2 months, he is really healthy now.
December 1st, 2009





Carol Wood says...
I feel that this product has renewed my elderly dogs zest for life. I use other products as well but I will continue using this one because I feel it is highly effective. Thank you!
August 27th, 2009





Anonymous says...
I use it in my supplement protocol especially for my two males who have allergies.
July 12th, 2009




Anonymous says...
Seems to be making a difference so far. Very easy to administer.
List of All Supplements | Terms and Conditions | Dislcaimer | Refund Policy
Shipping: We ship Priority, Flat Rate Priority and International Priority rates. FCN is a small family owned company and not able to offer free shipping like the big ecommerce conglomerates who often buy almost out of date supplements and you have no recourse for returning product. However, what we have that they do not have is, first rate customer service, people to answer specific nutritional questions. We have real people here in the USA to help you and your vet with health problem solving and developing your pet's feed program. This is a service no other large companies offer their customers. Our customers appreciate the difference at FCN because we not only care, but have our own pets years of experience and we know nutrition!
Copyright 2018. First Choice Naturals, Inc. is owned by Blackwatch Nutritional Consulting LLC, and all descriptive text, links to articles and nutritioinal information found at this website, in articles or feed programs, is owned by Blackwatch Nutritioinal Consulting LLC. No information at this website is to be used in lieu of physician or veterinarian's advice, diagnosis, or treatment. Always seek the advice of your health care professionals. Any photographs sent to this website becomes the property of Blackwatch Nutritional Consulting LLC, and can be used for website, seminars, lectures, books, for the sole purpose of educating the general public. Efforts are taken to remove recognizable images or names from photos, no names are used of owner, breeder or pet to protect the of the individuals.