Canine Supplements | Equine Supplements | Feline Supplements | Human Supplements | All
Ultra Oil for Pets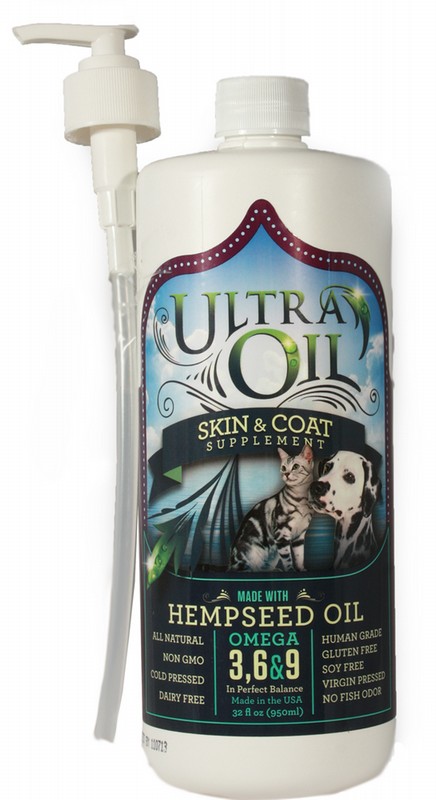 click to zoom
Ultra Oil for Pets
When supplementing oils to your pet's diet it is very important to watch the ratio of these Omegas and to include all three in the diet. Omega-6 and Omega-3 are Essential Fatty Acids involved with producing life's energy. These Omega-3 and Omega-6 Fatty Acids are composed of the best nutrients nature can provide. Our Primary ingredient Hempseed Oil is a perfect balance of Omega-3, Omega-6 and Omega-9. Next we have added Omega-6 rich Flaxseed Oil which is then balance with Omega-3 rich Fish Oil followed by Grapeseed oil to help naturally preserve and act as a all natural antioxidant. GMO-Free, Gluten-free, Herbicide & Pesticide free - No THC and Tryspin inhibitor free
Key Benefits:
- Excellent source of essential fatty acids including Omega 3, 6 and GLA - Lower blood LDL cholesterol levels Lower blood pressure - Improve cardiovascular circulation & function - Improve organ function - Improve immunity levels - Increased energy levels & metabolic rate - Reduce inflammation and the symptoms of arthritis - Reduce & treat dry skin and hair conditions - Reduction of many degenerative diseases through preventative measures - GMO-Free, Gluten-free, Herbicide & Pesticide free - No THC and Tryspin inhibitor free - Has a wonderful nutty flavor
Dosage:
1-15 lbs.....1/2 teaspoon 16-30 ........1 teaspoon 31-70.........1 1/2 teaspoon 71-120.......1 Tablespoon 120+ ..........1 1/2 Tablespoons Horses.......5 Tablespoons per 1000 lbs
4.9 out of 5 stars (15 ratings)
Showing 13 customer reviews...
April 20th, 2014





Patti says...
My two German Shepherds are both on the Ultra Oil and their coats are awesome. Very shiny and soft. I highly recommend this product.
November 11th, 2012





Lori says...
My dog had dry skin and her cat wasn't as shiny as I thought it should be. I used your product the Ultra oil and her dry skin is gone and her fur looks nice and healthy with a nice shine to it.
September 2nd, 2012





Diana says...
His coat looks better with less shedding.
January 28th, 2012





Shannoa says...
Started all my dogs on the Ultra Oil to give them the benefits of the Omegas. They like the taste apparently and it has helped my older dogs stiffness.
May 19th, 2011





Anonymous says...
ALOT easier than getting my dogs to swallow one of those huge fish oil or flax oil pills. My dogs love the taste of it as well when I squirt it on their kibble.
May 6th, 2011





Anonymous says...
Ulta oil is awesome and really helps keep skin & coat soft, shiny & moisturized.
November 29th, 2010





Jim Dutlinger says...
Cheap and effective way to keep the ear inflammation at bay. Does not cure it, but neither does the expensive treatments the Vet dispenses. Hutch actually likes it when his ears are really bad...
November 29th, 2010





Jim Dutlinger says...
Both dogs really like the taste of this and their coats have never looked better.
November 11th, 2010





Anonymous says...
Use this on my seniors who have a bit of dry skin especially in the winter. Excellent! Now using it on the show dogs.
July 1st, 2010





Anonymous says...
One of our dogs had dry skin the other flaky nails... a couple of months after adding Ultra Oil to their diets, the problems were both gone.
April 7th, 2010




Kirby Boyd says...
I expect this is normal. My 2 yr old Collie eats it mixed in with his food if he is hungry enough. Need to find a better way to get him to take it. My 18 yr old old cat will NOT touch any food that has it in it. Suggestions welcome.
September 24th, 2009





Laura R. Knox says...
I love, love, love the results of this product. My pup's skin feels like silk! I can tell a difference from when I first got her and it has only been two weeks. This product is also great for brain development. We will continue use forever!
September 15th, 2009





Great Dane mommy says...
Very satisfied with the products that I've purchased through First Choice Naturals. Would recommend to anyone.
List of All Supplements | Terms and Conditions | Dislcaimer | Refund Policy
Shipping: We ship Priority, Flat Rate Priority and International Priority rates. FCN is a small family owned company and not able to offer free shipping like the big ecommerce conglomerates who often buy almost out of date supplements and you have no recourse for returning product. However, what we have that they do not have is, first rate customer service, people to answer specific nutritional questions. We have real people here in the USA to help you and your vet with health problem solving and developing your pet's feed program. This is a service no other large companies offer their customers. Our customers appreciate the difference at FCN because we not only care, but have our own pets years of experience and we know nutrition!
Copyright 2017. First Choice Naturals, Inc. is owned by Blackwatch Nutritional Consulting LLC, and all descriptive text, links to articles and nutritioinal information found at this website, in articles or feed programs, is owned by Blackwatch Nutritioinal Consulting LLC. No information at this website is to be used in lieu of physician or veterinarian's advice, diagnosis, or treatment. Always seek the advice of your health care professionals. Any photographs sent to this website becomes the property of Blackwatch Nutritional Consulting LLC, and can be used for website, seminars, lectures, books, for the sole purpose of educating the general public. Efforts are taken to remove recognizable images or names from photos, no names are used of owner, breeder or pet to protect the of the individuals.