Canine Supplements | Equine Supplements | Feline Supplements | Human Supplements | All
Water For Life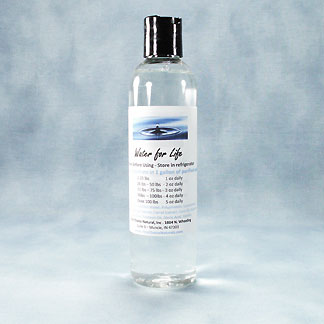 click to zoom
Water for Life is an important companion product to our Spark of Life trace mineral product. Water for Life is a highly concentrated mixture of vegetable phytonutrients called Polyphenols. Through a proprietary process, these powerful vegetable antioxidants have been electromagnetically "activated" to increase cell hydration and neutralize harmful free radicals. Most chronic and degenerative diseases are linked to Free Radical damage and Dehydration factors, so Water for Life concentrate helps the cells hydrate and a hydrated cell is much more receptive to beneficial nutrients in the diet and micro-minerals, such as Spark of Life.
Water for Life is designed to lower the surface tension of drinking water, while lowering the conductivity and resistance of the water resulting in cellular, organ and tissue hydration.
It is recommended to place 1 ounce of Water for Life Concentrate into one gallon of purified water to make up a gallon of Water for Life -refrigerate overnight.
USE: You only need a small amount of the diluted concentrate daily on your pet's kibble mixed with canned meat, yogurt or you can use it to rehydrate your Honest Kitchen dehydrated raw meat/fruit & veggie mixture with the recommended doses below. Water for Life is a safe product at higher doses than recommended so you do not have to worry about your pet.

Shake Before Using - Store in refrigerator
Mix 1 oz concentrate in 1 gallon of purified water and then dose accordingly:
2-25 lbs 1 oz daily
26 lbs – 50 lbs - 2 oz daily
51 lbs – 75 lbs - 3 oz daily
76lbs – 100lbs - 4 oz daily
Over 100 lbs 5 oz daily

Ingredients: Distilled Water, Polyphenols, Lysozamatic
Enzymes, Orange Extract, Carrot Extract, Corn Oil, Glycerin Guar Gum, Soybean Oil, Steric Acid, Vanillin
1 oz serving = 18 calories
0.0gr – fat, sodium, protein, carbs
4.3 out of 5 stars (3 ratings)
Showing 2 customer reviews...
June 7th, 2013



Anonymous says...
Don't know if the product works (been a few weeks since using), but the ingredients look good. Shipping high.
December 3rd, 2010





Shannon says...
I use this topically as well for some terrible eye allergy issues and it helps with the swelling, itching and redness.
List of All Supplements | Terms and Conditions | Dislcaimer | Refund Policy
Shipping: We ship Priority, Flat Rate Priority and International Priority rates. FCN is a small family owned company and not able to offer free shipping like the big ecommerce conglomerates who often buy almost out of date supplements and you have no recourse for returning product. However, what we have that they do not have is, first rate customer service, people to answer specific nutritional questions. We have real people here in the USA to help you and your vet with health problem solving and developing your pet's feed program. This is a service no other large companies offer their customers. Our customers appreciate the difference at FCN because we not only care, but have our own pets years of experience and we know nutrition!
Copyright 2018. First Choice Naturals, Inc. is owned by Blackwatch Nutritional Consulting LLC, and all descriptive text, links to articles and nutritioinal information found at this website, in articles or feed programs, is owned by Blackwatch Nutritioinal Consulting LLC. No information at this website is to be used in lieu of physician or veterinarian's advice, diagnosis, or treatment. Always seek the advice of your health care professionals. Any photographs sent to this website becomes the property of Blackwatch Nutritional Consulting LLC, and can be used for website, seminars, lectures, books, for the sole purpose of educating the general public. Efforts are taken to remove recognizable images or names from photos, no names are used of owner, breeder or pet to protect the of the individuals.